Kentucky Derby 2024 Contenders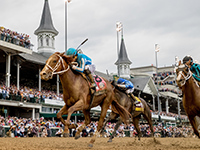 The Kentucky Derby celebrates its 150th running on Saturday, May 4th, 2024. Track the 2024 Derby contenders with us here at Horse Racing Nation! Horses are added to the list as they make their first starts. Check back often to see the newest runners and watch as the contenders move up the rankings. Is there another Mage or Rich Strike among them?

The road to the 2024 Kentucky Derby schedule and points races are under way, so start getting to know the contenders now.
Rank
Rating
Silks
Horse / Sire
Trainer / Jockey
Last Start (Speed), Race / Next Start
1
7.26
Fierceness
City of Light
T. Pletcher
J. Velazquez
1st (106), 2023 Breeders' Cup Juvenile G1
2024 Holy Bull G3
2
7.02
Muth
Good Magic
B. Baffert
J. Hernandez
2nd (97), 2023 Breeders' Cup Juvenile G1
2023 Los Alamitos Futurity G2
3
6.80
Locked
Gun Runner
T. Pletcher
J. Ortiz
3rd (96), 2023 Breeders' Cup Juvenile G1
2024 Holy Bull G3
4
6.67
Nash
Medaglia d'Oro
B. Cox
F. Geroux
1st (101), CD MSW (11/12/23-R7)
5
6.67
Prince of Monaco
Speightstown
B. Baffert
F. Prat
5th (93), 2023 Breeders' Cup Juvenile G1
2023 Los Alamitos Futurity G2
6
6.62
Rhyme Schemes
Ghostzapper
N. Casse
R. Santana, Jr.
1st (95), 2023 Saratoga Special G2
7
6.60
Timberlake
Into Mischief
B. Cox
F. Geroux
4th (95), 2023 Breeders' Cup Juvenile G1
8
6.56
Stretch Ride
Street Sense
D. Romans
M. Chuan
3rd (91), 2023 Kentucky Jockey Club G2
2024 Holy Bull G3
9
6.47
Liberal Arts
Arrogate
R. Medina
C. Torres
1st (91), 2023 Street Sense G3
2024 Holy Bull G3
10
6.40
Glengarry
Maximus Mischief
D. Anderson
L. Saez
1st (89), 2023 Bowman Mill LS
11
6.39
Generous Tipper
Street Sense
K. McPeek
B. Hernandez, Jr.
3rd (87), 2023 Breeders' Futurity G1
2024 Holy Bull G3
12
6.37
Risk It
Gun Runner
S. Asmussen
T. Gaffalione
4th (83), 2023 Kentucky Jockey Club G2
13
6.34
Mystik Dan
Goldencents
K. McPeek
B. Hernandez, Jr.
5th (69), CD AlwOC (11/25/23-R7)
14
6.34
Deterministic
Liam's Map
C. Clement
J. Rosario
1st (91), Sar MSW (8/12/23-R5)
2024 Holy Bull G3
15
6.34
Agate Road
Quality Road
T. Pletcher
I. Ortiz, Jr.
5th (102), 2023 Breeders' Cup Juvenile Turf G1
16
6.34
Booth
Mitole
S. Asmussen
R. Santana, Jr.
5th (87), 2023 Ed Brown LS
17
6.34
Wine Me Up
Vino Rosso
B. Baffert
R. Vazquez
8th (68), 2023 Breeders' Cup Juvenile G1
18
6.27
Bentornato
Valiant Minister
J. D'Angelo
E. Jaramillo
3rd , 2023 Florida Sire In Reality RS
2024 Holy Bull G3
19
6.27
Divieto
Dialed In
A. Sano
T. Gaffalione
8th (30), 2023 Ed Brown LS
2024 Holy Bull G3
20
6.26
Mirahmadi
Into Mischief
B. Baffert
J. Hernandez
2nd (92), 2023 Del Mar Futurity G1
2023 Los Alamitos Futurity G2
21
6.26
The Wine Steward
Vino Rosso
M. Maker
L. Saez
2nd (92), 2023 Breeders' Futurity G1
2024 Holy Bull G3
22
6.26
Nutella Fella
Runhappy
G. Contessa
J. Alvarado
1st (86), 2023 Hopeful G1
2024 Peter Pan G3
23
6.23
Hancock
Union Jackson
J. Alvarado
H. Diaz
1st (83), GP Str (11/19/23-R6)
2024 Holy Bull G3
24
6.20
General Partner
Speightstown
C. Brown
M. Franco
6th (91), 2023 Breeders' Cup Juvenile G1
25
6.19
Balta
Munnings
P. Lobo
C. Torres
1st (88), CD AlwOC (9/15/23-R8)
26
6.17
West Saratoga
Exaggerator
L. Demeritte
G. Corrales
5th (78), 2023 Breeders' Futurity G1
27
6.17
Heartland
Justify
B. Baffert
J. Hernandez
1st (100), Dmr MSW (7/29/23-R1)
2024 Kentucky Derby G1
28
6.12
Moonlit Sonata
Malibu Moon
29
6.09
Agoo
Munnings
W. Beckman
D. Cannon
2nd (90), 2023 Ed Brown LS
30
6.09
Noted
Cairo Prince
T. Pletcher
I. Ortiz, Jr.
9th (61), 2023 Breeders' Cup Juvenile G1
31
6.09
Lord Prancealot
Sir Prancealot
J. Bonde
K. Desormeaux
10th (72), 2023 Speakeasy LS
32
6.07
My Boy Prince
Cairo Prince
M. Casse
J. Rosario
3rd (103), 2023 Breeders' Cup Juvenile Turf G1
33
6.07
Private Desire
Constitution
T. Pletcher
J. Lezcano
10th , 2023 Remsen G2
34
6.06
Informed Patriot
Hard Spun
S. Asmussen
T. Gaffalione
3rd (78), CD AlwOC (11/25/23-R7)
35
6.06
Slider
Jimmy Creed
J. Sadler
H. Berrios
9th (98), 2023 Breeders' Cup Juvenile Turf Sprint G1
36
6.05
Raging Torrent
Maximus Mischief
D. O'Neill
A. Fresu
4th (82), 2023 American Pharoah G1
37
6.04
Nysos
Nyquist
B. Baffert
F. Prat
1st (105), 2023 Bob Hope G3
2023 Los Alamitos Futurity G2
38
5.93
Be You
Curlin
T. Pletcher
L. Saez
5th (81), CD MSW (11/12/23-R7)
39
5.93
Pirate
Omaha Beach
T. Pletcher
J. Castellano
3rd (83), 2023 Hopeful G1
40
5.91
Haul
Army Mule
T. Pletcher
E. Zayas
1st (81), GP AlwOC (11/3/23-R4)
2024 Holy Bull G3
41
5.91
Fifth Avenue
Street Sense
R. Mott
L. Saez
1st (88), ELP MSW (6/22/23-R2)
2024 Holy Bull G3
42
5.89
Dornoch
Good Magic
D. Gargan
L. Saez
1st , 2023 Remsen G2
43
5.89
Northern Flame
Flameaway
K. McPeek
J. Leparoux
5th (48), 2023 Street Sense G3
44
5.89
Coach Prime
Quality Road
B. Baffert
F. Prat
1st (91), Dmr MSW (11/10/23-R4)
2023 Los Alamitos Futurity G2
45
5.87
Hurricane Nelson
Khozan
C. Clement
E. Zayas
3rd (92), 2023 Florida Sire Affirmed RS
2024 Holy Bull G3
46
5.86
Gold Sweep
Speightstown
S. Asmussen
J. Lezcano
4th , 2023 Champagne G1
47
5.84
Normandy Hero
Omaha Beach
R. Brisset
A. Achard
3rd (89), 2023 Ed Brown LS
48
5.84
Call Me Andy
Midshipman
B. Walsh
J. Toledo
4th , 2023 Maryland Juvenile RS
49
5.84
Billal
Street Sense
W. Mott
J. Alvarado
8th , 2023 Remsen G2
50
5.84
Ship Cadet
Midshipman
M. Maker
M. Franco
1st (84), 2023 Skidmore LS