Justify's connections went out of their way not to mention a potential Triple Crown, as "it's one race at a time," Hall of Famer Bob Baffert often says. But leading up to Saturday's 2018 Preakness Stakes, Baffert openly likened his horse to his past trainee, American Pharoah, who in 2015 ended a 37-year drought between sweeps of the Kentucky Derby, Preakness and Belmont Stakes.
"What he has done since February, you have to be a superstar," Baffert said of Justify, who's 4-for-4 since debuting three months ago. "He's like Pharoah. They are superstars."
Now it's time to ask: With the Belmont Stakes set for June 9, is Justify destined to claim one of his own?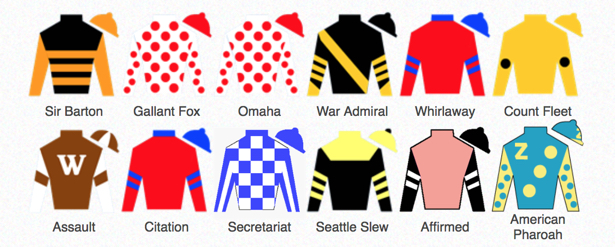 A few facts to know...
• Twelve horses have won the Triple Crown, and they seem to do so in bunches. Three horses accomplished the feat in the 1930s; four did it in the 1940s; and Secretariat (1973), Seattle Slew (1977) and Affirmed (1978) followed.

• Since American Pharoah won his Belmont, the 2016 Derby winner Nyquist and 2017 winner Always Dreaming went without wins following their scores the first Saturday in May.

• Justify would be up against it at Belmont Park, as some promising runners who missed over the slop in the Derby are expected to return in the Triple Crown series' third leg. Among them, according to Horse Racing Nation's Stakes Tracker, are known late runners Hofburg and Vino Rosso, who should like the increased 1 1/2-mile distance.

• There have been 23 near-Triple Crown misses, with California Chrome in 2014 the last horse to win the Derby and Preakness before defeated in the Belmont. Thirteen horses, most recently Afleet Alex in 2005, won the Preakness and Belmont after beaten in the Derby. And 11 horses, most recently Thunder Gulch in 1995, won the Derby and Belmont, but missed in the Preakness.

Should Justify take the Preakness, he'd look to join this esteemed group:


Won Derby and Preakness, but not Belmont
Won two Triple Crown legs, but not in order
| | | | |
| --- | --- | --- | --- |
| Year | Horse | Races Won | Other Result |
| 1920 | Man O'War | Preakness/Belmont | Did Not Start in Kentucky Derby |
| 1922 | Pillory | Preakness/Belmont | Did Not Start in Kentucky Derby |
| 1923 | Zev | Derby/Belmont | 12th Preakness (Vigil) |
| 1931 | Twenty Grand | Derby/Belmont | 2nd Preakness (Mate) |
| 1939 | Johnstown | Derby/Belmont | 5th Preakness (Challedon) |
| 1940 | Bimelech | Preakness/Belmont | 2nd Derby (Gallahadion) |
| 1942 | Shut Out | Derby/Belmont | 5th Preakness (Alsab |
| 1949 | Capot | Preakness/Belmont | 2nd Derby (Ponder) |
| 1950 | Middleground | Derby/Belmont | 2nd Preakness (Hill Prince) |
| 1953 | Native Dancer | Preakness/Belmont | 2nd Derby (Dark Star) |
| 1955 | Nashua | Preakness/Belmont | 2nd Derby (Swaps) |
| 1956 | Needles | Derby/Belmont | 2nd Preakness (Fabius) |
| 1963 | Chateaugay | Derby/Belmont | 2nd Preakness (Candy Spots) |
| 1967 | Damascus | Preakness/Belmont | 3rd Derby (Proud Clarion) |
| 1972 | Riva Ridge | Derby/Belmont | 4th Preakness (Bee Bee Bee) |
| 1974 | Little Current | Preakness/Belmont | 5th Derby (Cannonade) |
| 1976 | Bold Forbes | Derby/Belmont | 3rd Preakness (Elocutionist) |
| 1984 | Swale | Derby/Belmont | 7th Preakness (Gate Dancer) |
| 1988 | Risen Star | Preakness/Belmont | 3rd Derby (Winning Colors) |
| 1991 | Hansel | Preakness/Belmont | 10th Derby (Strike the Gold) |
| 1994 | Tabasco Cat | Preakness/Belmont | 6th Derby (Go For Gin) |
| 1995 | Thunder Gulch | Derby/Belmont | 3rd Preakness (Timber Country) |
| 2001 | Point Given | Preakness/Belmont | 5th Derby (Monarchos) |
| 2005 | Afleet Alex | Preakness/Belmont | 3rd Derby (Giacomo) |