The Queen
And there she was, walking towards me, led by her handler Charles, whom she dwarfed. Folks around here simply call her the "Big Mare". Truly majestic, even with her shaggy winter coat and her rounded girth, as she is in foal to War Front. She stopped and pawed at the ground as I've seen her do (on TV) in paddocks prior to her races. As I walked towards her, tears welled in my eyes. I am a 50+ year old woman, and tears spilled. "Is this a typical reaction," I asked. And I was assured by the six folks accompanying Z on behalf of Team Zenyatta that it was. 
Let's rewind back to last September. As hundreds and hundreds of Zenyatta fans did, I bought a Zenyatta sticker for $20, with proceeds going to the Thoroughbred Rehab Center, Inc. I was also automatically entered in a contest to meet Zenyatta, who her fans affectionately call the Queen. Over $10,000 was raised for the TRC and because of the tremendous response, Team Z gave away not one but five visits. And I was one! I tell people, it was like hitting the lottery. 
Zenyatta was impatient, pulling Charles around by her lead rope. Until she heard the plastic wrapper from my peppermints given to me by Team Z. Her ears pricked forward. She gently accepted my mints. I was able to stroke her, barely reaching ears on my tiptoes. I scratched her "sweet spot" just above her tail, and she stretched out her neck in obvious bliss. Alys Emson took many photos some of which will be featured in a blog post on Zenyatta.com. 
We were just outside her paddock, and her three paddock friends were watching us. Among the small group was Breeder's Cup champion Life is Sweet. Charles says she is Zenyatta's best mate. After many mints, some dancing and many photos, Zenyatta was returned to her paddock and to her family of broodmares, where it was obvious she preferred to be. I loved seeing how the mares all greeted her and gathered around her. I saved one peppermint for Life is Sweet.
Next was a meeting with Z13, Zenyatta's chestnut colt by Tapit. He is a gorgeous copper color with a beautiful refined head. From comments made, I gathered the Mosses are very pleased with the looks of this Tapit colt, so much that another visit to Tapit would not be surprising. His handler had washed and "vacuumed" him for our meeting. Rather fidgety, he reminded me of a young lad forced to clean up for Church or Sunday dinner with family. He was none too pleased that he was separated from his mates. He stomped, he reared, he neighed to his mates. As spunky and spirited as Z13 was, he did afford me a quick stroke of his soft wooly neck. In his paddock, it was obvious that he is a leader. 
My visit also included a trip to the stallion barn where I met most of the Lane's End stallions. I made a beeline for the great A.P. Indy. He stood like a statue, facing the window, his rump to me, never breaking his gaze from what ever held him captive. His neck is enormously thick, his back very swayed. 'Do horses relive moments from their past?' I asked myself for indeed he looked deep in thought. I reached in and scratched just above his tail. How could I not touch the great A.P. Indy? 
I left Lane's End feeling very incredible lucky and fortunate that I was able to meet these heros of the track and most especially Zenyatta and Z13.  
The King
Coolmore, sitting on close to 5000 acres, is simply stunning. They grow all their grains and hay to feed their horses and other livestock. The stallions' barns, more like individual cabins for each stud, were undergoing upgrades--adding vaulted roofs that will add better ventilation we were told. 
Most of the stallions were shuttled to southern hemisphere countries during our visit last September. However, remaining behind much to my delight were Footstepsinthesand, Holy Roman Emperor, Danehill Dancer and the great Galileo. 
He looked out at us with a rather unassuming and sleepy eye. Peter Steele, who was our guide, explained that Galileo is very gentle and very kind. One of his favorite idiosyncrasies is that he adores having his gums massaged. And my friends, outside of feeding Zenyatta peppermints, massaging Galileo's gums goes down as an all-time favorite memory never to be forgotten. 
A truly heartfelt thank you to Team Zenyatta, Lane's End and Coolmore Ireland for making this woman's dreams come true. And my husband for indulging me my passion.
~Written by Linda Daly 
 Hello Zenyatta!
A yawn from the Queen.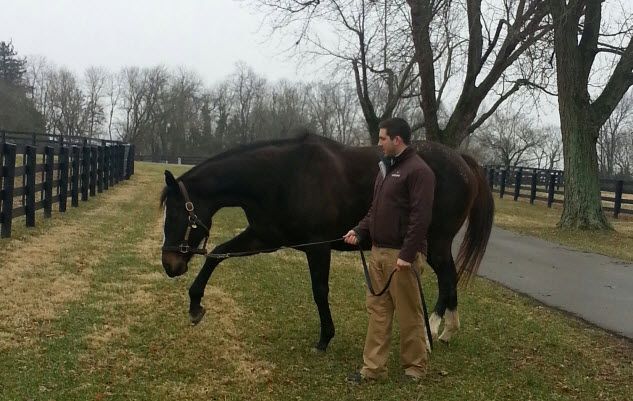 She still dances!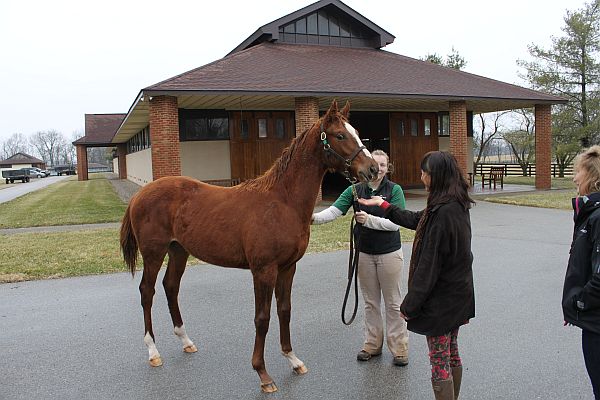 Z13, by Tapit, is a handsome colt.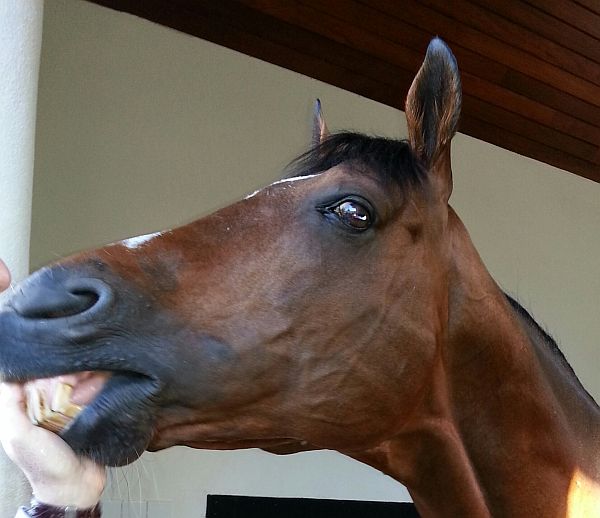 Galileo getting his gums massaged.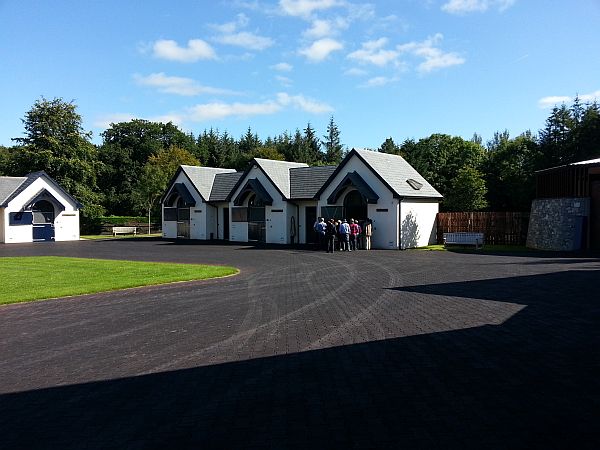 Stallion stalls at Coolmore, Galileo's of course has the crowd in front.
Please visit my Flickr site: http://www.flickr.com/photos/[email protected]/sets/ or Facebook site, https://www.facebook.com/linda.f.daly, for more photos of Zenyatta, Z13, the Lane's End stallions, the WinStar stallions, the retired champs at Kentucky Horse Park (Cigar, Funny Cide, Da Hoss).