Canterbury Park offers an all-turf stakes Pick 5 Wednesday evening. Handicapper Sara Elbadwi discusses the sequence with Canterbury Park expert Angela Hermann.
They both analyze how the paces are likely to play out, which post positions may benefit most in each race and each present a ticket with their race selections. While they differ in opinion in every leg, there is a possibility for them both to cash.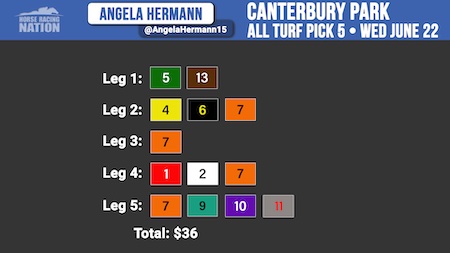 Hermann has identified one single in the third leg and Elbadwi agrees that this single is the likeliest winner of the race. Elbadwi's ticket will be $108 before scratches and Hermann's will be $36.
Both Hermann and Elbadwi were against a favorite that is going to be scratched and run elsewhere. They were both also against the second choice on the morning line. Two Emmys was unlikely to get his preferred pace setup in the fourth leg of the sequence and is cross-entered in another race. 
Bettors looking for more resources can check out Pro Reports. Horse Racing Nation's Pro Reports are available for every track, every day and offer even more insight on how to play the stakes action Wednesday night at Canterbury Park.