Morton Fink's health waned in the twilight of Horse of the Year Wise Dan's racing career, with trainer Charlie LoPresti remembering the owner attending dialysis three times a week.
"He always told me that horse was the one thing he stayed alive for," LoPresti said.
On Friday, two days after the Chicagoan died at age 89, LoPresti lauded Fink as "a true sportsman," likening him to the late Allen Paulson as well as Bob and Beverly Lewis.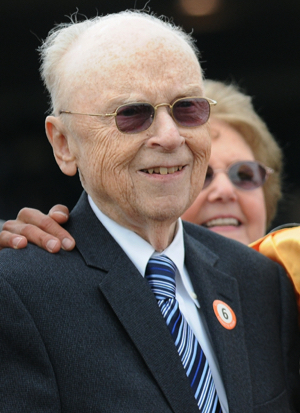 "Those people, they have a true passion for racing," LoPresti said. "That's the thing about Mr. Fink — he would go to the OTB in Chicago even when these horses weren't running. He was a true racing fan."
Fink, who operated movie theaters and successfully sold them to a national chain before retirement, also decided to downsize his racing operation toward the end of his life. He retained just one broodmare, Lisa Danielle, a $29,000 yearling that won a single race for LoPresti.
Named after Fink's granddaughter, Lisa Danielle went on to foal the multiple stakes winner Successful Dan in 2006. Wise Dan, the result of a mating with then-$1,000 sire Wiseman's Ferry, followed in 2007.
"People chase that kind of dream all their lives and never see it," LoPresti said. "He and I were just very fortunate to have the success that we had with those two horses at the end of his racing life."
Wise Dan won 23 of 31 starts, with 19 of those victories graded stakes and 11 of them Grade 1s, including back-to-back editions of the Breeders' Cup Mile at Santa Anita Park in 2012 and 2013. In 2014, Wise Dan, already a two-time Horse of the Year, returned from colic surgery at age 7 to close his career with Grade 1 victories at Saratoga and Keeneland.
There was never a mandate from owner to trainer, however, to make this race or that.
"Basically, he never put any pressure on me," LoPresti said. "He let me manage that horse, train him how I saw fit and run him where I wanted to run. There was never any concrete schedule, or a gun held to my head. 'I need you to run here. I need you to run there.'
"Those kind of owners, there are very few anymore. He was a dream to work for."
Fink, who campaigned horses under a variety of stable names, also owned the Grade 2 winner Guided Tour, who earned nearly $2 million from 1998-2001. Earlier in his career as an owner, he and a partner under the Carelaine Stable banner bred Producer, who went on to fetch $5.25 million at auction in 1983 when in foal to Northern Dancer.
Wise Dan and Successful Dan continue to call LoPresti's Forest Lane Farm, near Athens, Ky., home. In July, Old Friends Farm hosted "Wise Dan Day," a celebration of Fink's champion.
"It was incredible to me when I lowered him off that trailer," LoPresti said. "You think people forget about horses like that in the modern days of Triple Crown winners. With what's going on in the business, it was a pleasure to see horse fans."
Fink, according to the Shalom Memorial Funeral Home, which is handling his services, is survived by his wife of 51 years, Elaine, three children and a number of grandchildren.
In lieu of flowers, memorial donations may be made to The American Kidney Fund or any organization working on behalf of Prostate Cancer. For information or to leave condolences, reach Shalom Memorial Funeral Home at (847) 255-3520.
Services are scheduled for Monday in Arlington Heights, Ill.