Treasure Beach's impressive finish in the Secretariat Stakes puts him in the Top 10 in this week's Power Ranking!
In honor of Elvis Week (which is an official holiday for this writer), this week's report will have a pompodour and a curled lip.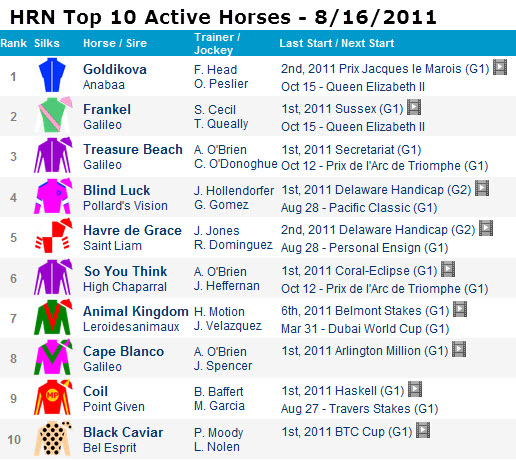 50,000,000 racing fans can't be wrong:
Goldikova
remains at the top with a raquetball court full of gold stars. Despite her loss Monday in the Prix Jaques le Marois, she is still a superstar with her sights set on a 4th BC Mile. 
The unbeatable
Frankel
is ridin in the long, black limousine again at number 2.
Treasure Beach
held off a determined Ziyarid in the Secretariat Stakes Saturday, stamping himself as a top 3 year old router and rocking into the Top 10 at number 3.
There's double trouble with
Blind Luck
and Havre de Grace at numbers 4 and 5, and fans are crowing for a 7th bout between the two fillies. Each camp says a different 3 races are possibilities, but wherever they go, they should be lined up in the same starting gate together.
So You Think is all shook up at number 6, with his next start projected for October.
Animal Kingdom has a flaming star at number 7, and is the highest-ranked US-based 3 year old.
Cape Blanco
shake, rattle and rolled into the Top 10 with his stirring victory in the Arlington Million and is at number 8.
Fans can't help falling in love with Coil, the Haskell winner trained by Bob Baffert - he sits at number 9 this week.
Finally, there are no suspicious minds about number 10 - Black Caviar is undefeated and back in training in Australia.
Top 10 Three Year Olds
In advance of next week's Travers, let's take a look at the Top 10 Sophomores.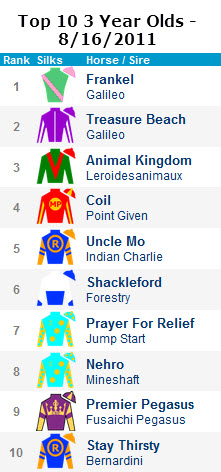 The top spots are held by Frankel and Treasure Beach at 1 & 2, respectively. Animal Kingdom comes in 3rd with Coil behind in 4th. Uncle Mo sits at 5th, and many fans hope a great performance in the King's Bishop will place back at the top of the class.
Shackleford is prepping for the Travers and is always game, coming in at number 6.
Newcomer
Prayer For Relief
scored in the West Virginia Derby and grabbed the 7th spot.
Nehro is at 8th with not firm plans for a return.
Premier Pegasus is still in the top 10, still working out in California and still looking for a next start.
Stay Thirsty
ranks 10th after his coming-out party in the Jim Dandy. This late-blooming stablemate of Uncle Mo's could be better than the Juvenile champ, with all to be revealed in the Travers.
And though he is unranked, here's a link to
Hey Elvis
in honor of this day! Stay tuned for more rockin' hits in next week's Power Ranking Report! Thankya,thankyaverrymuch!