Not even the second longest shot to ever win the Kentucky Derby, Rich Strike at 80-1, could halt the overall increase in favorite win percentage. From the week of May 2-May 8, chalk was victorious 37.9 percent of the time. Over the previous few weeks, favorites strike rate was declining and was down to 33.5 percent the prior week. More total races were contested with 698 as compared to 647 the previous week. Average field size stayed the same from week to week at 7.1.  Throughout Kentucky Derby week, Churchill Downs hosted 57 races. Bettors seem to have adapted well to wagering on the new turf course where favorites won 46 percent of the time with a strong average field size of 9.0. On the main track where Rich Strike and his connections made Derby history, chalk prevailed 36 percent of the time. Though Rich Strike's victory may not have made a significant impact on overall favorite win percentage, the average win payout was certainly affected. This was the second highest of all tracks for the week with an average of $16.86. Horseplayers would have been advised to add this also eligible to their exotic wagers had they purchased the Horse Racing Nation Super Screener. Creator Mike Shutty recommended Rich Strike as a live long-shot once he drew into the field. Super Screener is available for purchase here, covering the rest of the Triple Crown trail going forwards and quality racing every weekend.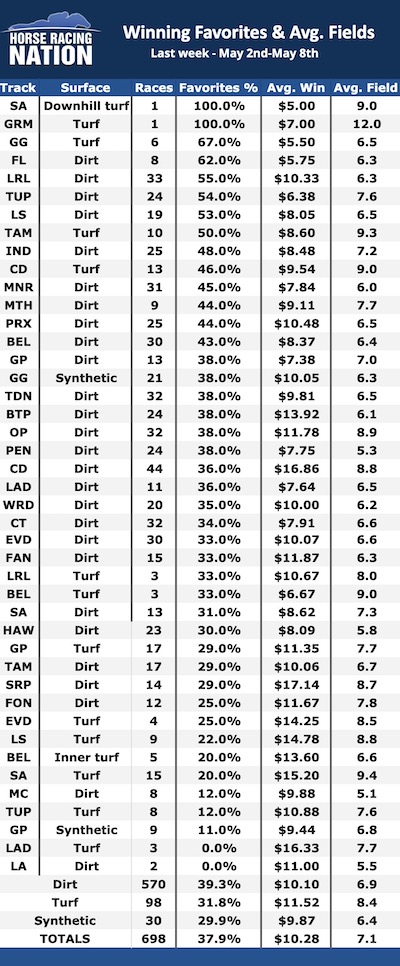 Yet another Pick 6 carryover awaits bettors on Thursday at Belmont Park with $53,000 in the pool. Dirt races were more formful than turf races last week with favorites winning 43 percent of the time on the main track. Rainy weather forced some turf races to switch surfaces, however of those contested on the outer turf, favorites won one of three. On the inner turf, favorites won one of five. Although it is too soon to predict, data collected thus far for the Belmont spring meet suggests that an upset wouldn't be out of the question in the final leg of the Triple Crown. When searching for a potential single to trim this Thursday's Pick 6 ticket, check out the new
Horse Racing Nation
Horses to Single Report.