After several consecutive weeks of a more palatable favorite win rate, eating chalk was a necessity to cashing tickets for the week ended May 15. The public choice in the wagering was victorious 44.2 percent of the time, a record high so far for this year. 686 races were conducted, compared to the previous week's 698. Average field size dropped slightly from 7.1 to 6.9 runners. 
Favorites won half of the time, or even more so, in the case of 15 tracks. This is a significant increase from the prior week, when eight tracks had a 50 percent strike rate or more, and two of those contested only one race that was subsequently won by the favorite. Bettors had to find favorites they could lean on to be successful.
At Horseshoe Indianapolis, favorites won at a 50 percent clip on both the dirt and turf. That's with 30 races run over the main track and only four run so far over the turf course. Stakes action on the turf awaits horseplayers on Wednesday in the Horseshoe Indianapolis Stakes and the Caesars Stakes. Both will run at 1 mile over the turf course, and if last week's trend continues, it will be imperative to at least consider the post-time favorite in wagers. Secrets to Win at Horseshoe Indianapolis is available for free, providing insight into how the track usually plays and which connections are successful at the meet.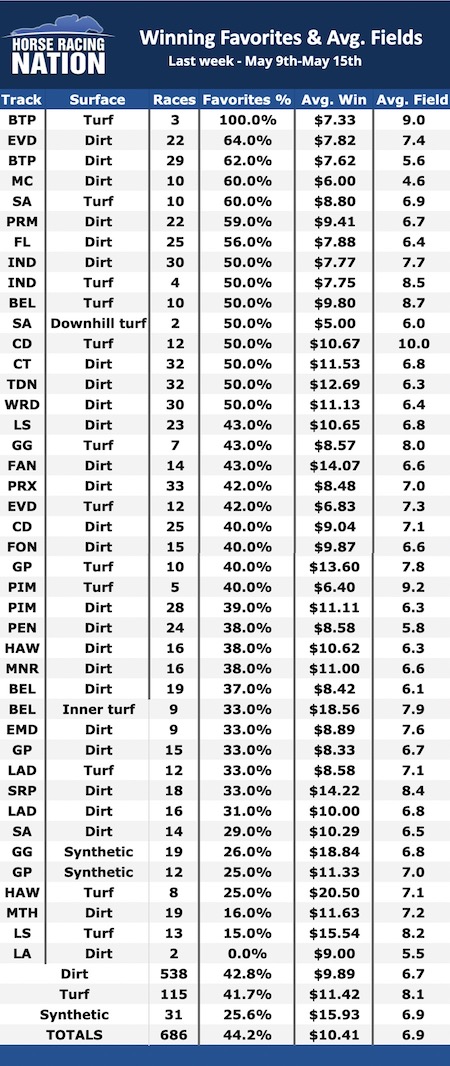 Pimlico opened with slightly less chalky results, but only slightly. In five races conducted on the turf course, favorites won 40 percent of the time with an average field size of a strong 9.2. Field size was much smaller on the main track, at 6.3, and favorites were victorious 39 percent of the time over 28 races run. These figures are unlikely to steer anyone away from Epicenter, the morning-line favorite for the upcoming Preakness Stakes. For video analysis on the Preakness and upcoming information on the undercard, subscribe to the Horse Racing Nation YouTube channel.
Where was the value, if any, last week? Bettors had to turn to the synthetic to find long shots. Over 31 races run on the Tapeta at Golden Gate and Gulfstream Park, favorites won 25.6 percent of the time. Although there is less focus on synthetic racing now that the championship meet has ended at Gulfstream Park, opportunities remain for horseplayers on the surface. Horse Racing Nation's Power Picks are available for both Golden Gate and Gulfstream Park.