Favorites are winning at an alarmingly high rate. For the second time this year, chalk prevailed at 43 percent overall. Last week, there were some questions about whether favorites could be trusted at Fair Grounds. Weekly track trends indicated that value opportunities were more plentiful on the dirt than on the turf for the week ended March 20. After Louisiana Derby week, just the opposite proved to be true. On Saturday, formful dirt stakes won by heavily favored Olympiad, Echo Zulu and Epicenter played a part in driving the overall winning chalk rate up to 43 percent. This is up from 31 percent the prior week. Prices in the all-stakes Pick 5 were found on the grass in She Can't Sing and Two Emmys. Overall favorites won on turf at Fair Grounds 28 percent, down significantly from the prior week's 64 percent. Related: Track Trends: Can favorites be trusted at Fair Grounds
Weather in Houston rained racing off the turf Thursday and Friday evening at Sam Houston Race Park. No Mas Tequila, winner of the San Jacinto Turf Stakes on Texas Champions Day at odds of 0.20-to-1, was one of three favorites to win on the grass out of only four contested over the surface. Dirt racing provided more opportunity to bettors as the chalk won only 36 percent of the time. Likely winner of the Richard King Turf Stakes Singapore Flash scratched out of the race, otherwise favorites may have gone 4-for-4 on the turf.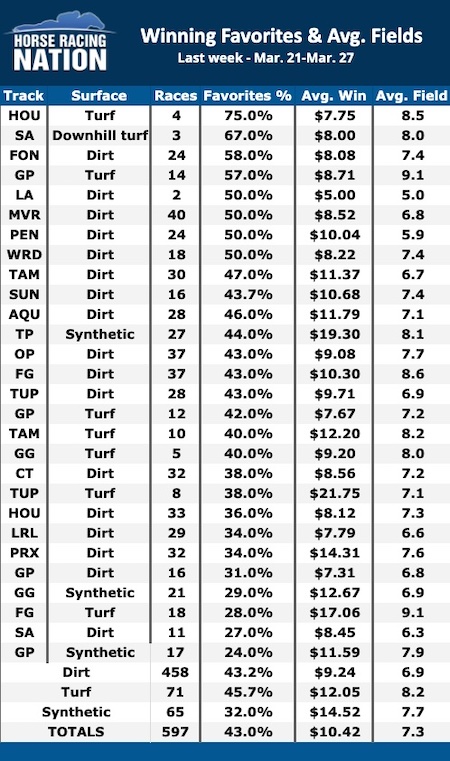 Gulfstream's Tapeta was where favorites won the least last week, at 24 percent. While some bettors continue to lament the added variable the surface presents, others have adapted and are cashing in on long-shot opportunities. The Championship Meet will conclude in Hallandale Beach on Sunday. Handicappers can begin preparing for Florida Derby week early with Horse Racing Nation Pro Reports. Stay tuned for video content by subscribing to our YouTube channel.