Dr. Mary Scollay sensed fingers pointed racing regulators' way earlier this month as federal indictments were handed down to horsemen, including trainers Jorge Navarro and Jason Servis, for alleged use of illegal performance-enhancing drugs.
Scollay, executive director and chief operating officer for the Racing Medication and Testing Consortium, previously served as Kentucky's equine medical director. For many years she also worked as a top track veterinarian at Gulfstream Park and Calder Race Course in Florida.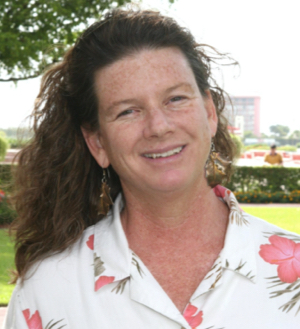 " 'Look, it took the FBI and FDA to solve it,' " is what Scollay heard after the series of March 9 arrests. But, she added, "racing commissions don't have the authority to do wire taps and a number of investigative things to get the information that resulted in an indictment."
Scollay hopes this sting leads to an improved partnership between racing's regulators and the federal government, which tends to concentrate its efforts on human health before animals. But the feds also possess more resources — the type of intelligence gathering that can fill voids in routine testing.
"I'm very pleased they pursued this as long as they did," Scollay said. "The investigation they did, I think, was outstanding and much needed. I hope now they recognize when we call and say we need help, we need help."
Most racing jurisdictions have only one or two investigators responsible for keeping to task hundreds of horsemen, Scollay said, creating the impossible task of culling cheaters from the water, hay and oats crowd.
In the case of these high-profile trainers, however, shrewd horseplayers had suggested for years that something was amiss.
"It wasn't because of lack of effort that this didn't happen before," Scollay said. "I'd say it was a lack of resources."
Federal agents detailed Navarro's extensive scheme to administer his horses, including the late Group 1 winner X Y Jet, a number of performance-enhancing substances. Servis, meanwhile, is accused of using SGF-1000 in horses such as champion Maximum Security. The substance was created by a Kentucky lab without FDA approval.
"It's a slam dunk," Scollay said of the feds' case.
That's pending more "voluminous" evidence against those charged, which a recent letter from a U.S. attorney promised following raids that coincided with arrests. Defendants were due in court last Monday, but the initial proceedings were delayed because of complications of the coronavirus pandemic.
A common thread among the performance enhancers tj investigators found is inability to test for them.
"In order to control its use in a horse," Scollay said, "if you're going to use drug testing, you have to put it in the horse and collect blood and urine to figure out — are you looking for metabolites? Which substances are present following the administration of this that are unequivocal identifiers of the administration?
"It's not as simple as analyzing a vial and saying we can find this stuff."
Now, at least, the RMTC may get access to those vials and begin the process. In the meantime, Scollay said the federal government hasn't yet asked the RMTC for assistance in analyzing substances.
The RMTC, according to its website, "works to develop and promote uniform rules, policies and testing standards at the national level; coordinate research and educational programs that seek to ensure the integrity of racing and the health and welfare of racehorses and participants; and protect the interests of the racing public."
Scollay cited a 2014 study of SGF-1000, which is derived from sheep placenta. That substance, experts found, is not performance-enhancing.
Because the Kentucky lab producing its off label version was not licensed by the FDA, there's no guarantee that whatever Servis was allegedly using in his horses didn't contain other ingredients.
"It kind of amazes me that an owner would spend hundreds of thousands of dollars on a racehorse, and then somebody thinks it's OK to inject that horse with an unknown," Scollay said.
It's unclear whether federal investigators will try to convince a jury that Servis' SGF-1000 was performance-enhancing. Regardless, Scollay said there's the issue that the drug allegedly was being illegally manufactured, sold and concealed. Documents detailed that Servis attempted to circumvent tests when using SGF-1000 in Maximum Security.
"You buy it because you expect it to do something," Scollay said. "Why else would anyone buy this stuff unless they thought it would do what the manufacturer claims?
"… I think these things are potentially a crutch or a go-to for a trainer who is not all that good. If you have confidence in your training ability, why would you do this?"
Scollay referenced a race meeting such as the Breeders' Cup, when millions in purse money comes down to head bobs.
"A length can be converted to time as .17 seconds; half a length .085; quarter of a length .0425; you get down to a head and it's like .0085 seconds," she said.
For perspective, the blink of an eye is about one-third of a second.
"That's almost two lengths in horse racing, so how much of anything does it take to gain or lose .0085 seconds?" Scollay asked. "And the answer is, I don't know. That is an untenable burden of proof.
"What we need to say is, this is a foreign substance. There was no legitimate use for it in the horse, and therefore its presence was as a prohibited substance — ergo, there's a violation."