Horse Racing Nation is highlighting readers' best betting days at the races -- how they chased the big score and cashed in -- with this new weekly feature. Let us know about your big hit here.

Matt Milligan found that the feeling of a major score in horse racing wasn't something that happens one day, then fades away. It sticks in one's mind like other memorable life events: graduations, weddings, birthdays or reunions.
Milligan's big hit happened more than five years ago when he cashed a 50-cent pick 5 ticket for $93,918.40 on Del Mar's July 24, 2014, card. The 49-year-old from Louisville, Ky., still remembers the circumstances vividly. His winning ticket almost never happened, because the last horse Milligan added to the ticket was a 50-1 morning line shot that doubled his investment to $160. But he had faith in his handicapping, and that's what propelled him to realizing a nearly six-figure payout. "I really had a terrible year up until a week before this happened -- some really bad close calls for big amounts," Milligan said. "But I had hit for five grand at Saratoga twice leading up to this day, so I decided to go from $80 to $160. The biggest thing that I think about now is that I probably wouldn't have hit this because I would have normally tossed the horse that cashed it for me." Milligan played the early Pick 5 on a Thursday Del Mar card. He said with that type of sequence, "The challenge level is always there." But big rewards do await. "You are going to get beat a lot and it's going to hurt," Milligan said. "You just keep showing up because of these kind of days and these kind of hits. You want to play within your budget, but it's the thrill of reeling one of these suckers in. "It's just really hard to describe. It's like unlocking the code." Milligan placed his bet while on his lunch break and had dinner plans with his family later. He wouldn't be sweating out each race in front of the TV. He spread in the first leg, using five horses in a race where a 7-2 shot struck for the combination of trainer Peter Miller and jockey Martin Pedroza. The favorite ran last. But it's the second leg of this pick 5 that Milligan will always remember.  "There was a very vulnerable speed horse as a favorite in a race with a bunch of speed," Milligan said. "The only problem with the horse I liked (Mon Petit) as a longshot was she was also a speed horse, but, she wasn't really as fast as the other horses on paper. "Basically I figured maybe she'd hang around in third and these horses would start to back up and she could get it done." Mon Petit, 50-1 in the program, left the gate at 53-1 when a field of 3-year-old fillies broke to go a mile on turf. "She was first time turf and she had a French dam, so that was another part of the angle on her," Milligan said. "I was thinking maybe she could improve on the turf. Of course, Carson Sullivan was the jockey and he was probably 0-for-50 at Del Mar. I really didn't think too much about him." Milligan liked this filly enough to also key an exacta with her over the rest of the field, a $7 wager. "In hindsight that was so critical that I did that because I got value out of that horse," he said. "I basically hedged the entire Pick 5 bet because of it, so I didn't have to worry about hedging in the final leg. You hear people say all the time that if you have an opinion on a really big longshot you just have to do something to make sure you get paid if they win." Mon Petit won, and the $1 exacta paid $360. That covered the cost of his Pick 5 ticket and then some. He had what basically equates to a free roll.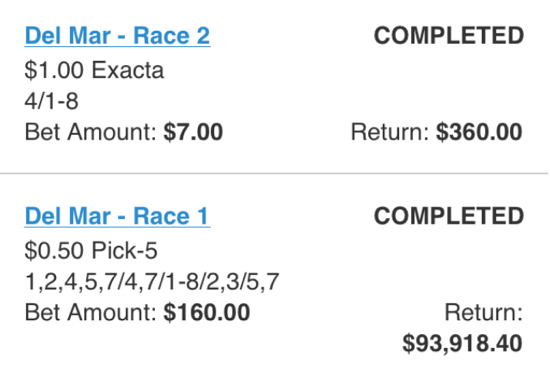 But he didn't get to see his longshot hit the wire first. A technical difficulty prevented it, only adding to the drama of the day. "I'm on my way to dinner with my cousin and his wife, and I'm looking at this race on my iPhone and it cut out during the stretch. It actually cut out," Milligan remembered. "And when I got it back in, it was the gallop out. And I'm seeing the wide pan out at first, and I'm like, 'Please zoom in on the 4,' and lo and behold they zoom in on the 4. That's the perils of streaming on the phone." He was now guaranteed into the fourth leg of the sequence with the "all" button pushed in the third race. A 5-1 shot prevailed, and Milligan had two horses apiece in the final two events. In the fourth race, "I had a first time starter (Bunuska) that aired," said Milligan, who by that time had arrived to Hammerheads, a Louisville gastropub. A clean signal to watch the race was still hard to come by. "As soon as I got the video to come up on my phone, he was clear by lengths, and that was the leg to get to the payoff," Milligan added. "I didn't want to say anything to anyone and I didn't want to jinx it by bringing attention to what was happening, but I decided if I got through this leg, I'd start talking about it. When Bunuska won by 4 ¼ lengths, ridden out by jockey Tyler Baze for trainer Jeff Mullins at 5-1, Milligan was alive to two horses in the payoff leg. He waited for the will pays to be posted so he could see what awaited if either the Race 5 favorite, Lakota Road, or longshot Fable, won. They were about $20,000 or $95,000 with 10 horses in the field. Fable was a first-time turf runner who would lead to the bigger score. "It was very fortunate," Milligan said. "In the last race there was a bad morning line on this horse. Might have been 10 to 15-1 and just had a really good turf pedigree. There wasn't a lot in the race, so it made sense to try someone new who might like the grass. "...The favorite I had opened at 9-5 and this horse opened at 5-1. I can't tell you how good that made me feel to see her open taking some money. At this point you already have a 50-1. All you want to do now is survive -- period." Milligan said it was "surreal" watching the race outside with his cousin. "There wasn't really any yelling like the way you'd think that you'd be doing," he said. "I was kind of like in shock -- numb." Fable, with jockey Brice Blanc in the saddle, did indeed take to the turf well in the one-mile starter allowance for fillies and mares 3-years old and upward. A minute and 35.33 seconds after the gates opened, Fable hit the wire first, and Milligan was $93,918.40 richer for it. "It's something you wish upon everybody to have that feeling, especially in a skill game like handicapping: to be able to dial something in and have your day," he said. "Everyone really needs to endeavor to feel this in horse racing. It's so cool. There are a lot of bad days and terrible circumstances leading up to it. When it actually comes in for you it's just a great thrill."