Secretariat's heart size still remains a wonder of the racing world, and the power of it prompted Audi to use it in a commercial. "The all-new, 354 hp Audi S5 Sportback is here," the commercial says. "Progress is powered from within." 
The analogy, of course, it that Secretariat's power came from within, as well. He had the breeding to be a great race horse, but he also had something that made him more powerful and unique. His heart was more than twice the size of an average horse.
In Pure Heart, originally published in the June 4, 1990 issue of Sports Illustrated, Bill Nack reports the words of Dr. Thomas Swerczek, who performed the necropsy that discovered just how big Secretariat's heart was.
"We were all shocked," Swerczek said. "I've seen and done thousands of autopsies on horses, and nothing I'd ever seen compared to it. The heart of the average horse weighs about nine pounds. This was almost twice the average size, and a third larger than any equine heart I'd ever seen. And it wasn't pathologically enlarged. All the chambers and the valves were normal. It was just larger. I think it told us why he was able to do what he did."
While Secretariat's heart was buried with him, Audi's depiction compared to the average horse helps provide an idea of how big the champion's heart really was.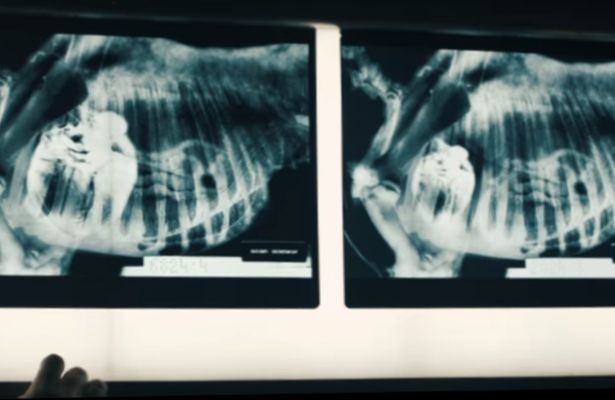 Secretariat's heart was estimated to be a whopping 22 pounds. The possible secret behind the enormous size is the X Factor, a term coined by Marianna Haun. In Haun took the 'X Factor' to the nth degree, Mark Simon of The Daily Racing Form, remembers Haun and her dedication to this theory:
"Marianna had learned that Secretariat had an unusually large heart – estimated at 22 pounds, while the average Thoroughbred heart is 8.5 pounds. This tremendous cardiovascular system, pumping oxygen into his lungs at an abnormally high rate, was clearly a source of his stamina and power. Though Marianna did not possess a scientific background she wondered if it was genetic, and began looking into it – learning that Australian researchers had studied heart size 40 years earlier and had concluded it was passed along the X chromosome. But their research never gained traction here and they never linked it to specific horses in North America.
In February 1994, she wrote a piece for Thoroughbred Times entitled The X Factor, which suggested that the large heart traces to a single mare, Pocahontas, born in England in 1837, heralding back to the great sire Eclipse. The article went into detail on the theory, examining all available research to that time, and why it was so important to the breeding world. It was a very good article."
Haun's first book, The X Factor, What it is & how to find it: The Relationship Between Inherited Heart Size and Racing Performance, was published in 1997. This was followed up by Understanding the Power of the X Factor in 2001, and Solving the Mystery of Secretariat's Heart in 2013. Haun passed away February 12, 2016, but her first, second, and third books can still be purchased.
The third book is aimed to help breeders reproduce a heart similar to Secretariat's by breeding bloodlines that follow the X Factor pattern. While Secretariat was able to produce a Thriving Legacy, including 1986 Horse of the Year Lady's Secret, he never replicated himself.
The enlarged heart wasn't the only thing that allowed Secretariat to smash record after record during his 1973 Triple Crown campaign. He was also known for his astonishing confirmation, which Wikipedia summarizes:
"Secretariat's absence of major conformation flaws was important, as horses with well-made limbs and feet are less likely to become injured. Secretariat's hindquarters were the main source of his power, with a sloped croup that extended the length of his femur. When in full stride, his hind legs were able to reach far under himself, increasing his drive. His ample girth, long back and well-made neck all contributed to his heart-lung efficiency."
Looking at the beginning of Secretariat's career race history, it was clear he was a talented colt who deserved to be highly regarded on the Triple Crown trail. The three classic races would only grow his fame, as he still holds the fastest times for the Kentucky Derby, the Preakness Stakes, and the Belmont Stakes. His Derby time was 1:59.40, and the only other winner to make it under two minutes was Monarchos in 2001, with a time of 1:59.97.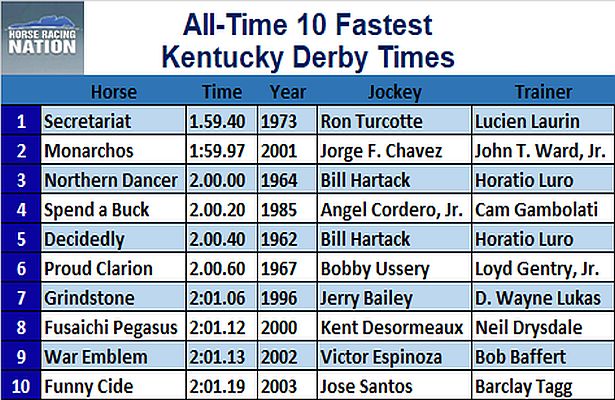 Continuing onto the Preakness, Secretariat broke another record and finished in 1:53 flat. His first two legs of the Triple Crown were impressive, but his historical Belmont win, done in 2:24, is the race he is most remembered for.

The 1973 Belmont made many people consider him the best racehorse to ever grace the earth. In fact, the HRN community has Secretariat ranked number one on the list of Top 250 Thoroughbreds of All-Time.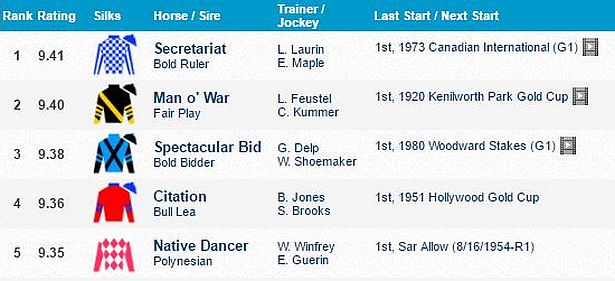 While Secretariat's familiar rival, Sham, second in the Derby and Preakness, tried to pressure him in the Belmont, the attempt did the opposite. Instead, Secretariat performed the impossible. He began to pull away before he even reached the second turn, and the leading margin kept growing as he barreled down the track.
"Secretariat is widening now," Chic Anderson called with excitement. "He is moving like a tremendous machine!" Those famous words were just before Secretariat turned for home to win the Belmont by 31 lengths. Anderson knew he was watching something special unfold, but what he didn't know is that his words were not far off from the truth.
It wasn't a tremendous machine that powered Secretariat – engines like that are reserved for cars – but a tremendous heart that helped make him arguably one of the best racehorses.
More on Secretariat's life can be seen in ESPN's Sports Century episode below. Aired on November 5, 2000, Secretariat was part of a series featuring the top athletes of the 20th century.
By Christine Oser