Welcome to Taking a Stand.
In this weekly column, I will be identifying vulnerable favorites and evaluating alternate horses to use in key weekend stakes races. Many horseplayers are far too quick to use a weak favorite defensively while playing not to lose.
However, some of the biggest scores can come as a result of taking an aggressive stance against a horse the public will heavily support. This column is not for the faint of heart, but tremendous opportunities abound for those steely-eyed souls willing to play against the masses. 
Last Saturday, we were successful in taking a stand against a very heavy favorite in Higher Truth. Despite the scratch of the likely leader resulting in Higher Truth getting an extremely favorable trip, she could only muster a nonthreatening third in the Sands Point Stakes (G2).
As many stables go dark in preparation for the upcoming Breeder's Cup events, we are going to return back to the scene of our last stand at Belmont Park. Furthermore, we are going to take a stand against yet another Chad Brown horse on the turf in the Noble Damsel Stakes (G3) where we are against No. 10 Tamahere (9-5).
Tamahere flashed substantial talent in her first U.S. start for Chad Brown in the 2020 running of the Sands Point Stakes where she comfortably dispatched a field of eight runners. It seemed like a foregone conclusion that she would be the next in the seemingly endless string of Grade 1 winners for Chad Brown. 
However, things have not gone as well as anticipated ever since that local victory. She struggled to compete with the top filly and mares at the Grade 1 level, and then she disappointed as the heavily backed favorite in an optional claiming race at Saratoga this past summer.
Tamahere finally got back into the winner's circle last out when beating a mediocre field at Monmouth Park in the Violet Stakes. Some handicappers may view this as a return to form and look to support her off of that effort. However, I think there are a few key reasons this filly is vulnerable on Saturday.
First, let's take a look at the pace of the race. The TimeformUS Pace Projector indicates that this race will have a fast pace with Tamahere being forwardly placed tracking the leader, No. 5 Shifty She.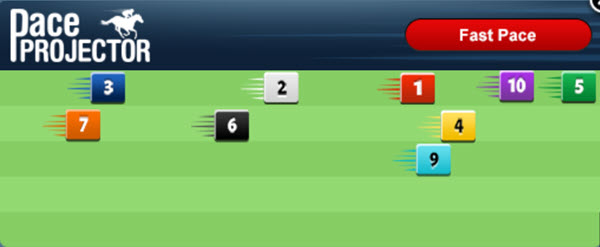 While it is always risky to assume an honest pace in a NYRA turf route, there are a number of horses in this event who do their best running on or near the lead.
No. 1 In a Hurry, No. 4 Platinum Payner, No. 5 Shifty She and No 10. Tamahere all run best when they are forwardly placed and allowed to set or press the pace. No. 9 Risky Mischief could also add to the pace on the stretch out from sprints to a route.
The presence of these other speed horses makes it likely that Tamahere will need to take up a stalking position rating off of the lead, especially given her far outside draw in post ten. However, Tamahere is a very headstrong horse who has done her best running when on the lead.
Despite the fact she did get a victory closing from the back of the pack in 2020, she was very rank when forced to rate in the Jenny Wiley (G1), Just a Game (G1), and in the Saratoga optional claiming race in June.
Clearly this filly prefers to be running loose on the lead, an outcome that seems rather unlikely in this particular race. If forced to rate off of the pace, Tamahere could very well become unruly once again and waste precious energy fighting her rider.
Finally, Tamahere appears to be a horse who prefers a bit of cut in the ground. This should come as no major surprise. She did her best work in Europe over soft turf courses, and her best local races have also come in the Just a Game and the Violet Stakes.
Both of those races were conducted over yielding turf courses with significant moisture in them. According to the latest weather forecast, there is no rain scheduled for Saturday for Belmont Park, so it seems likely that the turf will be firm.
Given the contested pace scenario, Tamahere's recent history of rating unkindly, and the forecasted turf conditions, Tamahere is a vulnerable favorite at Belmont Park.
Looking beyond the favorite, there are no clear standouts or alternate horses to lean on. No. 3 High Opinion is arguably the main threat after just missing the Ballston Spa (G2) last out. High Opinion actually defeated Tamahere in that race, and she should get a favorable pace scenario here to set up her late kick.
The Ballston Spa has proven to be a decent race, as third place finisher Kalifornia Queen returned to run third in the E.P. Taylor Stakes (G1) at Woodbine.
Tony Dutrow's barn has been on fire all year, winning at 29 percent so far in 2021. It's further encouraging that Saez elects to retain the mount despite having some options in this race.
Looking deeper into the race, No. 1 In a Hurry (8-1) is the most interesting challenger of all the longer priced horses. This filly gets a class test here after toiling in the allowance ranks for most of her career. However, her last two races are fast enough that she is a legitimate contender if she can repeat them or marginally improve.
Unlike Tamahere, In a Hurry has run her best races when allowed to settle just behind the leaders and get the first run on the rest of the closers. Castellano will need to avoid getting caught up in a speed duel early on, but if he can get this filly to settle just off the pace she should be dangerous in this group.
Beyond those two horses, it is difficult for me to latch onto any other alternates. No. 5 Shifty She (9-2) is certainly fast enough to win this race and exits a strong effort at Kentucky Downs, but I wonder if she will get too much pace pressure to take this field gate to wire. She is very usable at her morning line odds of 9-2, however. No. 2 Flower Point and No. 9 Risky Mischief seem better sprinting and would be surprise winners against this bunch.
The "other" Chad Brown runner is always dangerous in New York, and No. 6 Love and Thunder finally broke her streak of runner-up finishes when winning last out. The speed figure of that race did not come back particularly strong, but the pace was extremely slow that day and she won while going away. She would need a big step forward to win Saturday, but that isn't totally out of the question.
This is a race where my strongest opinion is against Tamahere rather than supporting any other particular horse. Tamahere has run a handful of very poor races in the past when faced with similar race conditions, so I will leave her completely out of all of my tickets.
High Opinion is the most likely winner, with Shifty She, In a Hurry, and Love and Thunder all logical horses to hit the board.
How to play it:
Race 8
Exacta: 1,3 / 1,3,5,6
Trifecta: 1,3 / 1,3,5,6 / 1,2,3,5,6
Taking a Stand overall record: 4-1
Stands Taken:
Sept 18, 2021 - Raging Bull (2-1 ML, 7-2 final odds, 3rd place finish)
Sept 25, 2021 - Moretti (2-1 ML, 2-1 final odds, 5th place finish)
Oct 2, 2021 - Dr. Schivel (2-1 ML, 9-5 final odds, 1st place finish)
Oct 9, 2021 - Double Thunder (4-1 ML, 7-1 final odds, 2nd place finish)
Oct 16, 2021 - Higher Truth (2-1 ML, 6-5 final odds, 3rd place finish)