Welcome to Taking a Stand.
In this weekly column, I will be identifying vulnerable favorites and evaluating alternate horses to use in key weekend stakes races. Many horseplayers are far too quick to use a weak favorite defensively while playing not to lose.
However, some of the biggest scores can come as a result of taking an aggressive stance against a horse the public will heavily support. This column is not for the faint of heart, but tremendous opportunities abound for those steely-eyed souls willing to play against the masses. 
Last weekend, we were able to right the ship and get back on track when successfully fading Double Thunder at Keeneland, who finished second in the Breeders' Futurity. Furthermore, we gave out the winner, Rattle N Roll, who dominated that field and paid a generous $19.40 to win.
There are slim pickings for taking a stand this weekend, as there are only two graded stakes races across the country on Saturday. Nevertheless, we're going to take a deeper look at Race 6 on Saturday at Belmont Park, the Sands Point Stakes (G2). We are taking a stand against morning line favorite No. 5 Higher Truth (2-1).
At first glance, Higher Truth may appear to be a tough horse to bet against. She is ultra consistent, hitting the board in her last five races while never beaten more than a length in those efforts. While her form does appear strong in this field, I believe that a few of her races have been dressed up by absolutely perfect trips.
Let's take a look at her last race, the Jockey Club Oaks Invitational Stakes on Sept. 18. Higher Truth made the lead that day and set a very slow pace, absolutely crawling on the lead while taking zero pace pressure whatsoever.
Additionally, this race was run on the inner turf the first weekend after the rails were taken down, and horses who saved ground along the inside path had a significant advantage while running over the best part of the course. Despite setting slow fractions with no pace pressure while running with the bias, Higher Truth was unable to hold off the late charge of stablemate Shantisara.
In her prior two races, the Saratoga Oaks Invitational (G3) and the Belmont Oaks Invitational (G3), she was unable to run down pacesetter Con Lima despite getting perfect trips once again. The half-length margin of defeat to Santa Barbara in the Belmont Oaks is somewhat misleading, as Santa Barbara had a poor trip and was buried in traffic until the 1/16th pole. When she finally got clear, she blew by Higher Truth with ease.
After failing to find the winner's circle in her last three starts, Chad Brown is cutting this filly back to nine furlongs. However, I'm not convinced that the cutback is going to work in her favor.
Her lone try at nine furlongs was the worst race of her career, and she has really improved since stretching out to the 1 1/4-mile distance. Even if you toss the maiden race at nine furlongs, she is bred to go long and may find this distance a little too sharp.
Finally, Higher Truth appears to have somewhat plateaued in her form cycle. While she's run admirably in all of her recent races, she hasn't really improved in any of those efforts, essentially running the same TimeformUS speed figure in each of her last three starts. While repeating that figure certainly makes her a contender here, one would like to see a little more improvement for such a lightly raced filly for powerhouse trainer Chad Brown.
She has made major strides since her debut race, and I wonder if this is perhaps just as good as she is going to get. Others in this race project to improve and will offer more upside at better prices.
Handicappers are often quick to bet back horses who run against unfavorable race conditions, whether that is a troubled trip, a pace compromised effort, or a race against the bias. However, oftentimes they ignore the fact that other horses take advantage of those same conditions and run races that may not be as good as they appear. I believe Higher Truth's form is flattered by a string of extremely favorable race conditions, and she is vulnerable here on the cutback.
The main threat to Higher Power is actually a horse she defeated last out in No. 3 Harajuku (3-1). Take a look at the below race chart for the Jockey Club Oaks, courtesy of TimeformUS.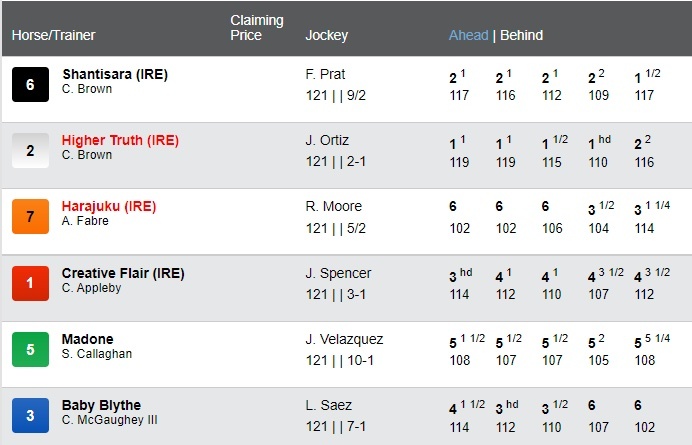 What is immediately apparent from this chart is that there was not a whole lot of passing going on in this race. Essentially every horse finished the race wherever they were at the first call, except for Harajuku.
Harajuku veered out at the start badly and lost every position, ultimately taking up a trailing spot at the very back of the field. From that point onwards, it was going to be extremely difficult for her to win given the slow pace up front. Harajuku is basically the only horse to make up any meaningful ground on the leaders in a race that was dominated on the lead.
There should be more pace in this race compared to the Jockey Club Oaks, which would benefit Harajuku. She also figures to improve while making her second start locally. Her European form is fairly strong, and while she may be better going longer, she does own a win at seven furlongs, so this distance may suit her after all.
Speaking of the pace scenario, No. 2 Jordan's Leo (6-1) figures to be involved early from the inside draw. She displayed good tactical speed in both of her turf races, and the switch to aggressive jockey Luis Saez is a significant upgrade. He is easily one of the best riders in the country at stealing turf races on the lead.
Jordan's Leo has not run fast enough to date to compete with some of today's top rivals, but she stepped forward in her second turf start while running second against a salty field. She is open to further improvement and should enjoy a tactical advantage over her competition.
Some folks may opt for No. 7 Fluffy Socks (7-2) or No. 6 Plum Ali (8-1), but neither of those runners particularly interest me. I actually prefer the latter to the former given the discrepancy in odds.
Both of these fillies feel like horses who developed much more rapidly as 2-year-olds than their competition. However, both are winless as 3-year-olds, suggesting the competition has caught up or they have not really stepped forward from their two-year-old campaigns.
No. 4 Runaway Rumour (8-1) and No. 8 Our Flash Drive (12-1) are both runners who I believe will get lost on the board but have a decent chance at the upset. Both exit the same race in the Pebbles Stakes, which came up surprisingly strong for the level. While other horses in this race have failed to progress with maturity, both of these runners have improved in each start of their careers, never going backwards or showing signs of regression.
I would slightly prefer Our Flash Drive to Runaway Rumour simply due to the fact I think she will be a little more forwardly placed, but both of these runners are interesting longshots.
In conclusion, Higher Truth is a deserving favorite who is extremely likely to hit the board. However, I believe she has been taking advantage of favorable race conditions and is vulnerable on Saturday. Harajuku is the most likely horse to turn the tables, but Jordan's Leo, Our Flash Drive, and Runaway Rumour all can threaten with any expected improvement.
How to play it:
Race 6
Trifecta: 2,3,4,8 / 2,3,4,8 / 5
Trifecta: 2,3,4,8 / 5 / 2,3,4,8
Exacta: 3 / 2,4,8