The Thoroughbred Retirement Foundation's Second Chances program has been a game-changer for adult inmates since its inception in 1983. In caring for retired Thoroughbreds, women and men have learned vocational and life skills that go a long way toward easing their transition when they rejoin society.
Now, there is hope that Second Chances, with the theme of "Saving Horses and Saving Lives," can make all the difference for troubled youths through a ground-breaking effort at the Center for Success and Independence (CSI) in Ocala, Fla. Florida is one of eight states that host Second Chances.
"There have been literally years of effort going into this," said the TRF's Kimberly Weir of the addition of juveniles.
According to Weir, the Department of Juvenile Justice in Ocala approached the TRF about extending its reach because it was so impressed by the work done with adult women in the last 20 years at the Lowell Correctional Institution, which neighbors CSI Ocala. Lowell inmates built the barns and provided other heavy lifting necessary to get the juvenile program off and running.
"They did all of the labor that made this program possible," Weir said. "The women of Lowell actually feel a huge sense of ownership that they created this thing."
The juvenile initiative is small but promising. Velvet Saulsberry, equine program director, works with five to eight young men at a time, ages 15-18, with the hope of developing a blueprint for success that may eventually be emulated nationally.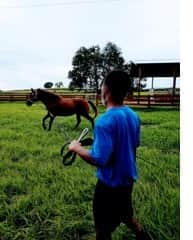 In addition to teaching basic horsemanship that can lead to the abundant employment opportunities that exist upon release, one of Saulsberry's most important lessons involves the importance of body language.
"How you present yourself is the beginning of how you communicate with an animal that big," she said. "If you present yourself in a way that is friendly and respectful, it doesn't make the horse think you're a predator." The lesson is critical because many youths adopted a hard-as-nails exterior to survive in brutal environments in which they felt lost and uncared for.
The teenagers work with four retired Thoroughbreds: Fifth Angel, Hurricane Sergio, Cut of Music and Hemingway's Key.
If Hemingway's Key sounds familiar, he should. He distinguished himself with a third-place finish in the 2006 Preakness Stakes. Fifth Angel is the star of this show, however. She is used to welcome juveniles who, for all of their gruff demeanors, are initially wary of being kicked.
"I watched her just get real soft the first day I used her. Her eyes got real soft. She started breathing on these kids like she would calm a nervous foal," Saulsberry said. "She just quietly started wrapping herself around them like a snake."
The teenagers felt that warmth and soon began to respond in kind. "I just watch the layers of belief that they had to be tough to survive fall off," the program director said. "Some of that behavior is not what they wanted to learn. It's what the environment did.
"The human part of them, the social part of them that should have been there all along, that natural affection, some part of themselves that they haven't had a lot of contact with, that gets brought out."
Second Chances has helped its share of adult lives. Its ability to reach juveniles remains to be seen.
"If all you know is roughness but you want to change, you're tired of getting into trouble, being able to be in this environment facilitates that desire," Saulsberry said. "It definitely will help you change if you want to."
Saulsberry shared an anecdote that is encouraging. One young man was having a bad morning for whatever reason. His body language could not have been worse as he approached Fifth Angel. As he attempted to work with her, she sensed his sour mood and would not tolerate it. She dug her feet into the ground, half a ton of rebellion.
If there was ever a lesson that something other than force was needed, this was it. The teen apologized to the mare before gently stroking her shoulder.
And they made a fresh start.