I am an animal rights activist. I support several animal rights groups. Twice I have gone to the Sea of Cortez in Mexico, where we observe gray whales and newborn babies in a protected environment.
I have volunteered at animal sanctuaries in Indonesia and Thailand, where I have stayed with rescued elephants and their mahouts. I am a proponent for sanctuaries for certain animals like gorillas, lions, tigers, rhinos and elephants.
It deeply hurts me when a horse is injured during training or racing. But I am also a horse lover, owner, breeder and proponent of horse racing.
I have listened attentively to recent public comments made at California Horse Racing Board meetings. Unlike some on my other animal rights advocates, I believe one can be a horse lover and a lover of horse racing.
Overseeing the foal from birth through their racing and onto retirement is a real two-way love affair. I can assure you they get the best of care and love being a race horse. I have videos of me and a 6-day-old foal doing laps in a fenced pasture.
Racing is what these animals are born and bred to do. Yes,  sometimes  there are accidents and they die or are mercifully euthanized. 
What my passionate fellow advocates see is only the bad, the gruesome and the ugly. Their news source is opinionated propaganda. What they don't understand is Thoroughbred racehorses cannot survive in the wild or in a reserve. Their legs aren't as sturdy and their diets are more restrictive than a wild horse.
But they also outlive their wild relatives by at least 50%. Thoroughbreds would die alone, experiencing painful, agonizing deaths in the wild. These horses require constant attention from vets, farriers and a special diet. Putting French poodles or racehorses or other domesticated species in sanctuaries or reserves will never work.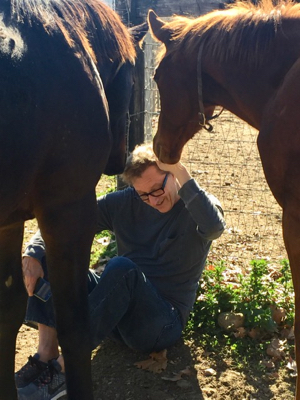 Abolishing racing as a solution would mean the near extinction of the species. The only real solution is making racing safer and better for horses and riders. I hope we can work openly together toward that goal.
I appreciate activists' passion, but that has also clouded their judgment. Being passionate and emotional does not always make you right. It can distort the full truth. Saying they are the voice for the horse is somewhat ironic, because most have never spoken to a horse, or at least not as much as horse owners have. Making good, pragmatic decisions requires an open mind and dialogue. 
Many owners, including myself, would be open to a constructive dialogue with those opposed to horse racing, but I doubt they would do so. We in the horse industry must, and will, continue to improve our industry from within.
I am hoping for two things:
1. To see racing improve safety through proactive approaches such as using Positron Emission Tomography (PET) scans to detect at-risk horses.
2. Educate activists so they get a broader perspective of racing and take the emotional aspect down a notch. If they're informed, we can push for changes and not abolish racing, which would put tens of thousands of horses in a vulnerable position and thousands of employees out of work.
Five years ago I entered horse racing. I did extensive research and soul searching, and I know I am doing the right thing for these beautiful animals.
Bob Liewald, a Thoroughbred Owners of California board member, campaigns horses with Eclipse Thoroughbred Partners, Little Red Feather Racing and Starlight Racing. He intends to proudly run horses in his own DoubleL Racing silks beginning this summer at Del Mar.