Over the two days of Breeders' Cup, we were treated to incredible racing, tight photo finishes and rewarding wagering outcomes. Cody's Wish delivered and Goodnight Olive also was a Breeders' Cup repeater. The Europeans showed us why they still own the turf. White Abarrio put a punctuation mark on his campaign with a stirring finish in the Classic, making his case for horse of the year.
It was a particularly strong showing for the Super Screener this year.  To start, from our top-two-ranked horses came the winner in 10 of 14 races.  Here's a summary of those outcomes.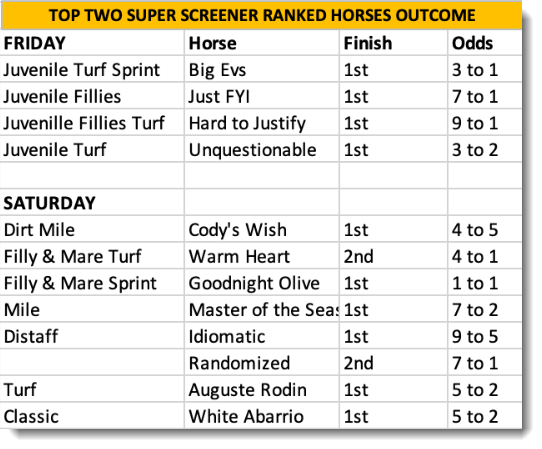 The key to scoring in the Breeders' Cup is to isolate the one or two long shots in each race from the multitude of options to include in wagers while keeping those wagers as narrow as possible. Here are some of the highlights of how this year's top long-shot picks performed.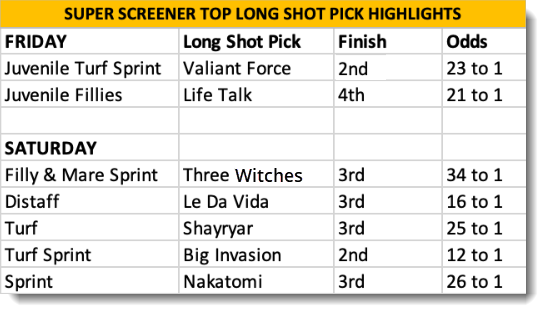 Finally, Super Screener features wagering suggestions to choose from for every Breeders' Cup race. For this year's Breeders' Cup, there was a regular flow of cashed tickets highlighted by the big takedown of $2,124 in the Filly & Mare Sprint, which also was the race that featured the biggest score last year. Here's a summary of the winning wagers over the two days of racing: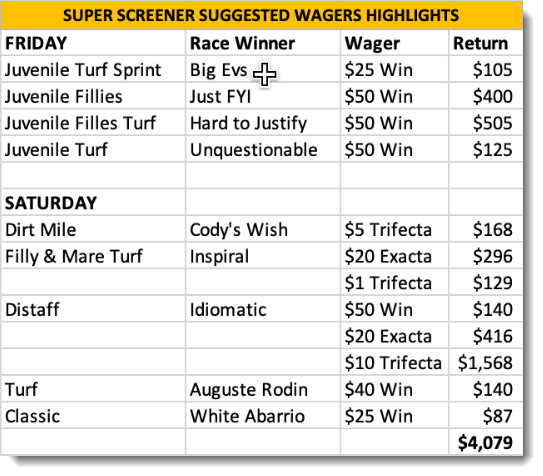 Now it's time to get back to work on leveraging the results of this year's Breeders' Cup to continue to optimize the Super Screener criteria for each race so that we can score again in 2024.
I can't thank you enough for subscribing to the Breeders' Cup Super Screener. If you aren't already a subscriber to our weekly ebook, I invite you to do so to enjoy cashing on races all year long.
Use code BCPEGASUS24 to take $20 OFF the Pegasus Cup package, which gets you weekly Super Screener analysis from now through January.
Go fast and win!
Mike