It'll be a tough task for handicappers to narrow down an evenly matched bunch of contenders in Saturday's Grade 2, $200,000 Lecomte Stakes at Fair Grounds — but that's the exact strength of Horse Racing Nation's Super Screener handicapping system.
Authored by Mike Shutty, the Super Screener effectively "screens" pretenders out of the equation using time-tested, data-driven methods, a welcome tool when faced with a field of 14 newly turned 3-year-olds and seemingly no standouts on paper.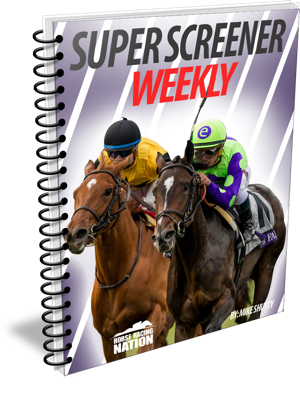 The Super Screener, which handicaps the nation's top stakes each week, will include other events on Fair Grounds' loaded Saturday card. For now, preview what Shutty has to say starting with his pair of "A" selections for the Lecomte.
"This pace setup will be faster than par with a ton of early pressure," Shutty predicts. "Historically, it is tough for a pace type to win this race, and most often it is a mid-pack closer regardless of pace setup."
As such, he feels like the race shape benefits, in order of preference…
No. 9, Silver State (5-1): "Owns just two career starts but dominated his debut and missed the victory by a nose in his last while moving forward in his form cycle," Shutty said. "Expect another move forward here off that very productive series of sharp works. He's bred to get the Kentucky Derby distance, and jockey Ricardo Santana Jr. opts for this one over Silver State's Steve Asmussen-trained stablemates."
No. 4, Scabbard (7-2): "Steps down to meet much easier than he has in his last three starts. He ran against the speed bias in the Breeders' Cup Juvenile when finishing fourth. Prior to that, he was on an ideal form cycle progression but encountered trouble when finishing a fast-closing second to Dennis' Moment in the Iroquois Stakes at Churchill Downs."
Shutty, who handicaps using Brisnet figures, says the first call pace averages out to a 91 rating in the Lecomte, run in past years at a shorter 1-mile, 70-yard distance. Given an abundance of speed and pressing types, he's expecting this year's edition to measure more like a 94 despite going 1 1/16 miles.
Key screening criteria for this prep includes a balanced energy distribution profile, which both of the top choices possess. And it's typically horses coming from Churchill Downs that prove to be the class of the field.
In the full edition of the Super Screener -- available now -- Shutty offers in-depth comments on the rest of the field, plus lists suggested wagers for a race he says has strong payoff potential. Good luck with your tickets, and consider getting the Super Screener advantage today.