Few would argue that Swiss Skydiver is the best horse is Saturday's G1 Alabama Stakes at Saratoga, but the most talented horse does not win every race. One has to take any vulnerabilities into account when analyzing a heavy favorite and that is exactly what Mike Shutty, author of Horse Racing Nation's Super Screener handicapping system, did when taking a closer look at the Alabama.
Shutty notes that Swiss Skydiver's only weakness on paper heading into the Alabama is possible distance limitations.
"She'll be on the pace and will be able to run fractions nearly identical to what she laid out in the G2 Santa Anita Oaks. This will allow her to carry her speed further and she'll need to as 1 1/4 miles is her only question mark."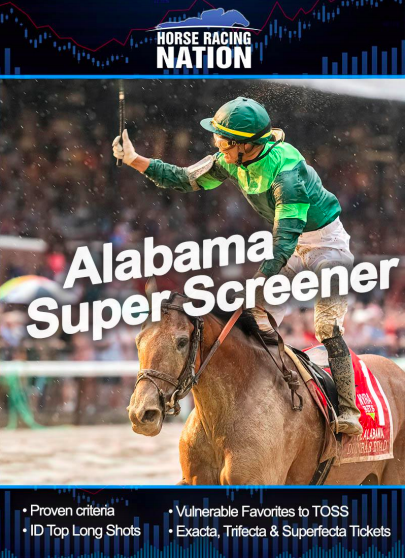 In a race where every runner is trying the mile and a quarter distance for the first time, it is important to gauge which filly has the build and breeding to show the most improvement.
Shutty feels that Todd Pletcher's Spice is Nice, who is by Curlin, fits this bill perfectly.
"This Todd Pletcher-trained filly is built to go 1 1/4 miles. She is a natural closer that has been plagued by slow pace set ups in every one of her 4 career starts."
She ran poorly against Swiss Skydiver when sitting behind a slow pace in the Gulfstream Park Oaks, but Shutty is willing to forgive that effort going 1 1/16 miles.
"This closer had absolutely no chance in that race. Gets a pace set up closer to par and is in a position to turn the tables on Swiss Skydiver, especially at this 1 1/4 miles distance while offering far more value. Form cycle analysis indicates another move forward here and her penultimate work was razor sharp. Strong player."
Many will single Swiss Skydiver, and while Shutty says that Swiss Skydiver should be used on every ticket, he feels Spice is Nice is a must-use as well.
Those playing exotics should looks towards Envoutante and Bonny South as exacta and trifecta fillers.
Shutty notes that Envoutante "has not missed the trifecta in 4 starts on a dirt surface," and "is bred to run all day long."
Shutty thinks Bonny South could have distance limitations, but feels she is coming up to her best career race.
"She'll resume that orderly form cycle progression that followed her debut with a new lifetime top being the projected outcome here. If this race were to be run at 1 1/16, she would be an even better play over Envoutante but the latter foe will appreciate this distance more."
By looking at Shutty's Pace Projections for this race, which he has right on par with a typical race at the distance, one will find that Crystal Ball could be in trouble. He has her tabbed as the filly to run with Swiss Skydiver early, which will likely be problematic for her late.
As talented as Swiss Skydiver is, the mile and a quarter test appears to be the best time to try to beat her. The Super Screener points out a clear alternative and the price should be nice on Spice is Nice.
In the full Super Screener available today, Shutty similarly comments on the Saratoga Derby, plus the Pegasus Stakes at Monmouth and the King Edward and Woodbine Oaks at Woodbine, detailing the "screening criteria" behind his top selections. This is a must have this week if you plan on playing the Cross-Country Pick 5.