With four shippers contributing to the field of 10 in Saturday's Grade 1, $1 million Pacific Classic, there's an east vs. west vibe to Del Mar's premier summer meet race.
From a betting perspective, Mike Shutty, author of Horse Racing Nation's Super Screener handicapping system, is rather treating this race as young vs. old, opting to place atop his tickets two colts with upside midway through their 4-year-old seasons.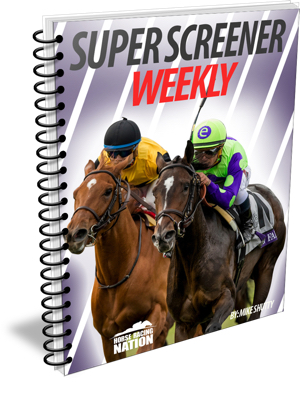 The Super Screener uses time-tested methods to analyze on a weekly basis, with what's offered here a sample of the full product available now. Expect to see other top races alongside a full-field Pacific Classic analysis in the latest edition.
"With Catalina Cruiser withdrawn, this became a more interesting race with a larger field," Shutty said. "In the end, conviction is not strong, as the Super Screener indicates any of six horses can win this race. That does create potential wagering value, but it will be best to find that high conviction board hitter to use as a single in vertical wagers."
For Shutty, that's Campaign, the John Sadler trainee who won recently at 1 1/2 miles in the Cougar II Handicap (G3).
"Even with the anticipated slow pace, there will be overmatched types as well as distance-challenged contenders that will come back to Campaign as he presses on with energy down the short stretch," Shutty said.
As far as the win spot in a spread-friendly race, he's looking at the duo of Quip and Draft Pick.
Quip, most recently a close second to Seeking the Soul in Churchill Downs' Stephen Foster (G2), is a pace factor in the 10-furlong Pacific Classic.
"The case can be made that this horse is finally realizing his potential and has improved significantly in races run this year," Shutty said.
Of course, the son of Distorted Humor has never gone this far in a race.
"Concern over added ground is overplayed," Shutty insists. "Quip will once again press a modest pace here, which works to his advantage. He's proven on deep tracks like Churchill Downs and Oaklawn Park, so he should perform well here."
Trained by Rodolphe Brisset, Quip is 9-2 on the morning line.
Draft Pick offers a much more lucrative opportunity at 20-1 off a third-place finish behind Catalina Cruiser in Del Mar's San Diego Handicap (G2).
"It was his last race, which was a lifetime top, that is signaling this horse is sitting on a big race," Shutty said of the Peter Eurton-trained son of Candy Ride. "In that abbreviated field of four that contested the San Diego, this colt dueled throughout through average fractions before being passed in the stretch. However, it was a better race than it looks on paper as he submitted nearly 100-plus Brisnet Pace and Speed Rating figures over the middle and latter part of the race.
"That bodes well for the stretch out to 1 1/4 miles, which he is bred to get, and he moves forward in his form cycle here to boot. Note the very strong works leading up to this race providing more evidence that he is ready for a top performance."
It's one thing to handicap, however, and other to structure a wager. Shutty's thoughts on all 10 Pacific Classic runners, plus his tickets, are available now via the Super Screener.