The Hollywood Derby (G1) is the highlight of Del Mar's stakes filled closing weekend. The 1 1/8 mile turf race for 3-year-olds drew a field of thirteen, highlighted by five shippers from the East Coast.
As expected in a Grade 1 turf race in America, Chad Brown kicks off the contention with Domestic Spending.
This gelding owns a lethal turn of foot which has propelled him to 3 wins in 4 starts. He runs slow early and super fast late. So far, he has encountered a slow pace in each of his 4 races but has been able to overcome that set up each time but was only able to finish 3rd behind Decorated Invader in the Hall Of Fame (G2). He improved big in his next start. The layoff is not a concern. Brown has shipped here to win.
Related - Best Saturday Plays 
Gufo, a talented Christophe Clement colt, possesses a similar running style to Domestic Spending though he is starting to learn how to ration out that energy in a bit more balanced way. He looked super sharp in winning the Belmont Derby (G1) and does have a recency advantage over Domestic Spending. He is six for seven in the Exacta and won't miss the board here. A very reliable vertical single.
Decorated Invader shares many of the same traits as Domestic Spending and Gufo though he is more pace dependent than that pair. He certainly is a dependable sort having finished in the Exacta seven times in nine starts. He owns an ample turn of foot so if the pace is around par or just slightly under par, he can get up in time. Right now, the Super Screener rates stablemate Gufo just slightly ahead of this one.
The above mentioned trio of East Coast invaders make the most sense on top, but Taishan is a long shot that should be considered underneath to spice up the exotics.
He is on an ideal form cycle ascent that will continue here and he holds a distinct pace advantage. He was too close to a very fast pace last out and probably would have preferred a firmer turf course. The key to his performance here is that he'll stalk a pace he can more than handle allowing sufficient energy to be reserved and then deployed down the stretch getting first jump on the closing "A" horses leveraging that energy reserve to hold off these late comers. Is best used as an "under" play at a big price.
Wagering Strategy
$10 Exacta Box 8,10,13
$2 Trifecta 8,10,13 with 2,3,4 with 8,10,13
$1 Superfecta 8,10,13 with 8,10,13 with 4 with ALL (no 1,5,9)
$.50 Superfecta 8,10,13 with ALL (no 1,5,9) with 4 with 8,10,13
$1 Superfecta 8,10,13 with 8,10,13 with ALL (no 1,5,9) with 4
$.50 Superfecta 8,10,13 with ALL (no 1,5,9) with 8,10,13 with 4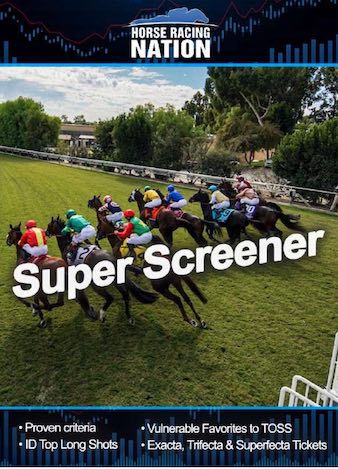 Gain access to complete analysis and wagering strategies of a plethora of this weekend's best races available to Super Screener subscribers only.