The Ballerina Stakes may be the only Grade 1 race at Saratoga on Saturday in which the favorite looks truly vulnerable. Mike Shutty, author of Horse Racing Nation's Super Screener handicapping system, gives his in-depth analysis of Saturday's Grade 1 race as he looks to exploit the weaknesses of Bellafina to make a strong profit.
Bellafina's best is certainly good enough to beat this field, but Shutty feels she has already shown that she can not bring her best efforts on the road.
"It is common knowledge by now that this filly his a horse-for-course type with nearly all her success coming at Santa Anita. It was good to see her pop a strong performance on the Los Alamitos surface last out. However, whenever she ventures East, she has repeatedly disappointed and could do so again here despite getting an ideal pace set up. Going to, once again need to prove she can perform outside CA."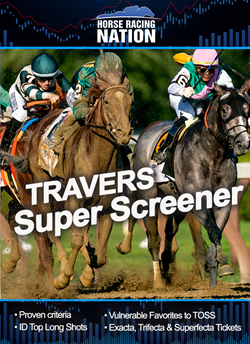 As Shutty looks for viable alternatives, he examines the pace of the race and projects it to be fast. He gives the first and second call ratings that are above par for the distance.
This could spell trouble for Serengeti Empress and Cookie Dough and opens the door wide-open for runners that he categorizes as "off pace".
Shutty thinks Come Dancing is rounding back to her top class form and feels she has the perfect style to benefit from the pace projection.
"After a couple of flops she returned to good form in the G3 Vagrancy. You can fully anticipate a nice move forward 2nd off the layoff as she defends her 2019 victory in this race. Will repeat that pattern from last year when she submitted a top 2nd off the layoff in the G2 Gallant Bloom. Secures the ideal trip sitting 3 lengths off the heated and pressured pace. Castellano sticks."
Shutty feels Pink Sands, who returns to her ideal trip, will get the set-up she needs to challenge Come Dancing for the top spot.
"Her only all-out flops came going two turns and that last race was no exception. Put a big line through that effort as she was also in way over her head. Gets back to one turn and her ideal 7 furlongs distance. Secures the ideal pace set up for her patented late kick."
These are the only two runners he considers "must-use" in horizontal wagers and he will box them in what could be a lucrative exacta.
Shutty also considers Letruksa a good value who could run underneath.
"This filly is more than proven at 1 turn and the cut back in distance is a huge plus. She'll press #1 Serengeti Empress and the fractions will be swift but she is accustomed to that set up and if she can be reserved, she should have plenty of reserve energy for that final critical final furlong getting the first jump on the closers. Offers value."
He will key Come Dancing and Pink Sands on top and will use Letruska, Serengeti Empress and Bellafina underneath. He says the latter three runners are only worth including horizontally if you plan on spreading in this race.
In the full Super Screener available today, Shutty similarly comments on all 5 stakes from Saratoga and 2 stakes from Del Mar, detailing the "screening criteria" behind his top selections. Wagering strategies and suggested tickets are included.