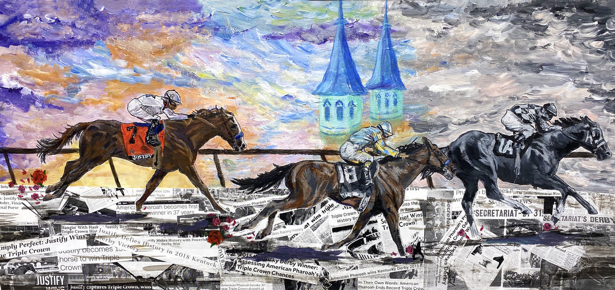 The Kentucky Derby Museum on Tuesday announced that Anna Federico, a senior at Louisville's Mercy Academy, is the winner of its 34th Horsing Around with Art competition for her work, "Secretariat's Legacy."
The piece was built upon three famous Kentucky Derby and Triple Crown winners: Secretariat, American Pharoah and Justify. Federico used the transition from black and white into color to symbolize the passage of time between the wins, including a collage of the horses' names, awards and headlines.
The top prize is awarded to the artist whose work best captures the spirit of the Kentucky Derby, and along with it Federico was surprised during school Tuesday with a dozen red roses. She will be awarded six box seats to Kentucky Derby 2020, a ribbon, plaque and certificate. Mercy Academy also receives $500 for art supplies.
Students in grades 1-12 from Louisville Metro public, private and parochial schools could enter the juried contest, which showcases the student's take on the Kentucky Derby in different artistic style, media and form. All entries -- more than 200 total from 30 different schools -- will be on display for two months at Kentucky Derby Museum through March 15. Federico's winning artwork will be on display for one year at the Museum.
Judging took place Jan. 17, and included a panel of several local artists; retired jockey Patti Cooksey; Kentucky Derby Museum President & CEO Patrick Armstrong; Churchill Downs General Manager Ryan Jordan; and the Museum's official milliner, Jenny Pfanenstiel.