Gun Runner already was off to a great start at stud even before Early Voting captured the Preakness Stakes. But now his first crop includes five Grade 1 winners, including the aforementioned classic winner.
There is understandably plenty of excitement about Gun Runner, but when are his runners a good bet and when should they be avoided? If we dig into Horse Racing Nation's advanced analytics, we can see where horseplayers should jump on the Gun Runner bandwagon and where they should look elsewhere.
If we start with the broad categories, we can see that Gun Runner's offspring have won at 19 percent overall, with an HRN impact number of 0 percent.  The HRN impact measures how horses perform vs. their odds, so 0 percent means that overall, Gun Runner offspring are bet perfectly. 
Looking a step further, we see his offspring are 20 percent winners on dirt, 17 percent on synthetic through a limited sample of 18 starts, but only 6 percent winners on turf. Since Gun Runner never raced on turf in his career, it was probably never expected that his runners would be hugely successful on turf, and with only 35 turf starts there is still limited data. But this is definitely a situation horseplayers should be wary of. Not only are they winning only 6 percent on turf, but the HRN impact is a dismal minus-61 percent. What this means is that his runners are well bet on turf but running well below their odds.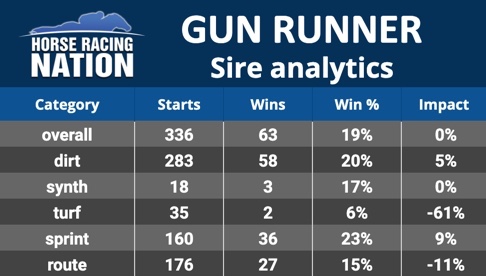 Additionally, note that the results aren't the same routing as sprinting.  His strong 23 percent win rate sprinting drops quite a bit to only 15 percent routing. The HRN impact matches this story, as the Gun Runners are still outpeforming their odds sprinting but underpeforming at routes.
Now if we start to break things out by surface, distance and the condition of off tracks vs. overall, things start to get very interesting. Note how in "wet dirt sprints" (wet = any dirt condition other than fast) and "wet dirt routes," his win percentages jump significantly, to 35 percent and 38 percent, respectively. Yes, Gun Runners are great in the mud and should be given strong consideration on off tracks.
Conversely, if we back out the wet surface starts on the main track, his stats come down a little further. On fast dirt sprints he is getting still a fantastic 21.2 percent winners, but on dry dirt routes, the win percentage drops to 13.8 percent.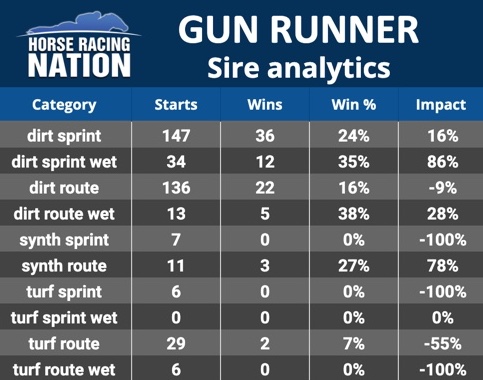 Finally, if we look at the full list of Gun Runner analytics, we see a few other interesting items to keep an eye on. First, his 2-year-old win percentage of 24 percent is dropping to 14 percent as 3-year-olds. That's quite a drop and one to keep an eye on. Secondly, his win percentage is dropping as the distances get longer, especially beyond 6 1/2 furlongs.
Overall, it's been a fantastic start for Gun Runner with Echo Zulu, Gunite, Taiba, Cyberknife and Early Voting as Grade 1 winners. That being said, bettors should be aware of the best times to back Gun Runners and when to avoid them.
To keep up with sire moves every day, check out HRN's new Sire Moves report, which spotlights all the horses each day who are making surface and distance switches that can create large swings in the sire stats for that day's surface compared with the last race.
Below are the complete set of Sire analtyics on Gun Runner to date: