SportsLine's Jody Demling says he "wasn't wowed" by what he saw in last weekend's preps. But Demling — as with most other 2019 Kentucky Derby Media Poll voters — is expecting high impact from Saturday's Rebel Stakes (G2) featuring top-ranked Game Winner and Improbable.
While un-raced so far at age 3, the Bob Baffert trainees continued to lead Monday's new edition of the Derby Media Poll, assembled by Horse Racing Nation with representation by the Daily Racing Form, BloodHorse and Thoroughbred Daily News, among other racing industry trade publications and general news outlets.
"Showdown time at Hot Springs as the Baffert duo square off," said Mike Hartnett, weekend sports anchor for Louisville's NBC affiliate, WAVE 3. "Will we get the definitive Derby favorite after the running of the Rebel?"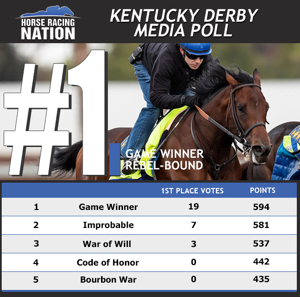 Game Winner, the undefeated son of Candy Ride, received 19 first-place votes in this week's Derby Media Poll, with Improbable's seven the next-highest. Overall, however, they were separated by just 13 total points.
The two were originally expected to meet last Saturday, but the temporary shutdown of racing at Santa Anita Park led to cancellation of the San Felipe Stakes (G2). Baffert has since confirmed both will ship to Arkansas, where they're expected to run in separate divisions of the Rebel valued at $750,000 apiece.
"Rerouting to the Rebel could end up being a blessing in disguise for Baffert," said Horse Racing Nation's Brian Zipse. "With split divisions almost a certainty, he may well keep Game Winner and Improbable separated until the first Saturday in May. Getting both a win and some early confidence this season would be an ideal start on the Derby trail."
"Hats off to Oaklawn Park for picking up the ball and offering to run two divisions of the Rebel Stakes," added The Downey Profile's Dick Downey. "This is the way to run a racetrack."
Multiple graded stakes winner War of Will remained ranked third this week, and Fountain of Youth (G2) hero Code of Honor stuck at fourth. Bourbon War, a runner-up at Gulfstream Park, nudged his way into fifth, just ahead of Baffert-trained Mucho Gusto.
From there, last weekend's preps finally made an impact as Tampa Bay Derby (G2) winner Tacitus landed in seventh. Haikal, who took the Gotham Stakes (G3), was 10th, and Jeff Ruby Steaks (G3) winner Somelikeithotbrown wound up 24th by votes.
"Crazy week of prep races with one being canceled and the other three all having a very fast pace throughout," said TimformUS' Craig Milkowski. "I doubt the winner of any of the three were in many top 10 lists before this week. Maybe the Rebel(s) next week can bring some order."
Galilean (12th), Gunmetal Gray (tied for 15th) and Omaha Beach (19th) are other Derby Media Poll-ranked contenders expected to run in the Rebel — each of them, as with Game Winner and Improbable, making the ship from the West Coast.
"Santa Anita's loss certainly is Oaklawn Park's gain," said Jon White, odds maker at the California track.
"Saturday's Rebel Stakes is going to tell us a lot about the Kentucky Derby picture," added Art Wilson, reporter for the Southern California News Group, "maybe more so than any other Derby prep so far."
Kentucky Derby Media Poll (Week 3)
 Horse (1st-place votes)
 Points
Previous 
 1. Game Winner (19)
 594
 1
 2. Improbable (7)
 581
 2
 3. War of Will (3)
 537
 3
 4. Code of Honor
 442
 4
 5. Bourbon War
 435
 7
 6. Mucho Gusto
 391
 5
 7. Tacitus
 343
 NR
 8. Country House
 312
 8
 9. Hidden Scroll
 302
 9
 10. Haikal
 269
 NR
 11. Roadster
 265
 12
 12. Galilean (1)
 259
 11
 13. Instagrand (1)
 213
 6
 14. Vekoma
 212
 10
 T15. Tax
 174
 14
 T15. Gunmetal Gray
 174
 13
 17. Mind Control
 131
 18
 18. Harvey Wallbanger
 128
 16
 19. Omaha Beach
 89
 NR
 20. Outshine
 82
 NR
Next 10 receiving votes: Win Win Win, Anothertwistafate, Signalman, Somelikeithotbrown, Long Range Toddy, Spinoff, Nolo Contesto, Sueno, Much Better, Alwaysmining.