Dream Police, among the racehorses running loose when the Lilac Fire hit San Luis Rey Downs on Dec. 7, 2017, was found safely and loaded on a trailer out of the blaze's path. Exactly a year later, the 6-year-old gelding found himself on another trailer ride, that one shuttling the son of Wildcat Heir to his first show as an off-track Thoroughbred.
Dream Police retired from racing last spring before placed with CJ Marinaccio of Win Place Home through the California Retirement Management Account. He made his show ring debut at CARMA's Thoroughbred Holiday Classic Horse Show, held at the Los Angeles Equestrian Center in Burbank, Calif., last weekend as one of 100-plus off-track Thoroughbreds competing in jumpers, hunters, dressage, western, gymkhana and showmanship.
CARMA uses the annual event to raise awareness of what retired racehorses are capable of, and to create a connection between the racing and equestrian communities.
"When we launched this event in 2012, we really wanted to give retired race horses a welcoming environment to get experience in the show ring," CARMA's executive director, Lucinda Mandella, said. "Seeing horses who have gone through the Placement Program competing in the show brought everything full circle for us."
CARMA, founded in 2007, is a 501(c)(3) non-profit that benefits retired racehorses. The organization helps place off-track Thoroughbreds and awards grant money to other 501(c)(3) aftercare facilities who help retrain and re-home them. So far, CARMA has been able to help 230 horses from the track.
Marinaccio, founder and lead trainer of Win Place Home, said her non-profit is in its first year as an aftercare awareness partner with CARMA. Based out of Birtwick Park Equestrian Center in Santa Clarita, Calif., Marinaccio retrains off-track Thoroughbreds toward the new discipline they show an aptitude for before placing them up for adoption.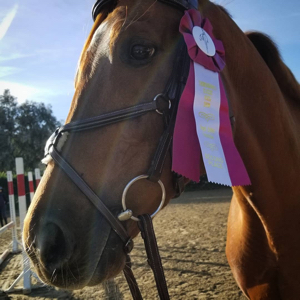 She showed Dream Police under his registered name with The Jockey Club, but affectionately refers to him as "Fawkes" after Albus Dumbledore's phoenix in the Harry Potter series.
"Because he survived the fire, I wanted to sort of give him a fire-related name," Marinaccio said. "Rising from the ashes, phoenix, so I call him Fawkes."
Dream Police was campaigned by Bloom Racing Stables on the California racing circuit and one of more than 400 horses stabled at San Luis Rey Downs when fires ignited in Bonsall, Calif.
Jeff Bloom, the managing director of Bloom Racing Stables, was at Del Mar assisting with evacuees and unloading incoming horses. The seaside oval also took in other farm animals whose owners evacuated. Three of Bloom's horses were stabled at San Luis Rey – Dream Police, A Red Tie Day and Sassy Ashely. 
"While I was hopeful that all three of my horses were making it out and were going to get there, and believe me, every van that I was assisting with unloading, I was just so hopeful that it would be one of them," Bloom said. "As it turns out, I never unloaded any of my own horses. But everybody knew who was out there. Anytime one of them would show up, I would immediately get a phone call or a text from someone letting me know, and I can tell you that it was an enormous relief, just a crazy relief to know that, 'Wow. There they are. They're safe.'"
By the time Bloom was preparing to leave that night, A Red Tie Day and Sassy Ashely had been identified, but there was still no word on Dream Police. 
"Every time I would unload another horse, I would just look on the van hoping that it would be Dream Police," Bloom said. "I think he ended up being like the very last horse that night that was identified. In fact, I was leaving and I got a call. When I left, we still hadn't found him and the call I got when I was leaving the place was letting me know that Dream Police was just identified." 
Forty-six horses from San Luis Rey reportedly died in the Lilac Fire. Dream Police somehow escaped his stall, though Bloom said his barn was not burning.
"When the vans were inside picking horses up and when people were trying to get horses rallied together, there was a large group of horses that were in sort of this paddock inside the track area," he said. "We thought he was part of that."
It's unclear where Dream Police was during the fire, but he miraculously came away unscathed and returned to racing a month later at Santa Anita. He made his last start on March 8 at Golden Gate Fields. Bloom, a board member of the Thoroughbred Aftercare Alliance, said Dream Police showed "a lot of grit and desire on the racetrack," but it was time to find him a new job. The Florida-bred son of Wildcat Heir ended his career with a record of 3-3-6 in 27 starts and earned $131,450.
"Dream Police is a horse – as they all are, they all are such unique characters – but Dream Police is a horse that we had for quite a while, a horse with a ton of heart, and he was a lot of fun for us," Bloom said. "Really fun name. He was named after one of my favorite songs from the band Cheap Trick. They ended up getting a kick out of it, the actual band, and had us come to one of their concerts in Las Vegas and present them with a winner's circle photo of Dream Police there at the concert. It was just a really fun experience being involved with that particular horse."
Bloom has placed multiple retired racehorses through CARMA, who sent Dream Police to Win Place Home in late June. Marinaccio grew up in Los Angeles and competed in eventing before also working with saddle seat, dressage, jumper and western horses. After the show horses, she spent 10 years working at California's racetracks. Her roles included trainer's assistant, lastly for Howard Zucker, and veterinary technician.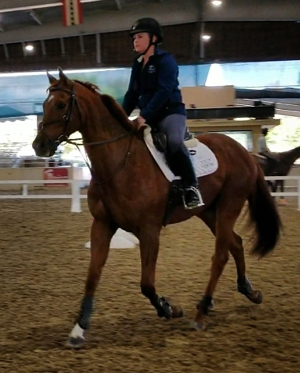 While a part of California's racing circuit, Marinaccio kept turning down free retired racehorses because she couldn't afford to take them on. She tried to help find homes for them, but kept hearing the same answer. The roadblock inspired her to start thinking of a career that allowed her to help off-track Thoroughbreds.
"I just kept thinking about it and sort of envisioning what my dream job would be, and my dream job really would be to just help these Thoroughbreds get a better name for themselves," she said. "I kept trying to find these horses homes and every place I called was like, 'Oh no, we're not taking a horse right off the track. Absolutely not.'
"They just kept having this terrible reputation, and I thought if I can just change that view of them, if I can just take them for as long as it took to transform them into a different horse and to say, 'Well, now I don't have an off-the-track racehorse. Now I have a jumping prospect and I have a dressage prospect, and they've been taught the basics of this new discipline and now all you have to do is take them and keep going with them.'
Win Place Home began in October 2015 and received its first horse in February 2016. Marinaccio gives the Thoroughbreds time to rehabilitate if needed, then moves on to ground work to build trust and communication. Once that connection is established, she begins riding them to figure out what discipline they are best suited for. She puts the basic training of that new career into a horse before listing them for adoption.
"I'm very clear when anybody who comes to adopt these horses that I want these horses to do what makes them happy," she said. "If you're looking for a dressage horse and I have here a western pleasure horse, this horse is not for you."
Win Place Home's horses are adopted out after the potential owner test rides the horse and Marinaccio and the board of directors approve the application. Instead of an adoption fee, Marinaccio lists each horse with a suggested donation that makes for a "pay it forward" effect.
Six horses from Win Place Home have successfully been adopted out so far. In addition to now receiving horses from CARMA, Marinaccio also receives calls from trainers and vets she knows through the track.
She meant to attend the Thoroughbred Holiday Classic a year ago, but the Lilac Fire kept her busy elsewhere.
"We were supposed to go to the show last year, but because of the fires, we were taking in some evacuations at Birtwick Park," she said. "I stayed to help with any emergency fire stuff, so I couldn't bring the horses down to the horse show. This was our very first year of showing."
Marinaccio arrived at the Los Angeles Equestrian Center Friday with Dream Police, a day before the show started. She was unable to show Dream Police herself due to shoulder surgery, but had volunteer Stephanie Wehan in the saddle. Rain caused Saturday's classes to be moved to the Equidome, the indoor arena, so Marinaccio had Wehan work Dream Police in the Equidome Friday before the show. Marinaccio said Dream Police had never worked in an indoor arena before, and it was his first time since being a show horse he was in an arena with more than two horses.
"He went in there and it was like he had been there forever. He was so well behaved. Nothing bothered him," Marinaccio said. "I just said, 'OK, now it's time to get to work so have him start listening to you more instead of paying attention to everything else,' so that's what he did. I had him go over a few jumps and he took those great. Then he went back to his stall and he just kept looking over to the Equidome like, 'I want to go back there. I'm ready for the show.'"
Marinaccio described Dream Police as a horse who is "all business" and has "a very strong work ethic." When transitioning him, he took to jumping with ease and loved the tasks he was being asked to perform.
The first day of the show, Dream Police and Wehan finished second in the Junior/Amateur .60-meter jumping class and earned another red ribbon the following day in the War Horse Showmanship class, for horses who were veterans on the track. His performances convinced Marinaccio to also enter him in a .70-meter jumping class the second day. He knocked down the first two rails and didn't place, but cleared the rest of the jumps. 
"It was like nothing to him," Marinaccio said. "He was so excited."
She plans to continue campaigning Dream Police while helping him find his next owner that will allow him to continue his second career as a show horse.
"When he first started jumping and he first started doing a line or first started doing a course," Marinaccio said, "at the end of it we would be saying, 'Oh, you're a good boy, you're a good boy.' He would even give a little buck or start prancing his way back home. He felt really proud of himself and really happy at doing this new job."
Bloom, who has a passion for his horses both on and off the track, has been keeping up with Dream Police as the gelding progresses with a second career.
"It's gratifying when these horses that really do so much for us on the racing side," he said, "can continue on following their racing careers and have those great success stories, making other people happy."