The temperature touched near 90 degrees, and the sun was high and bright Tuesday in Lexington, Ky., but the hot weather didn't keep a handful of equestrians from pulling their trailers into Masterson Station Park and saddling up for the Retired Racehorse Project Thoroughbred Makeover Preview.
With the $100,000 Makeover coming up at the Kentucky Horse Park Oct. 4-7, the Preview gave riders an opportunity to take their recent off-track Thoroughbreds to a new, quiet environment before heading to the Horse Park, where more than 500 horses will compete alongside of vendors, demonstrations and seminars.
The main event next month spans 10 disciplines – show hunters, eventing, show jumping, field hunters, polo, dressage, working ranch, competitive trail, barrel racing and freestyle, with the last of those covering anything that doesn't fit into the first nine categories.
Among the English and Western-tacked Thoroughbreds Tuesday was a small bay filly. Measuring only 15.2 hands, and hitched to a driving cart, Delightfully is a freestyle division entry.
Amy Lent, who operates Ramblen Farm in Versailles, Ky., received Delightfully through Second Stride, an aftercare organization for off-track Thoroughbreds in Prospect, Ky. Delightfully had already been adopted, but after a freak accident with a pasture fence that left a large wound on her hip, the filly was in need of a special home.
"The wound was deep enough that you could put a whole hand into it," Lent said. "It was going to take a long time to get her healed up and find the right home for her."
Delightfully was a homebred for Columbine Stable LLC, who campaigned Grade 1 winners Sligo Bay and J. B.'s Thunder. She made one start under trainer Al Stall at Fair Grounds in December before Stall sent her to Second Stride due to a bone chip in her knee.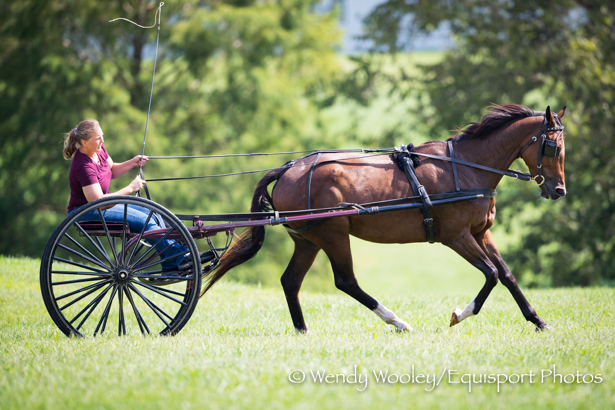 "The hip actually seems to be more of an issue than the knee," Lent said. "I was going to maybe do dressage, but she cannot get up underneath herself properly to do that right circle because of that hip. She took to driving, and I was planning on possibly driving her anyway, and it's just an easy way to have a second career without pushing those two injuries."
As the other Thoroughbreds took to the ring and cross country course, Lent brought driving obstacles for Delightfully to trot and canter around, including a teeter-totter obstacle for Delightfully to walk over. Lent guessed it couldn't have been more than the 15th time Delightfully was fully hitched to a cart, but you wouldn't have guessed it with how patient the filly was standing, or how calm she was as Lent guided her through open fields. 
"She's been phenomenal," Lent said. "We were doing a lot in hand over the obstacles as well in her rehab time, and she took to those just as easy as she's done for the driving, so that's why we added those to our freestyle and why she's doing trails as our second discipline."
Jen Roytz, who started as executive director with Retired Racehorse Project in January, said the 2018 Thoroughbred Makeover applications were up 38 percent from the previous record-setting year.
"The Thoroughbred Makeover does a really good job of showcasing everything a Thoroughbred can do after racing," Roytz said. "From eventing and hunters and cross country to competitive trail and carriage driving and vaulting and ranch work. Anything you can do on a horse you can do on a Thoroughbred because they have such good brains. They're so versatile, and they're bred to be athletes."
Some of the Thoroughbreds in the Makeover show versatility even beyond the sport horse world.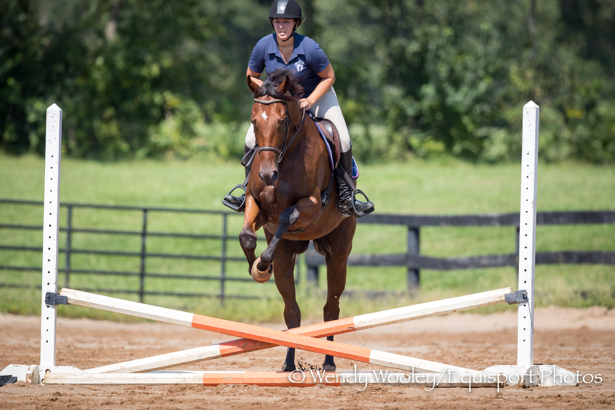 Lauren Burke, the equine manager at Life Adventure Center in Versailles, brought Indy's Lil Bro and Street Jersey to the Preview. Although she is preparing both horses for the Makeover, she also uses them in therapy groups at Life Adventure Center, which does ground work with disadvantaged children and veterans.
"They just have to be very safe and polite to handle and be very friendly," Burke said of horses in the therapy programs. "and I think Thoroughbreds are uniquely suited to that kind of work because they are very sensitive. They're very expressive. They really show you what they think of you, and that can be a very helpful thing to have a kind and cooperative but sensitive horse who gives you a lot of feedback in that type of program."
It's a similar personality in Delightfully that is part of the reason Lent plans on keeping the filly, in addition to being such a good horse to drive and ride.
"Her name's Delightfully, and that's exactly the way her personality is. She's a delight to be around and very easy going," Lent said. "She acts like an old horse, not a young horse. Anybody can ride her… I would put even someone that's never rode on her and I know that she would take care of them."
With each horse having less than 10 months of retraining by the time they reach the Makeover, Lent said the atmosphere there is different than any other horse show, with everyone at the Makeover there to help each other. She also believes the Retired Racehorse Project is helping break down stereotypes of Thoroughbreds. The Makeover displays them as various types of sport horses, and more specifically to Lent, shows how versatile they are as driving horses too.
"Most people don't think a Thoroughbred will drive and there's been a driving horse every year at the Makeover," she said, "so we're starting to see more because people are finally starting to see that it's a possibility for them."