Beating a court deadline to name names, Bob Baffert said Friday through a lawyer that five owners were on the verge of taking their horses elsewhere because the New York Racing Association banned him from competing at its tracks.
Kentucky attorney Craig Robertson sent a one-page letter saying "Gavin Murphy of SF Bloodstock; Jack Wolf of Starlight Racing; Peter Fluor of Speedway Stable; Sol Kumin of Madaket Stables; and George Bolton" planned to move their horses to other barns.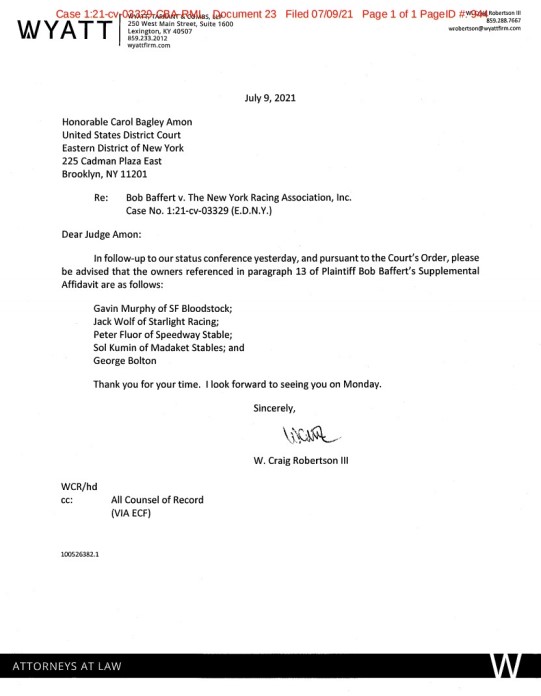 The filing was first reported by Thoroughbred Daily News.
Robertson's letter beat a noon EDT deadline set by New York federal judge Carol Bagley Amon for Baffert to back up his claim that NYRA's indefinite ban would harm his livelihood, a claim made by Robertson in an affidavit filed after WinStar Farm took Life Is Good and Country Grammer from Baffert and sent them to Todd Pletcher.
The affidavit quoted Baffert as saying, "I have recently had conversations with other owners who have stated that they may move their horses to other trainers if the New York suspension continues."
Baffert was banned by NYRA after Medina Spirit was found to have an excess trace amount of betamethasone in his bloodstream when he won the Kentucky Derby. The Hall of Fame trainer then sued NYRA, claiming the ban should be thrown out because it violated his constitutional right to due process.