Tucson, Ariz.
Medina Spirit's death Monday resonated through Tuesday's opening of the 47th Global Symposium on Racing. So, too, did the scheduled enactment next summer of the Horseracing Integrity and Safety Act.
"If there's one positive about what happened yesterday, I think it is that the need and the urgency for HISA and for the HISA board to get it right is never going to stop. It's never going to change."
That remark was at the heart of a keynote speech by Tom Rooney, a former Republican Congressman from Florida and the incoming president and CEO of the National Thoroughbred Racing Association. He said as long as there are calls to abolish horse racing, the sport needs to get its act together so it may confidently respond to incident's like Monday's loss of the 2021 Kentucky Derby winner to a fatal heart attack.
"When things happen, and when controversy strikes our industry as it does all the time, we're able to point to an authority and say that this industry will get it right," Rooney said. "I think that we do what we do and trainers train and jockeys ride and owners get into this game and people run racetracks because they love this sport, and they love this animal."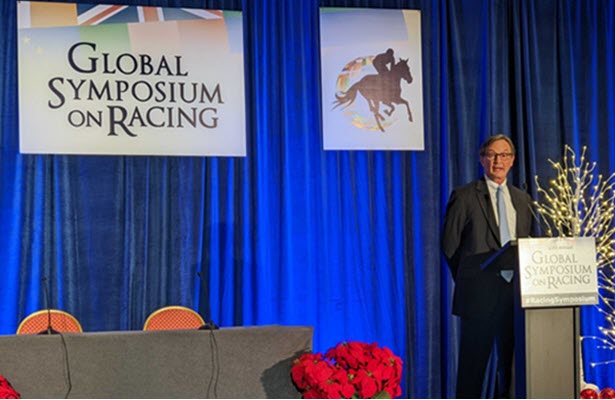 (Charles Scheeler)
Charles Scheeler, the Baltimore attorney who chairs the HISA board of directors, zeroed in on the role of the new federal law that was written to manage safety and medication in racing.
"We have a very, crystal-clear mission," Scheeler told nearly 400 people who are attending the University of Arizona symposium. "One is to make the sport safer, and one is to make the sport fairer. We're going to be graded on whether races are getting safer and whether they are getting fairer."
The devil is in the details, and Scheeler said the timetable Congress baked into HISA has left little time to roll out proposed regulations. He admitted they have been subject to frequent rewrites in recent weeks.
"We've made many, many changes to these sets of documents based upon the feedback you have provided," he said. "It's continuing to this day."
As the proposals ebb and flow, Scheeler said one thing is certain: drug testing and enforcement will be widened under HISA. The plan is to bring USADA in for out-of-competition screenings July 1 with its integration into existing race-day tests in January 2023.
"We thought a hand-off in mid-season for race-day testing was fraught with danger and risk," Scheeler said. "Similarly, state racing commissions have budgets, and changing operations in the middle of a budget cycle creates an awful lot of problems. We're trying to sync up the HISA schedule with the state racing-commission schedule. It'll also allow labs time to adapt new standards."
Adolpho Birch, who chairs the HISA committee managing drug rules, outlined a process that would include more transparent reporting of violations. A national stewards panel has been proposed to deal with some cases. Arbitration would be applied to major drug infractions with the possibility of four-year suspensions for two-time offenders and a lifetime ban for a third strike.
Horses, too, could be subject to sanctions ranging from a disqualification for race-day violations to a lifetime ban for more egregious violations.
Scheeler said the proposals will be buttoned down this month before they are sent to the Federal Trade Commission for its required regulatory review. A public comment period will follow early next year before the rules are made final in time for implementation and an education period next spring.
"These regulations, when they come down, do not consider them written in stone," Scheeler said. "They did not come down out of the Old Testament. We understand they won't be perfect. They will be worked on."
Scheeler did not address the concerns about funding of or litigation against HISA in his main speech, but he did field questions about them afterward.
"I do not have a number that I can give you today," Scheeler said when asked if there is a dollar figure for the HISA budget. "Once we finish up (a deal with the U.S. Anti-Doping Agency) and know exactly what the parameters of that program are going to be, then we can cost it out."
Scheeler also said he would embrace the input of states and horsemen's groups who have filed lawsuits challenging the constitutionality of HISA.
"They're part of the industry, too," he said. "We have met with them, and we have received their input as well in terms of how we might improve the draft regulations. Frankly, we're quite grateful for their input."
Rooney re-emphasized that HISA is not only something that the sport should want for itself, it is needed as an answer to the relentless calls by racing's opponents to shut down the sport. He recalled a conversation he had in the Capitol cloakroom during his 10 years serving in Congress.
"One of the people that was leading the charge against greyhound racing in Florida (was there)," Rooney said. "I went up to him, and I was a little ticked off. I said, 'Hey, what's next? The Kentucky Derby?' And he goes, 'I hope so.' So that's the goal. It doesn't matter if you throw out the first Saturday in May as being some kind of glorious day. They don't care."