One week after the United States' best 3-year-olds were on display at Churchill Downs, Canadian sophomores take center stage for the $1 million Queen's Plate.
Woodbine on Saturday will host the 161st running of the Queen's Plate, North America's oldest continually run race. Fourteen Canadian-bred 3-year-olds will go postward at 5:41 p.m. EDT for a 1¼-mile clash over the Tapeta course.
Lightly raced Clayton is the 2-1 morning line favorite for trainer Kevin Attard. He has three wins out of four career starts, including Aug. 15 at Woodbine in the Queen's Plate's local prep race, the Plate Trial Stakes.
Fillies have enjoyed recent success in the Queen's Plate, racking up four wins since 2011. Two female runners, Curlin's Voyage and Merveilleux, look to continue that trend Saturday.
Here's a look at the 2020 Queen's Plate field, with morning line odds:
1. Sweepin Hard (Daniel Vella, Leo Salles), 50-1 
2. Merveilleux (Kevin Attard, Kazushi Kimura), 10-1 
3. Belichick (Josie Carroll, Slade Callaghan), 30-1 
4. Truebelieve (Cole Bennett, Keveh Nicholls), 30-1  
5. Holyfield (Catherine Day Phillips, Darryll Holland), 30-1 
6. Halo Again (Steve Asmussen, Luis Contreras), 5-1 
7. Glorious Tribute (Barbara Minshall, David Moran), 30-1 
8. Olliemyboy (Sid Attard, Steven Bahen), 30-1 
9. Dotted Line (Sid Attard, Justin Stein), 8-1 
10. Curlin's Voyage (Josie Carroll, Patrick Husbands), 5-2 
11. F F Rocket (Al Stall Jr., Sahin Civaci), 50-1 
12. Clayton (Kevin Attard, Rafael Hernandez), 2-1 
13. Mighty Heart (Josie Carroll, Daisuke Fukumoto), 20-1 
14. Tecumseh's War (Catherine Day Phillips, Emma-Jayne Wilson), 12-1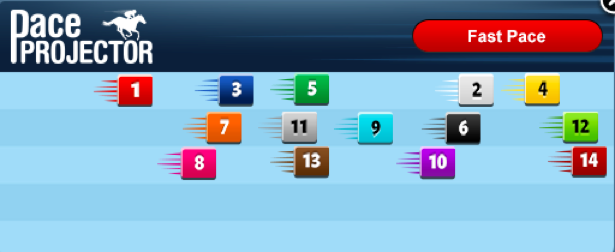 TimeformUS' pace projections show Tecumseh's War coming from the far outside post to set a fast pace. Perhaps jockey Emma-Jayne Wilson can replicate John Velazquez's from-the-outside, front-running trip aboard winner Authentic in last Saturday's Kentucky Derby.
Favorite Clayton projects to press Tecumseh's War through the early stages. Second betting choice Curlin's Voyage is expected to settle in around mid-pack.
Check out free PPs from our friends at Brisnet for more information on the Queen's Plate's 14 runners.
Queen's Plate on TV
TVG will carry Woodbine's Queen's Plate card Saturday as part of a full day of action on both sides of the Atlantic.
The network will start its coverage Saturday morning with European racing, highlighted by the Irish Champion Stakes. Ghaiyyath, the world's No. 1-ranked runner, headlines the Breeders' Cup Turf "Win and You're In" qualifier.
Then Saturday afternoon, TVG will provide on-site coverage from Kentucky Downs. The Franklin, Ky., course hosts the Grade 3, $1 million Kentucky Turf Cup, featuring 2019 race winner Zulu Alpha.
Queen's Plate analysis
The Queen's Plate is the middle leg of a late pick 5 on Saturday at Woodbine that also includes the $250,000 Canadian Stakes (G2). Reinier Macatangay offers 'A' and 'B' picks for the sequence.
Horse Racing Nation asked racing experts from both the U.S. and Canada to offer their Queen's Plate picks. See the long shots that HRN Super Screener creator Mike Shutty thinks are worth a look.
HorseCenter hosts Matt Shifman and Brian Zipse discuss the Queen's Plate field. The duo also offers an early look toward the 2020 Preakness Stakes, scheduled for Oct. 3.
Woodbine track announcer Robert Geller shares his Queen's Plate thoughts with HRN. Regarding favorite Clayton, Geller says the colt's "greatest asset is his turn of foot that has seen him triumph from any position."
In addition to analyzing the Queen's Plate card's pick 5, Reinier Macatangay previews the big race itself. He reviews video from Merveilleux's last start to make the case that she offers value at 10-1.
Northern Dancer holds the distinction as the only horse to ever win both the Kentucky Derby and the Queen's Plate. J. Keeler Johnson relives the Hall of Famer's 1964 Queen's Plate triumph in this week's Flashback column.
Queen's Plate undercard
First post Saturday is 12:30 p.m., with full Woodbine entries available via HRN. The undercard features three non-graded stakes: the King Corrie, the Bison City and the Ruling Angel.
The Queen's Plate card's lone graded stakes event is the $250,000 Canadian Stakes (G2) for fillies and mares going 1 1/8 miles over the turf. Here's a preview of that race from the NTRA:
4:51 p.m. – $250,000 Canadian Stakes (G2), TVG
Art of Almost and Elizabeth Way, both trained by Roger Attfield, will take on eight rivals, including multiple Grade 1 winner Cambier Parc, in Saturday's $250,000 Canadian Stakes. Cambier Parc, who last raced nearly a year ago, has won three of her past four starts – including back-to-back Grade 1 triumphs – for OXO Equine and trainer Chad Brown. The four-year-old daughter of Medaglia d'Oro took the Del Mar Oaks last August and followed it up with a victory in the Queen Elizabeth II Challenge Cup in October.
Queen's Plate preview

From Woodbine's communications team…
Plate Trial champ Clayton and multiple stakes-winning filly Curlin's Voyage will take on 12 other Queen's Plate hopefuls in the $1 million classic set for 1¼ miles on the Woodbine Tapeta this Saturday. 
The 161st edition of the Queen's Plate, North America's oldest continually run race, is the first leg of the Canadian Triple Crown, a tri-surface series for Canadian-bred 3-year-olds. 
Wando, bred and owned by the late Gustav Schickedanz, was the last horse to accomplish the feat while becoming the seventh to record the unique triple in 2003. The $400,000 Prince of Wales, run at 1 3/16 miles on the dirt at Fort Erie on Sept. 29, is the second leg. The $400,000 Breeders' Stakes, at 1½ miles over the world-renowned E.P. Taylor Turf Course at Woodbine on Oct. 24, concludes the series. 
The double-draw format was in place for Wednesday's virtual post-position draw, with the order of selection first established and the connections then choosing their post positions. The connections of Glorious Tribute selected first and chose post seven.  
This year's edition of the Queen's Plate showcases an intriguing mix of heavyweight contenders, live longshots and emerging stars. Fillies will carry 123 pounds, while all other starters carry 126 pounds. 
A son of Bodemeister, Clayton has three wins and one second from four starts for owners Donato Lanni and Daniel Plouffe. 
Trained by Kevin Attard, who also sends out the filly Merveilleux, the bay colt arrives at the Plate in sharp form, having won two straight, including the Plate Trial on Aug. 15. 
Bred by Bernard and Karen McCormack, Clayton will be piloted by Rafael Hernandez, who won the 2015 Plate with Shaman Ghost.  
Attard, who finished second with the late Steve Stavro homebred Alezzandro in the 2007 running, likes what he sees ahead of the big race. 
"He's been special from the get-go," Attard said. "He was an impressive maiden winner, so once that happened, the bell starts ringing in your head, and you're saying, 'Hey, maybe I've got a good 3-year-old here.' He followed it up with a good race first time out this year – didn't win but had traffic trouble – and I think he learned a lot. That was encouraging. Obviously, he's won his last two since then and stretched out. He's doing everything you want him to. Hopefully, he just needs to get a little bit better one more time and maybe he can put everything together." 
Curlin's Voyage, who took this year's running of the Woodbine Oaks, could deliver Canadian Horse Racing Hall of Fame inductee Josie Carroll her third Plate victory. 
Carroll, who won the Queen's Plate with filly Inglorious in 2011 and with Edenwold in 2006, will also have Belichick and Mighty Heart go postward in her quest to net the hat trick. 
Named champion 2-year-old filly in Canada, Curlin's Voyage is bred by Hill 'n' Dale Equine Holdings, Inc., who co-owns with Windsor Boys Racing.   
What's impressed Carroll the most when it comes to the filly that sports a 5-2-1 mark from nine career outings? 
"Her consistency," Carroll said. "She finds a way to get it done. She always shows up and she's a very, very special filly." 
The multiple stakes winning daughter of Curlin will seek to become fourth filly to win the Queen's Plate in the last seven years. 
Over the last 10 years, three Oaks winners have gone on to win the Plate: Inglorious, Lexie Lou (2014) and Holy Helena (2017). 
"We've always thought very highly of her after her two-year-old debut," Carroll said of Curlin's Voyage. "She's a very uncomplicated filly and does everything you ask of her." 
Patrick Husbands, who won the Canadian Triple Crown with Wando in 2003, and the 2014 Plate with Lexie Lou, will be in the irons. 
Halo Again, trained by Steve Asmussen for Winchell Thoroughbreds and Willis Horton Racing, knows the Woodbine main track well. 
Last year, the son of Speightstown took the Coronation Futurity Stakes. This year, the bay colt won the Queenston Stakes, and most recently, finished a game second, a half-length back of Clayton, in the Plate Trial. 
"We feel very good about his chances," Asmussen said. "I thought he stayed on nicely (in the Plate Trial). He came out of the race in great shape." 
Jockey Luis Contreras, who teamed with Inglorious to win the 2011 Plate, and partnered Holy Helena to victory in 2017, could give Asmussen his first win in the "Gallop for the Guineas." 
Having never finished lower than fifth in eight career outings, Dotted Line will look to connect the dots for his biggest win to date this Saturday.  
Bred and owned by Howard Walton (Norseman Racing Stable), the son of Signature Red has three career wins, including a 49-1 upset in last year's Frost King Stakes. 
Dotted Line was third in the Plate Trial, just a shade over a half-length behind Clayton, with Justin Stein in the irons. The British Columbia-born rider won the 2012 Plate with Strait of Dover. 
"He's a horse that always tries every time," said Attard, who won the Atto Mile (G1) with Numerous Times in 2001 and the Northern Dancer Turf Stakes (G1) with Interpol in 2015. "He has run a lot of good races, and hopefully, he comes up with his biggest one on Saturday. He's coming around really nicely." 
Attard, who has started seven horses in the Queen's Plate – his best finish coming in 1992 when Grand Hooley finished second to Alydeed – also sends out Olliemyboy. 
Owned by NK Racing and LNJ Foxwoods, Belichick arrives at the Queen's Plate off a second-place effort Aug. 1 in a 1 1/8-mile main track race at Woodbine.  
Bred by Sean Fitzhenry, the bay colt is a son of 1999 Belmont Stakes winner and multiple graded stakes champ Lemon Drop Kid. 
Belichick finished third in his career bow July 4 at Woodbine. 
"He came to me in Florida this winter," Carroll said. "He's a tremendous-moving horse that impressed from the start. We put the Plate on our radar right at that time. His first two starts, he was very green and unfocused, and he just now seems to be pulling it together. He's a horse that had enough talent to be given a chance in there (Plate)." 
Bred by Josham Farms Limited, F F Rocket launches his Woodbine debut in the Plate.  
Owned by Frank Fletcher Racing Operations Inc., the son of Curlin broke his maiden in his most recent start, a two-length triumph at 1 mile and 70 yards over Presque Isle Downs' main track.   
The chestnut, trained by Al Stall Jr. (he won the 2010 Breeders' Cup when Blame bested Zenyatta), debuted at Fair Grounds last December, before a pair of races at Oaklawn Park to start his three-year-old campaign. 
Glorious Tribute, trained by Barbara Minshall for Bruce Lunsford, finished fourth in the Plate Trial at 62-1. 
The son of Congrats, who was third to Halo Again in this year's Queenston Stakes, broke his maiden in the final start of his two-year-old campaign. 
Minshall was Canada's champion trainer in 1996. Her top horses include Mt. Sassafras, Strut the Course, Kiridashi, Stephanotis and Stacked Deck. She became the first female conditioner to win a Triple Crown race – in both the U.S. and Canada – when Kiridashi won the Prince of Wales Stakes in 1995. 
Holyfield will look to provide a knockout Plate punch for the combination of trainer Catherine Day Phillips and Kingfield Racing Stable Ltd., along with co-owners and breeders David Anderson and Rod Ferguson.  
The son of Uncle Mo dug down gamely in a 1 1/16-mile turf race on August 22 at Woodbine, notching a head score at 9-1 to break his maiden. 
Al and Bill Ulwelling's Merveilleux endured traffic troubles in the Woodbine Oaks, finishing a game third, 2¼ lengths behind Curlin's Voyage. 
Fashioning a record of 2-3-1 from eight starts, the daughter of Paynter finished second, a neck and a head back, respectively, in last year's Princess Elizabeth Stakes and Ontario Lassie Stakes.  
"I honestly think what has made her special is from day one of purchasing her she has been professional," Al Ulwelling said. "What I mean is that she has just been all business. She loves her career, loves to train and compete. She has had a few tough beats and it's almost like it has bothered her. She's very smart and tries hard. She will be great addition to our broodmare band when all is said and done." 
Bred by Mike Carroll, the bay filly is trained by Kevin Attard. Kazushi Kimura, the 2018 and 2019 champion apprentice in Canada, and 2019 Eclipse Award winner as North America's top rider, gets the mount. 
"Honestly, I just think she's just been a very unfortunate horse this year, racing luck wise," Attard said. "Things haven't quite gone her way. I had high expectations for her in the Oaks. She showed a lot of talent at two and we were really excited to have her. With her, we considered the Plate right from the get-go. The mile and a quarter distance is not going to be an issue for her.  
"She's just one horse that you're hoping on that day everything goes right for her and she finally gets a clear run, no obstacles, no hurdles – that way she can prove whether she's good enough or not and there's no excuses. She's doing very well and I'm quite pleased with her. Both horses (Merveilleux and Clayton) are coming into the race as good as I want them to be." 
The Ulwellings are thrilled at the opportunity to have a Plate starter. 
"It means everything to us to have a horse in the Plate," Ulwelling said. "When we started mapping a goal out four years ago, we set out on a mission to try to stay at Woodbine and run in as many big races as we can. When my father and I were getting a plan together, the race that always popped up was the Plate. We honestly just feel lucky to be competing in a race with so much history. We love Kevin, his family, Woodbine, and the people who work there. This will be our goal every year. We are ecstatic to be in the Plate." 
One-eyed Mighty Heart will be making his stakes debut in the Plate. 
Bred and owned by Lawrence Cordes, the son of Dramedy has a win and a third from four career starts, those efforts coming in his past two starts. 
On July 11, the Josie Carroll trainee broke outward, but recovered and went on to a 4 ¼-length victory at 1 1/16 miles over the Woodbine Tapeta. 
"Mighty Heart is a horse that will definitely get the distance," said Carroll. "He has improved leaps and bounds as he's learned. From his first two starts where he had no clue what he was doing, he's really become professional." 
A dark bay son of Union Rags, Olliemyboy recorded his first career win in his latest start, a two-length triumph at 1 1/8 miles over the Woodbine main track Aug. 1. 
Owned by JMJ Racing Stables LLC, the Ontario-bred colt finished fourth in his debut at Tampa Bay Downs this March before heading north to Woodbine. 
Steve Bahen, who won the 2002 Plate with 82-1 T J's Lucky Moon, will get the mount for the Plate for Hall of Fame trainer Sid Attard. 
"It was a very good race," said the trainer of the Aug. 1 score. "He closed very strong and he was full of run. He is learning and getting better with each race. I think the distance is no problem for this horse." 
Trained by Dan Vella, who won the 1994 Plate with Basqueian and the 2012 edition with Strait of Dover, Sweepin Hard, a son of Conquest Curlinate, enters the biggest race of his career on a winning note. 
Owned by Borders Racing Stable, Sweepin Hard notched a 1½-length score over 1 1/8 miles on the Toronto oval Tapeta on Aug. 16. 
Bred by Charles Hayden, the dark bay gelding was unraced at two. 
Tecumseh's War, a dark bay son of Summer Front, won his debut last October at Indiana Downs. 
Making his eighth career start in the Plate, the Catherine Day Phillips trainee finished second in his latest engagement, a 1 1/8-mile race over the Woodbine main track. 
Emma-Jayne Wilson, who draws the riding assignment, is looking for her second "Gallop for the Guineas" victory with the Ilium Stable silk bearer. The champion rider won the 2007 Plate With Mike Fox. 
Truebelieve, who sports a 2-1-0 mark from five starts, is owned by Centennial Farms (Niagara). 
The bay son of Nephrite, bred by Laurel Byrne, orchestrated a 64-1 score (for different connections) in his debut last November at Woodbine, crossing the wire a 1½-length winner at five furlongs on the Tapeta. 
Trained by 23-year-old Manitoba native Cole Bennett, Truebelieve earned his second career win two starts ago when the colt rallied for a half-length victory at six furlongs over the Woodbine main track. 
"I think… it's not proof to other people, but proof to myself that I can do this," Bennett said. "I started training when I was really young. There was doubt from a lot of other people, but also from myself, in that you can make a living being a trainer and get to bigger places and run in bigger races. It was almost a pipe dream at one point. To be in this race, it really is a dream come true. To win it, that would be the ultimate."