Nate Newby wrapped up his first meet as general manager of Santa Anita last weekend, the first to be held without interruption since 2017-18.
Wagering numbers were strong, but Santa Anita and California racing face challenges, primarily declining field sizes.
One challenge that seems to have mostly passed is COVID, which restricted on-track attendance for part of Santa Anita's 78-day stand.
The track's average daily handle for the season was $8.75 million, up from $7.87 million for a 60-day meet the previous season and $7.92 million for an 81-day meet in 2018-19. This comes despite average field size at Santa Anita dipping to 7.2 starters per race and only 6.8 after April 1, when out-of-state meets such as Keeneland opened with more lucrative purses.
In 2017-18, there was a recent high of 7.8 starters per race.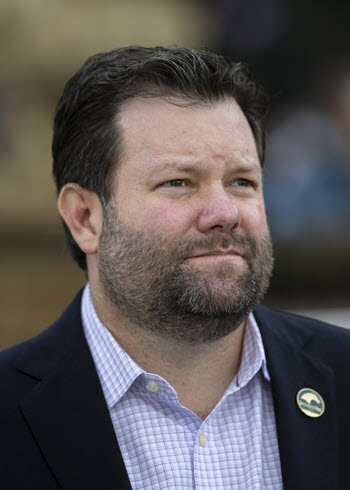 Horse Racing Nation caught up with Newby this week to get his thoughts on his first season in charge and what might lie ahead for California racing, with field size being a major topic of discussion.
Q. After two straight seasons where racing was interrupted, Santa Anita finally got to see an entire meet through, albeit with no general on-track attendance for most of it. In a broad sense, how do you think the meet went?
A. I think overall we're happy, all things considered, given the pandemic and some of the crazy things that were thrown at us. We were certainly happy to get through a season uninterrupted.
There were a lot of positives, but there are still some things we need to work on. First of which is, we need to continue to focus on our product and improve field size.
Q. What were two or three of the biggest positives from the meet, and what are two or three things that maybe didn't go quite as well as you had hoped? 
A. We were definitely happy to be able to raise purses this season under the agreement working with the TOC (Thoroughbred Owners of California). We started the meet with a 10 percent increase, and I think that got some momentum going.
The other positive was the new turf chute. It really performed well. Obviously that was a big investment. And not only the chute, but the entire turf course. We utilized that pretty heavily throughout the season, and I thought our track crew and racing office really did a great job managing that. For how much we used it, it really worked out well.
Q. The negatives?
A. Obviously field size is No. 1. We had a pretty good lull there in the middle of the meet, and that's just something we have to work on. Our racing office, Chris Merz and his team, is working with Del Mar's racing team to try and recruit more horses and barns to California by providing them all the reasons for being here.
Hopefully, with sports betting on the horizon and the Ship and Win program and Sunshine Bonus, this will give people more incentive to come to California. I think we're heading in the right direction.
Q. This was your first season as the head of Santa Anita. What are some things you learned during the meet that will help you going forward?
A. It's such a big facility, operating in a pandemic definitely had its challenges. But we came out of it. I think of all the different stakeholders. Whenever we in California have a little bit of a crisis, the different groups really come together. So that was nice to see.
Q. As you mentioned, field size continues to be a major issue out here, particularly the final two-plus months of the winter-spring meet. You noted the ship and win program and also have been actively recruiting out-of-state stables with some success. Do you see those strategies as being enough to increase field sizes, or will it take more?
A. Those are good starts, but this is a big-picture situation where you're trying to make it comfortable for people to come out here. I think HISA (Horseracing Integrity and Safety Authority) will level the playing field a little bit when it comes to the protocols and rules. California certainly took the lead in modernizing rules, so by having a level playing field everywhere in the country that is going to help California.
The other thing is getting our purses up continues to be a priority. We had the 10 percent increase at the start of the meet and I think we're going to have another raise, an increase in purses, for the upcoming winter-spring meet. We're talking to TOC now and should have that finalized in the next couple of weeks. But that's got to be a priority. And if we can get sports wagering or any help with things like that, then that's going to be important for sure.
We are an island out here in California, so you have to keep increasing purses. You have to give people the right opportunities to run their horses. But there's no one, easy quick fix. It's working on all things to make it compelling to race in California. That's what we need to do.
Q. You have mentioned previously that part of the problem when it comes to field size is that horses in California tend to have more works per start than other jurisdictions. Why do you think that is?
A. I've heard people say the focus is on win percentage, that trainers feel they need to keep that up in order to retain and get new owners. I don't know, it's a tough question to answer. If there was an easy answer to that, we would be all over it to fix it. I think we need to continue to get everyone on the same page.
Q. Second part, it's a fine line what track management can do to encourage trainers to start their horses more often. Some people believe pressure to run by the previous management played a role in the rash of equine deaths a few year is back. Is being kinder and gentler to horsemen working from a business perspective?
A. Obviously safety is our No. 1 priority, but the business only works when people are running their horses and we're putting out a good product on the track. That's just a constant communication between the owners, trainers and our management team and racing office.
But we have to take part of that on our side. What can we do better? What are we doing to give everyone the right opportunities? And to communicate well in advance of anything we're doing, so people can adjust. Hopefully the owners and trainers know field size is really a priority to get California racing where it needs to be.
But forcing people to do something they don't want to do isn't going to work long term. I think owners and trainers know where we're coming from also. They want to see California racing thrive just as much as we do. We're all in this together, especially long term. Short fields may be an advantage to an owner or trainer in one race. But long term, California racing is not going to thrive under those conditions.

Q. There have been people pushing the idea that it's time for California to combine into one circuit. I know there are plenty of statutory issues and numerous other things that would need to be worked out or changed to make that happen. But being The Stronach Group owns the major tracks in Southern California and Northern California, is this something you would be open to at this point?
A. That's definitely a question that needs to be addressed by the larger stakeholder groups as a whole. One track wouldn't make those decisions by itself. But I think we all need to continue to look at, given the current foal crops and field sizes, whether the same schedule that worked 20, 30 years ago – or even five years ago – is still the best schedule now. 
In my opinion, putting on a top-notch product should be a priority. So we just have to look at the best way to do that and if it makes sense to try some different things.
Q. I know a major goal for Santa Anita is to get back to racing four days a week. Based off what we saw the last two months of this most recent meet, that would seem to be a long shot. What are your thoughts on that?
A. The autumn meet later this year, we're just planning to go three days, with a holiday Monday for one four-day week. It's a short meet and very top heavy with all the Breeders' Cup win-and-you're-in races early on.
The next winter-spring meet, I'm optimistic we can do some four-day weeks. But I don't think we're in a position where we could do that for an entire season. The racing guys are looking at how to structure the calendar where maybe we can get some four-day weeks in and take little steps forward.
Q. Oaklawn Park recently announced it will start its meet earlier, in December, this year. Is that a concern for Santa Anita as far as possibly siphoning horses?
A. I'd say yeah, we always have to look at things like that. Their purses, with the purse subsidies they have, gives them a strong purse account. But we have some advantages here with our purses now going up a little bit, our turf course, the weather. All the things we have out here. Santa Anita as a facility, if it's not the best in the country, it's right there. So we have to continue to play up our advantages.
Q. On to the Bob Baffert situation. He has been barred from entering horses at Churchill Downs and the New York Racing Association tracks given his record of failed drug tests. The Stronach Group has stated it will wait until regulators in Kentucky rule before doing anything. Why is that the case? Why didn't Santa Anita do something similar to Churchill and New York?
A. Our corporate team is addressing that situation to ensure a consistent policy for all of our tracks. Both Craig (Fravel, CEO of racing) and Aidan (Butler, president/COO) have each put out statements. We will wait for the Kentucky Horse Racing Commission to work through their process.
Q. What about the recent reports that The Stronach Group is looking at, or is at least open to, selling some of its assets?
A. I think Aidan addressed it well, as far as this is a big company and there's always things going on. As far as he knows, the tracks are not for sale. From my perspective, I really believe actions speak louder than words on that. We've invested a lot of money into this facility and into the product the last few years. And we continue to invest. So I think that should really give people an indicator of where we're at. We're maybe looking to add things to our facility (outside of horse racing), but our core product is racing and that's not going to change."
Q. Regarding the downhill turf sprints, the company line since they were stopped has been "hopeful" they will be able to return. Is that still the case? If so, why hasn't it happened yet?
A. That decision goes above me. But I'm still hopeful we can get back to downhill sprints. It's something that makes Santa Anita unique.
Q. What are your thoughts on fixed-odds wagering? Could you see that as being a way to boost business in California?
A. It's something we'll keep looking at. Maybe it's something that could be more interesting as sport betting comes in, as that customer is more familiar with fixed-odds betting than pari-mutuel wagering. But you also look at some of the other countries that rely heavily on that, and the margins, where their purse levels are, and that's not necessarily a healthy situation either. I think it's something you have to look at, but it's not something that's easy to just turn on and try.
The good thing about having Aidan on the team is he has so much experience with bookmaking. He knows the pros and cons probably better than anyone in U.S. racing. I think it's something he's open to looking at, but you have to do it the right way.