Tools & Tips to Win Big on Kentucky Derby 2021!
Brandon Stauble is a private clocker, a workout analyst for Churchill Downs and a managing partner of Brilliant Racing.
These are the top 5 workouts in my eyes leading up to the 2021 Kentucky Derby. I hope this list can increase the confidence you have in your selections or help you make a better decision on horses that you were on the fence about.
#5 Dynamic One, April 23. After easily disposing of Bourbonic on April 16, this colt was matched with debut winner Prime Factor, who was third in the Holy Bull and is scheduled to run in the allowance race immediately following the Derby. With Derby pilot Jose Ortiz up, Dynamic One started about a half-length back. The pair was even at the quarter pole as both riders had plenty of horse to the wire in 47.4. After the wire, however, it was clear Dynamic One had much more horse and proceeded to gallop out clear with ears pricked in 1:13.1. This colt has trained extremely well over the surface and should give his backers plenty of confidence.
#4 O Besos, April 22. His work on April 13 was a little more serious, but the common theme between the two is the big turn of foot around the turn and onto the backside. Going a half mile from the 3/8 pole, O Besos was under a light hold down the lane, and Marcelino Pedroza started to get busy right before the wire. The Orb colt received a few taps from Pedroza to pick it up and boy he did, galloping out in 1:12.3 and 1:26.2 and ready to go around again if asked. There is plenty of late punch here as he hasn't done anything wrong in the mornings.
How to Crush the Kentucky Derby 2021 Superfecta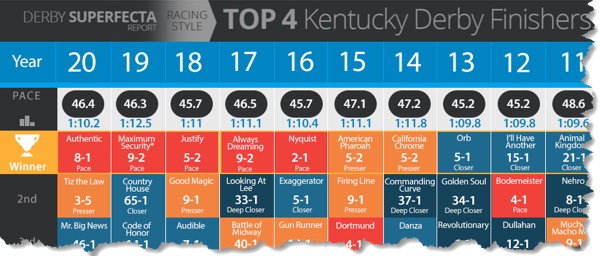 #3 Rock Your World, April 24 Working in company with allowance turf sprinter Best Chance, the Santa Anita Derby winner was hard early through controlled splits of 23.4 and 35.4 on trainer John Sadler's watch. After clearing the far turn, the rider let the reins out a notch and Rock Your World was given his cue. He took off down the lane and stopped the timer in 59.2 with a solid double gallop-out. After watching previous works for the Candy Ride colt, he appears to be hitting a little bit smoother behind, which is a bit scary to think about.
#2 Hot Rod Charlie, April 24. In company with much lesser mate Chasing Fame, this work was performed later in the morning before the first race at Santa Anita, a move that is not unusual for Doug O'Neill's barn. With Flavien Prat aboard, Charlie started about 1 length off his mate and cruised around to the far turn under a long hold. Prat let out the rein just a bit down the lane as the O'Neill colt cruised on by his mate, striding out well in what I would term a confidence-building move. In my eyes though, the best part of the workout was on the gallop out, where his ears were flicking in all directions signaling to the rider that he was having a blast and ready for more. Upon reaching the backside Charlie pricked his ears forward, leveled his body out and showed off another gear. The Oxbow colt is clearly feeling good coming into the Derby.
Get Oaks & Derby full-card picks today!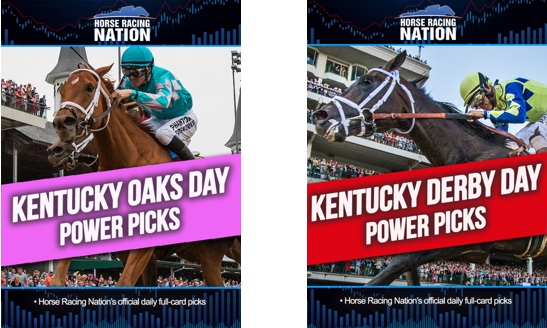 #1 King Fury April 24. In his one and only work before the big race and with regular rider Brian Hernandez aboard, the King did not disappoint. Breaking off from the 5/8 pole, the Curlin colt was relaxed early in 36.4 to the quarter pole before really picking up the pace and lengthening his stride to the wire in 1:00.1. The finish down the lane was strong but so was the gallop out in 1:12.4 and 1:26.2 as Hernandez was just along for the ride. He's a good-sized colt who is extremely light on his feet and should relish the added ground he'll get on Saturday.
I don't pretend that workout analysis is the end-all-be-all, but it can be a potent weapon in your handicapping arsenal, particularly on big days. Watching workouts and horses move is a very subjective act; multiple people can watch the same horse breeze and interpret it in different ways.