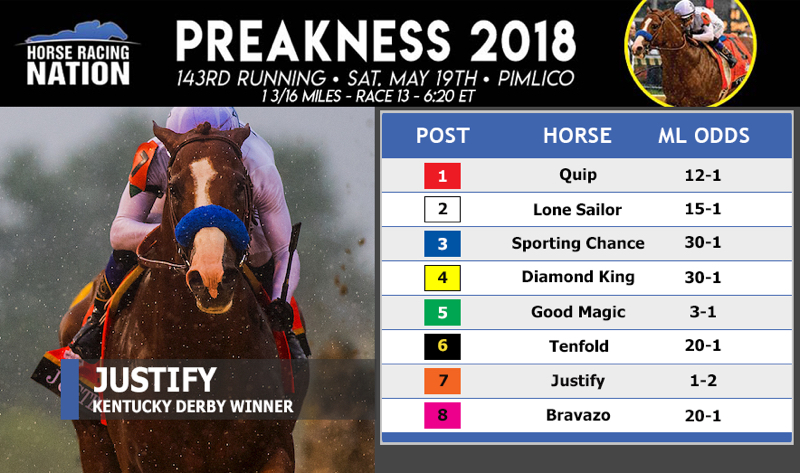 Tools
Tips 
At this writing, the $1.5 million Preakness Stakes 2018 has a probable field of eight which includes four horses from the Kentucky Derby and four so-called "new shooters."
Since the year 2000, the Derby horses have dominated the middle jewel of the Triple Crown series. In that time period, only four that didn't run the first Saturday in May won the Preakness: Red Bullet (2000), Bernardini (2006), the filly Rachel Alexandra (2009) after her victory in the Kentucky Oaks, and Cloud Computing (2017).
The extended weather forecast for the Baltimore area calls for thunderstorms and rain every day from Tuesday through Saturday with the likelihood of precipitation ranging from 80% to 90% all week long.
Here is an early look at the anticipated Preakness field with the morning line odds.

Quip [ML: 12-1 – Distorted Humor – Brisset/Geroux – 5: 3-1-0 - $482,800] Trainer Rodolphe Brisset and owners chose to skip the Kentucky Derby when Quip was a bit slow to recover from his runner-up in the Arkansas Derby. "He's shown all the signs that he is back to his own self," Brisset said. "The race in Arkansas and the trip was pretty hard on him. We gave him an easy week and a half after the Arkansas Derby. We didn't lose anything because he has been galloping on a daily basis."
Sharing similar ownership with Justify, it is logical that they give the Preakness a shot rather than compete with Justify in the Belmont should he end up with a chance at the Triple Crown. Quip likes to run right up on the early pace, which means he will have to tangle with the Derby winner from the get go. A very logical third choice.



Lone Sailor [ML: 50-1 – Majestic Warrior – Amoss/I. Ortiz Jr. – 9: 1-3-1 - $334,237] The eighth-place Derby finisher got off to a slow start and made a mild rally on the sloppy track at Churchill Downs. The smaller Preakness field seems to suit this Tom Amoss runner better, but keep in mind that he still only has a maiden victory to his credit. Chance for a better showing.



Sporting Chance [ML: 30-1 – Tiznow – Lukas/L. Contreras – 7: 2-1-1 - $409,790] On Sunday morning Sporting Chance went to the track, but he was unwilling to breeze in what was to be his final major workout before the Preakness. Thus, Lukas has decided to forego a breeze before the race. Sporting Chance has been a talented but quirky horse his entire career and this latest wackiness in the morning should come as no surprise. Although technically a "new shooter," he last started on the Kentucky Derby undercard where he found more trouble when he had to check and then race eight wide in the Pat Day Mile. The Preakness does not seem to be the kind of race where he will finally have an uneventful trip. Trouble seems to find him.



Diamond King [ML: 30-1 – Quality Road – John Servis/J. Castellano – 6: 4-0-1 - $222,600] Diamond King was on the outskirts of the Kentucky Derby Trail throughout his early career. As a juvenile he started in the Kentucky Jockey Club only to clip heels and lose his rider. Then, he was mentioned as possible for a couple of the New York prep races this year, but trainer John Servis ran him at Laurel and Gulfstream instead. His most recent win in the Federico Tesio in Maryland earned Diamond King a free entry into the Preakness. Owners from Cash is King LLC won the Preakness in 2005 with Afleet Alex, and Servis won the race with Smarty Jones in 2004. The son of Quality Road will aid the early pace while taking a serious jump in class. He does have four victories in six starts, although his speed figures are much lower than the Derby horses. Facing a stiff test.

Good Magic [ML: 3-1 – Curlin – C.Brown/J. Ortiz – 6: 2-3-1 - 

$2,225,000] Trainer Chad Brown has made his decision for the Kentucky Derby runner-up. Brown ruled out the mile and a half distance of the Belmont Stakes for Good Magic, opting for a rematch with Justify on just two weeks' rest in Baltimore. "He's doing exceptionally well," said Brown. "He's doing far better than I expected exiting the Derby. It's remarkable to see how well the horse is moving and his energy level. He already has his weight back. He just looks great. I'm excited about it."
No doubt that Good Magic ran a big race in the Derby. At one point in the stretch, he looked like he was going to go by Justify, but the winner was able to pull away in the end. The Champion Two-Year-Old did everything that was asked of him on the first Saturday in May and he looms as the most serious challenger to the Preakness favorite. Can he turn the tables on Justify?

Tenfold [ML: 20-1 – Curlin – Asmussen/Santana Jr. – 3: 2-0-0 - $124,200] The lightly raced and talented Tenfold is going to give the second leg of the Triple Crown a try after his fifth-place run in the Arkansas Derby. He won his first two starts at Oaklawn in the late winter before jumping up to Grade 1 competition. Steve Asmussen feels that Tenfold has improved enough to deserve another chance at the highest level. Regular rider Ricardo Santana Jr. will be back in the saddle and a run close to the pace is expected. Lightly raced and improving.

Justify [ML: 1-2 – Scat Daddy – Baffert/M. Smith – 4: 4-0-0 - $2,098,000] Justify was a convincing winner of the Kentucky Derby, looking like a winner every step of the way. His performance was impressive, the kind that very good horses produce in big races. The alert break from the gate put Justify in perfect position, which allowed him to seize the lead whenever he pleased. Despite running fast early in the race, he was able to turn back a serious threat from Good Magic while running the final half mile in :53.19.
However, the day after the Derby, Justify and Baffert made an appearance outside the barn, which turned into a media storm when the son of Scat Daddy had a noticeable limp in the left hind leg. The explanation changed only a daily basis. First, it was a skin rash known as the "scratches." Then, a state veterinarian said Justify had a bruise. Finally, Elliot Walden from co-ower WinStar said the horse was treated for a crack in his hoof. In all three cases, the ailments were described as "minor," the kind of things that are routine with hard racing thoroughbreds. In any case, Justify has returned to the racetrack and the reports are positive.
Baffert has never lost the Preakness with one of his Kentucky Derby winners. Justify looks to be an odds-on favorite to continue that amazing record and give Baffert his fifth chance at winning the Triple Crown. A likely winner.


Bravazo [ML: 20-1 – Awesome Again – Lukas/L. Saez – 9: 3-1-3 - $436,528] In the Derby, Bravazo outperformed his 69.90-1 odds when he rallied for a sixth-place finish. On that day the late runners did get an ideal setup, and Bravazo was one of several that took advantage of the fast pace. The Preakness could also have quick early fractions and in this smaller field he probably has a chance to get in the top three or four. Could hit the board.


Summary: The 2018 Preakness does not seem like a year for the "new shooters" to steal it. So with the Kentucky Derby horses usually getting heavily bet, it will be difficult to find value wagering on Justify. That does not mean that you should bet against the Derby winner, but I will probably not be making any vertical wagers on the big race and its field of eight. Usually the Preakness in the final leg of a low-takeout, stakes-filled Pick 5. Last year, I needed Classic Empire to complete my sequence but was beaten a head by Cloud Computing. That one still hurts when I think about it.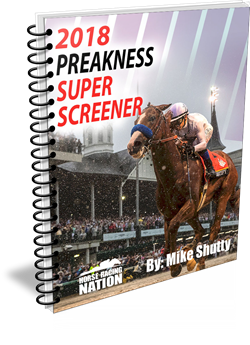 The 2018 Preakness Super Screener includes:
• Horse-by-horse analysis.
• Who to use and who to toss.
• Live longshots you can't leave off tickets.
• Wagering strategy with Exacta, Trifecta and Superfecta tickets.
Get your copy today and get on your way to a big score!