The Top Ten Active Horses
The Top 10 Active Horses remained the same as last week, with just a few minor shifts in position after an exciting weekend of racing.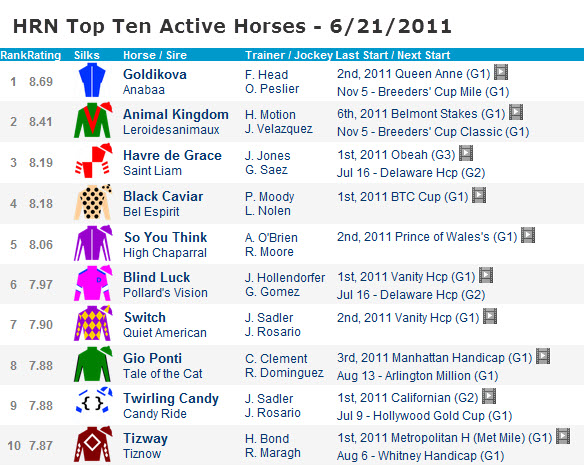 Goldikova
remains in 1st despite a narrow defeat at the hooves of
Canford Cliffs
, who broke the Top 20 this week after his win at Royal Ascot and sits in the catbird seat at 11th.
Animal Kingdom
is a strong 2nd again this week, though with a recently-discovered injury, he has been declared out of the major 3-year-old summer races. We wish him the best in his recovery and hope he returns as sharp as he was this spring, however,the next few months are prime for another 3yo colt to make his mark on the Power Rankings.
Havre De Grace
stays in 3rd and is the top-ranked American distaffer. It's hard to argue against the Larry Jones trainee, as she has taken on all comers this season and readies for what promises to be a strong second half to her year. 
So You Think
lost a bit of luster in his defeat at Royal Ascot last week, as
Black Caviar
knocks him down a peg from 4th to 5th. In 6th is
Blind Luck,
who remains in that spot from last week. Her dramatic finish in the Vanity stamped her the top distaffer in the West, with a game Switch just missing for second. However,
Switch
does move up from 9th this week to 7th.
Others in the Top 25 include Uncle Mo's crush 
Awesome Maria
, who won the Ogden Phipps at Belmont and improved her rank to #12,
Trappe Shot
joining the Top 25 with a #16 rank, and
Frankel
moving up to #20.
All-Time Fillies & Mares Ranking Updates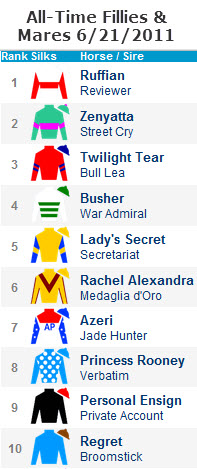 When HRN asked its members to rate the Top Fillies & Mares of All Time,  I don't think we figured on such dramatic shuffling from week to week!
This week, the top 2 are still
Ruffian
and
Zenyatta
, with Busher and Twilight Tear following, but in a stunning move,
Azeri
has galloped into 7th, knocking Go For Wand and Gallorette out of the Top 10.
Personal Ensign
has also jumped into the Top 10, at 9th. Lady's Secret shifted down to 5th, while Rachel Alexandra surged up from 10th to 6th. Princess Rooney is at 8th while Regret rounds out the Top 10.
Remember, these rankings will shift and change many more times before the voting stops July 4th, so rate your favorite fillies and mares every day!
Kentucky Derby 2012 Early Ranking
Finally, just because this year's Triple Crown was so awesomely unpredictable, let's talk
Derby 2012
! Here's the Current 2 year old Ranking, just to put the gleam in your eyes!