Gulfstream Park has a mandatory pick 6 payout of $424,115 scheduled for today in the 20-cent Rainbow 6. If you are like a lot of horseplayers around the country, you may not be familiar with Gulfstream's new synthetic surface, which is featured in four of the six races in the sequence. 
Horse Racing Nation created our Pro Reports to tackle something just like this, where you may be playing a different track and a jockey colony that you may be unfamiliar with. Let's see how these reports can give us some insights into the sequence. 
First, let's start by looking at the pace scenarios in the Pace report. The synthetic surface has been playing kind to closers at route distances, but this could be even further accentuated in the 5th race, which shows a very fast pace scenario of 106, highlighted in orange. This could set up for one of several closers in that race. 
Also, note the MPH (pace) number for races 6, 7 and 10 is on the slower side, so these are races that might be more vulnerable to speed or presser types.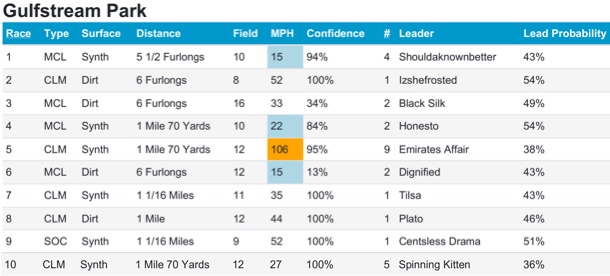 Now, looking at the Post Position Bias report, one synthetic distance really stands out. Looking at the 1 mile and 70 yard distance below, we can see that the rail is disadvantaged. Horses are only winning at 8% from the rail, but win at 24% and 16% in posts 2 and 3. 
The HRN impact score of -35% shows how the rail horses are way overbet corresponding to their chances and are poor bets because of this.  Meanwhile, post 2 is showing a +50% impact score, meaning those horses are winning 50% more often than they should according to their odds.  That's like winning 15 races instead of 10, a huge plus.  There is probably something in the track configuration that is hindering the rail and that in turn is helping post 2.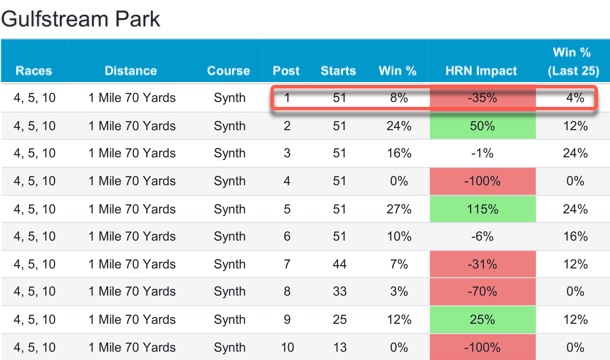 Finally, let's use the Jockey report take a look at the Gulfstream jockey colony and how they are adjusting to the new synthetic surface. 
Again, using the HRN impact score, this shows how many races the riders are winning vs. expected wins based on their odds.  Of the regular riders with over 20 mounts, we can see that Chantal Sutherland, Emisael Jaramillo, Edwin Gonzalez and Luca Panici are winning more than their share based on the odds of their mounts.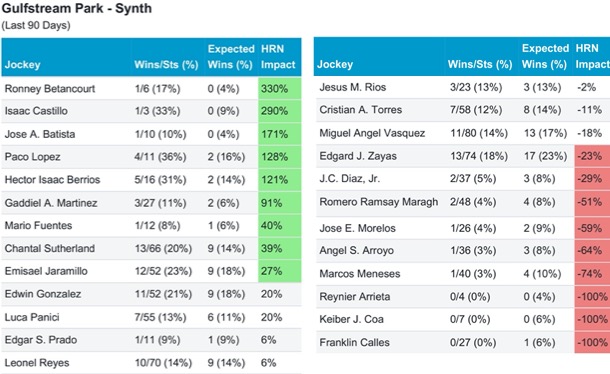 Here is more information on the HRN Pro Reports below.  Good Luck on the Pick 6, as the overall pool should easily exceed $1 million. 
Packaged together as HRN Pro Reports, the daily reports tackle five of the most difficult handicapping challenges that face players every day:
All five reports are available daily, both individually and as part of the HRN Pro Membership package.