Horseplayers already know to consider jockey statistics when handicapping. Horse Racing Nation's Hot Jockey report shows how riders are performing on dirt, turf and synthetic surfaces by track with the HRN Impact score, which weighs the odds of each starter against performance.  
  [Related: Best and worst post positions on Gulfstream's Tapeta]
Many bettors have expressed difficulty in adapting to picking winners on Gulfstream Park's new synthetic (Tapeta) surface, but some jockeys are riding strongly and can be used with confidence while others underperform. 
Top five jockeys overperforming on Tapeta
The top five riders listed here have been strong plays in the last 90 days, returning a positive impact – meaning they are winning more often than they should based on their odds. 
1. Hector Berrios. With a positive impact score of a tremendous 106 percent, Berrios has won 8 of his last 32 rides on the Tapeta in the last 90 days. Even though he's won 25 percent of the time, bettors aren't playing his mounts at this rate. The expected win rate is only 12 percent in comparison to how he's outperforming those odds.
2. Jose Morelos. A 13 percent win rate in comparison to the expected win rate of 7 percent puts Morelos at an 80 percent impact. Although he's had fewer mounts than Berrios, he also is one to keep in mind.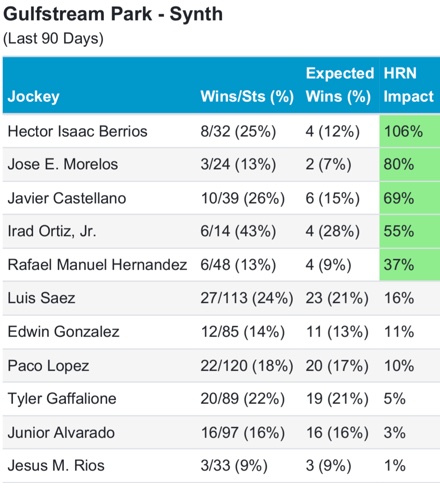 3. Javier Castellano. A name that needs no introduction, Castellano is being underbet in comparison to how often he's winning. With a positive impact score of 69 percent, he has won with 10 of his last 39 mounts (26 percent). Based on the odds of his mounts, he might have been expected to win six times.
4. Irad Ortiz Jr. Another acclaimed rider, Ortiz is winning with a whopping 43 percent of his mounts on Tapeta so far. He is commonly a jockey that takes a significant amount of money and can move the tote board on any surface. That being said, on Tapeta, he's still a value play with an impact score of 55 percent.
5. Rafael Hernandez. With the most mounts in the top five at 48, Hernandez has six wins and a 13 percent win rate. But he is largely ignored by bettors, as there's still value when betting on his horses and he has a positive impact score of 37 percent.

Bottom five jockeys underperforming on Tapeta
Based on jockeys with more than six mounts, here are the riders with the bottom five negative impact scores based on mounts in the last 90 days. 
1. Corey Lanerie. A veteran rider often known for his rail-skimming rides on the main track, Lanerie has struggled on Tapteta, winning only 1 of 35.  Based on the odds of his mounts, he should be winning at 8 percent, not 3 percent, leading to a dismal impact score of minus-65 percent.
2. Romero R. Maragh. Here is another rider to avoid who is underperforming on the new Tapeta surface. With the highest number of mounts in the bottom five of 69, Maragh has won with only 2 of them leading to a negative impact score of minus-60 percent.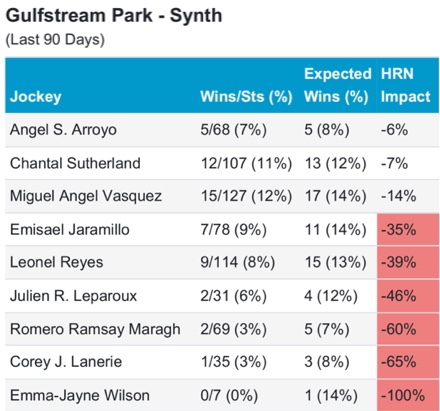 3. Julien Leparoux. Two for his last 31, Leparoux is winning at only 6 percent while where the odds indicate he could have been winning at 12 percent, generating a negative impact score of 46 percent. 
4. Leonel Reyes. Even though he has more wins (9) than some riders in the top 5 for impact score, the sample size is much greater (114). However, his win percentage of 8 percent is underperforming 13 percent expected wins, resulting in a negative impact score of 39 percent. 
5. Emma-Jayne Wilson. A small sample size of 7 is a factor that must be considered before making assumptions, but Wilson is 0-for-7 so far on the synthetic.   
For more insights on how the Gulfstream Park riding colony performs on dirt and turf, take a look at the HRN Hot Jockey Report. The report highlights each rider's strengths and weaknesses so that horseplayers can make even smarter decisions.
For more information beyond jockeys, check out the rest of the HRN Pro Reports. The reports tackle five of the most difficult handicapping challenges that face players every day:
All five reports are available daily, both individually and as part of the HRN Pro Membership package, which are on sale this week for only $9.99 for the entire first month.