For many bettors, playing Gulfstream Park's new Tapeta synthetic surface is challenging. In addition to figuring out which horses will adapt to the surface, there are other factors such as jockeys, post positions and running styles. Horse Racing Nation will cover all of these topics, starting with post positions. 
As part of our analysis, we looked at the HRN Post position bias Report, which is available and covers every track every day.  
   [Related: Hottest and Coldest Jockeys on Gulfstream's Tapeta]  
One key metric included in all the HRN Pro Reports (Jockeys, Shippers, First-timers, Pace and Posts) is the Impact number, which looks at the odds of every starter. Whereas a metric such as ROI only looks at winners, the Impact number is based on on the odds of every starter. In the first example below, post 1 is only winning 7 percent of the time. That is 42 percent less than bettors anticipated. In looking at the odds of all 57 starters, bettors expected the rail to win 12 percent of the races, so it is a significant dropoff to only win 7 percent. 
Tapeta - 5 furlongs
When looking at post positions and biases, it is not that often that a bias is this clear and pronounced. Simply put, horses from the first three posts are at a disadvantage at this short distance. Note that post positions 4-5-6 are winning at 18, 14 and 15  percent, which are nearly double the inside posts winning at 7, 9 and 11 percent.
The HRN impact numbers show how posts 4-6 are still a good bet and are outperforming bettor expectations. In contrast, the inside three posts have been bad bets.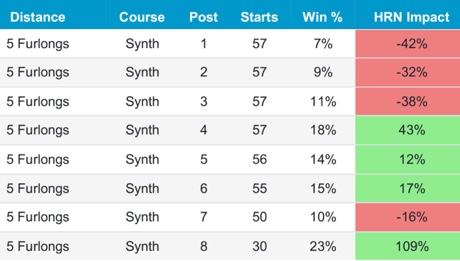 Posts 7 and 8 are a little less conclusive.  Post 7 is only winning at 10 percent, but post 8 jumps to 23 percent although that is on a smaller sample of only 30 races. The clear line seems to be between posts 3 and 4: the inside three posts are bad; post 4 and out are pretty good. 
Tapeta - 5 1/2 furlongs
Moving back just 1/2 furlong to the 5 1/2 distance, we see things starting to change. Now the rail is the place to be, with a 20 percent win and a plus-54 percent impact. Perhaps some bettors are staying away from the rail horses when they shouldn't be as a plus-54 percent impact is a tremendous overlay. 
Oddly, now the disadvantaged inside bias seems to be concentrated against post 2, which is only winning at a 5 percent clip, by far the lowest of the first nine posts. This low win percentage contributes to a highly negative-59 percent impact. From there we can see the changing stats from posts 3 and all the way out.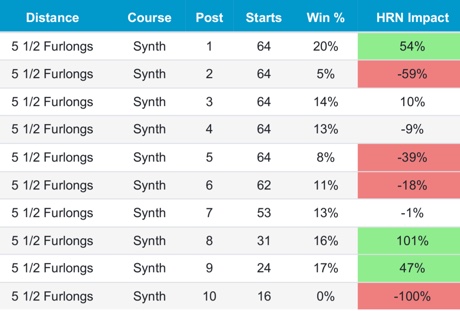 Clearly, there are some inherent biases on the synthetic Tapeta surface and configuration at these sprint distances at Gulfstream. Perhaps there is banking or a crown in the middle of the track that is helping the outside posts at 5 furlongs and some of the outside posts at 5 1/2 furlongs. Some of this also affects running style, which we will look at in a future article. 
Tapeta - 1 mile 70 yards
Looking at routes on Tapeta, the more commonly run distance is at 1 mile and 70 yards. Here the picture is less clear. Starting from the inside, we see that the rail is winning at 11 percent, which is significantly less than posts 2 and 3 at 15 and 16 percent. Then post 4 takes a significant drop to 6 percent, but right next door post 5 is winning more than three times that. In fact, post 5 is the best post to date, winning at 20 percent for a strong impact number of plus-53 percent.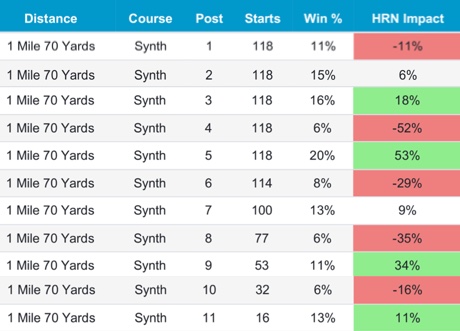 Looking at the chart above, what also pops out is the striping effect.  Oddly, the worst posts are posts 4, 6, 8 and 10, which are running at 6, 8, 6 and 8 percent. Most likely this is a coincidence that will even out over time, but it is another trend worth watching. Again, perhaps there is something in the center of the track which benefits some of the outside posts. 
The HRN Post Position Bias report helps uncover good and bad post positions at every track every day.  
Packaged as part of the HRN Pro Reports, the reports tackle five of the most difficult handicapping challenges that face players every day:
All five reports are available daily, both individually and as part of the HRN Pro Membership package, which are on sale this week for only $9.99 for the entire first month.