The Grade 1, $1,000,000 Pennsylvania Derby takes center stage today. The big questions are: how wet will it get and who will like the mud? 
The good news is we have you covered. Horse Racing Nation has full coverage and picks for today's big day.
With the remnants of tropical storm Ophelia blanketing the eastern seaboard on Saturday, the weather conditions are a concern. Trainers have been bracing for the slop as their horses finished preparing for the weekend's Grade 1 features. Though, jockey Florent Géroux is confident Saudi Crown can handle the wet conditions.
Ashley Tamulonis and Laurie Ross go head to head to handicap the Pennsylvania Derby, looking at each horse in the field from their own distinctive angles.
In both of the Grade 1 races at Parx on Saturday, Reinier Macatangay is not sold on the chalks. Instead, he highlights improving price horses to play in the Pennsylvania Derby and Cotillion.
Five different HRN writers offer their expert picks for the Pennsylvania Derby, including top picks and long shots worth building exotic tickets around.
Paul Benequista outlines his superfecta strategies for Saturday, including three graded stakes at Parx as well as two races at Churchill Downs, including the Dogwood (G3).
Who are the mudders?
National Weather Service forecasters call for a 100 percent chance of rain through Saturday afternoon in Bensalem, Pa, due to the remnants of Tropical Storm Ophelia. New precipitation during that time is expected to be between a quarter of an inch and half an inch.
That takes us to the question: who will like the mud?
Looking at HRN's Sire Analytics, the good news is most of the field seems to have the pedigree to handle an off track well. One of the lowest win percentages on the graphic below is for Always Dreaming, the sire of Saudi Crown, but it's important to note that is based on only 15 starts, which is not a lot of data. For example, if Saudi Crown had won the Jim Dandy in the slop at Saratoga instead of losing by a nose, that would have doubled Always Dreaming's wet route stats to a 13.4 percent win rate. 
On the plus side, the offspring of Gun Runner and Good Magic stand out with win percentages of 20 percent and 20.8 percent, respectively.  Both Dreamlike and Il Miracolo are by Gun Runner, who has proven to throw progeny who get good results on off tracks. 
Even more interesting are the early results for Good Magic, the sire of Scotland and Reincarnate. His offspring are not only winning at a 20.8 percent rate on off track routes, but they are producing an HRN impact of +81 percent. The 20.8 percent win rate is based on just five wins from 24 starts, so again there is not a lot of data here, but the lofty HRN impact stat means these horses are significantly outrunning their odds.  What that means is the Good Magic runners in off-track routes, based on their odds they should have won about 2.6 of those 24 races, but jumped up and won five of them.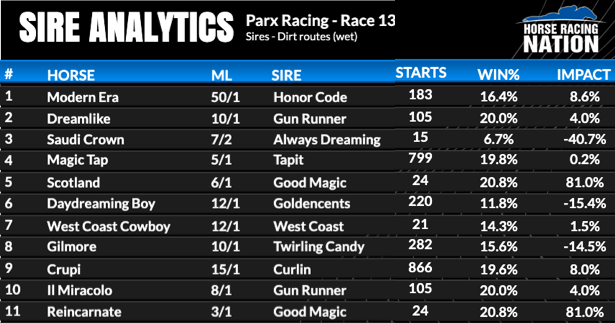 Who has the best speed figures? 
Looking at speed figures, Saudi Crown has earned the best speed figures of any horse in the race, regardless of whether you are looking at Beyer Speed Figures from Daily Racing Form, TimeformUS or HRN speed figures. While he earned those figures in the Dwyer (G3) on a fast track at Belmont Park, he earned nearly identical figures of 105 (Beyer), 125 (TimeformUS) and 107 (HRN speed figure) in the sloppy Jim Dandy (G2) at Saratoga. 
Pennsylvania Derby field: best speed figures of 2023
| #  |  Horse  | Beyer      |  TimeformUS  | HRN      |
| --- | --- | --- | --- | --- |
| 1 | Modern Era | 68 | 95 | 83 |
| 2 | Dreamlike | 93 | 114 | 101 |
| 3 | Saudi Crown | 106 | 128 | 110 |
| 4 | Magic Tap | 96 | 119 | 102 |
| 5 | Scotland | 99 | 120 | 105 |
| 6 | Daydreaming Boy | 92 | 114 | 99 |
| 7 | West Coast Cowboy | 90 | 115 | 96 |
| 8 | Gilmore | 104 | 120 | 104 |
| 9 | Crupi | 87 | 118 | 106 |
| 10 | Il Miracolo | 98 | 121 | 101 |
If you are still considering who to bet, check out Ed DeRosa's Pennsylvania Derby fair odds. While he notes that Saudi Crown would be a great bet at 2-1 or higher, consider the fair odds on the rest of the field. Any horse going off higher than the fair odds merits consideration.   
Below is the full field for the Pennsylvania Derby along with the morning line odds.
Post
Silks
Horse / Sire
Rating
Trainer / Jockey
Last Start / Next Start
HRN
1
Modern Era
Honor Code
3.79
Uriah St. Lewis
Patrick Henry Jr.
10th, Prx MSW (10/18/22-R7)
50-1
Last Race
10th, Prx MSW (10/18/22-R7)
2
Dreamlike
Gun Runner
4.59
Todd A. Pletcher
Irad Ortiz, Jr.
5th, Sar Allow (8/13/23-R8)
10-1
Last Race
5th, Sar Allow (8/13/23-R8)
3
Saudi Crown
Always Dreaming
5.87
Brad H. Cox
Florent Geroux
2nd, 2023 Jim Dandy G2
7-2
Last Race
2nd, 2023 Jim Dandy G2
4
Magic Tap
Tapit
0.00
Steven M. Asmussen
Tyler Gaffalione
1st, Sar Allow (8/13/23-R8)
5-1
Last Race
1st, Sar Allow (8/13/23-R8)
5
Scotland
Good Magic
6.19
William I. Mott
Junior Alvarado
6th, 2023 Travers Stakes G1
6-1
Last Race
6th, 2023 Travers Stakes G1
6
Daydreaming Boy
Goldencents
6.09
Louis C. Linder Jr.
Dexter Haddock
3rd, 2023 Smarty Jones G3
12-1
Last Race
3rd, 2023 Smarty Jones G3
7
West Coast Cowboy
West Coast
4.79
Saffie A. Joseph, Jr.
Tyler Conner
2nd, 2023 West Virginia Derby G3
12-1
Last Race
2nd, 2023 West Virginia Derby G3
8
Gilmore
Twirling Candy
6.19
Brendan P. Walsh
J. Velazquez
1st, Sar Allow (8/30/23-R5)
10-1
Last Race
1st, Sar Allow (8/30/23-R5)
9
Crupi
Curlin
5.76
Todd A. Pletcher
P. Lopez
1st, Sar Allow (8/18/23-R5)
15-1
Last Race
1st, Sar Allow (8/18/23-R5)
10
Il Miracolo
Gun Runner
5.30
Antonio Sano
M. Sanchez
1st, 2023 Smarty Jones G3
8-1
Last Race
1st, 2023 Smarty Jones G3
11
Reincarnate
Good Magic
6.97
Bob Baffert
Juan J. Hernandez
1st, 2023 Los Alamitos Derby LS
3-1
Last Race
1st, 2023 Los Alamitos Derby LS