In a scramble to pack materials from her W. 34th Street millinery, concerned about a shortage of materials as she conducts business from home during the COVID-19 pandemic, New Yorker Christine Moore stowed an usually thin sort of wire.
"It turns out that wire is perfect for making a mask pinch under the nose," Moore said.
Moore, selected for the third year as a featured milliner for the Kentucky Derby, couldn't have anticipated how her role would transform from making hats to donating protective masks in the leadup to the first Saturday in May.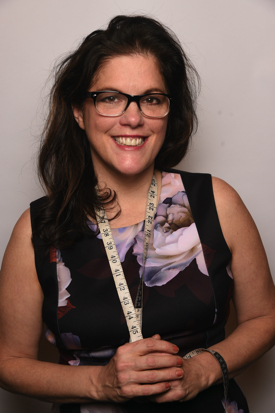 Since grasping the gravity of the situation, she has shifted her business to enjoying races such as last weekend's Florida Derby from afar, while aiming to help local medical professionals fighting the coronavirus.
"It's all like paying it forward," said Moore, whose hats have been worn by Jennifer Lopez, Katy Perry and Mary J. Blige, among others. "I feel like the sooner we can get over this, the sooner we can all have our jobs back as entertainers."
Half of Moore's struggle with the masks project derived from the construction of them.
"I didn't want to give them stuff they'd have to throw out," she said. "It took me a while to perfect the pattern."
The other half was in finding the right destination.
Moore, whose team is working remotely to fulfill orders for the Derby — she has had no cancellations despite the race's unprecedented shift to Sept. 5 — recently asked customer from Long Island how she was doing.
"It was in this communication with a person going to Derby, and still going to Derby, that it all started coming together," Moore said.
The woman had just received two hats from Moore and mentioned the joy it offered in a tough time. Her near-term focus is as a nurse in Suffolk County, N.Y., which was nearing 6,000 confirmed cases of COVID-19 and had 44 deaths as of Monday.
Moore's masks had a home.
Especially beneficial, Moore's design includes a slit on one side for hospitals to insert a filter to further protect doctors and nurses. The fabric can be washed and the masks reused amid a health crisis that could stretch on for months.
We delivered a 2nd round of masks to a local hospital and this time they went to those who are tasked with cleaning rooms and providing food. Not much has been said about these brave women and men. #MADEinUSA #madeinNYC pic.twitter.com/Q2mkQORwsV

— Christine A. Moore Millinery (@camhatsNYC) March 30, 2020
While Moore's presence will be missed at upcoming racing events either canceled or running behind closed doors, she's hopeful for the fall, which includes her role on track at Keeneland's Breeders' Cup.
"I think it's going to be a really fun season, and we're going to be working crazily," said Moore, whose designs can be seen at camhats.com. 
As for Derby fashion trends, she notes that September is still a warm month in Louisville. Colors may shift a bit from pastels to flesh tones, but straw hats are still the way to go for the guys. As for the ladies, brims may narrow a bit from the wide designs of the spring.
"I think of those as being celebratory, like the winter's over. That will be better," Moore quipped, "because people will be able to get through the crowd."