Dallas and Donna Keen cited grave concerns about California racing's future in explaining why they recently moved their modest training operation to Texas.
"I rode some sinking ships before. I didn't want to ride another one," Dallas said. "A lot of trainers were saying they did not know how they could last."
The couple, which met in 2004 and married in 2007, is highly respected for a commitment to Thoroughbred aftercare. They're disappointed in The Stronach Group's reaction to a spate of equine fatalities last winter at Santa Anita Park, believing the onus was unfairly placed on trainers.
In the sternest measure, Hall of Fame conditioner Jerry Hollendorfer was informed he could no longer compete at Santa Anita after four of his horses were among 30 to die at the 2019 winter-spring meet that closed last June.
Although Dallas does not know Hollendorfer well, he believes that action and others were misguided in the pursuit of a safer racing environment.
"It was pretty obvious it was the track," said Dallas, who counts among his trainees the New Orleans Handicap (G3) winner Allen's Oop and Lone Star Park Handicap (G3) hero Yessirgeneralsir. "To throw trainers under the bus like they did I thought was totally wrong. I have a bad taste in my mouth with that."
Track maintenance workers at Santa Anita typically deal with arid conditions. But the surface was pelted by record rainfall last winter, with accumulation totaling nearly a foot.
"The track was built for a drought and we had two months of rain and that track couldn't handle the rain," Dallas said. "The track was really the problem. I was there the morning two horses broke down in one spot."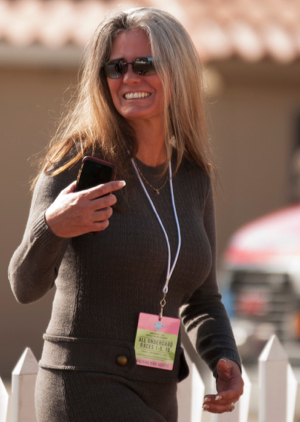 Donna echoed her husband's comments.
"The track definitely had some problems. When we had all that rain, the consistency of the racetrack definitely seemed to change," she said. "I rode on the racetrack every day and it just felt different after all the rain. They worked really hard to change things, but I don't think they got the result they were looking for."
Dallas, who is recovering from a severe riding accident, also criticized response by members of People for the Ethical Treatment of Animals, an animal rights group better known as PETA.
"I know one thing: They are very unhappy people. You can see it in their face. You can see it in everything about them," he said. "They don't even know what they're talking about. They are speaking lies. If they want to see how good a horse can be taken care of, just have them walk through the barn area. They've never educated themselves."
Dallas praised the professionalism and the care typically provided by trainers he came to know in California. "These people love their horses. Who wants to lose a horse? That's money, that's time, that's everything," he said. "To think that anybody would want that, you'd have to be out of your mind because we love our horses."
In 2008, Dallas and Donna, a Texas native, founded Remember Me Rescue. It is based at Keen Farms in Burleson, Texas, and is accredited by the Thoroughbred Aftercare Alliance. Since its inception, scores of Thoroughbreds that might have ended up in slaughterhouses have been re-trained and sent to new homes.
Donna cited what she perceives as an increasingly poor business environment for small stables as another reason for leaving the West Coast. She noted a law signed by Gov. Gavin Newsom that limited the use of independent contractors. She also said the cost of workmen's compensation had steadily increased.
"They want to make sure they get their money from hard-working, honest people who try to do the right thing," she said.
In contrast, Texas Gov. Greg Abbott is working to inject new life into that state's racing program. Some tax money stemming from the sale of horse-related products and services is now being diverted from a general fund to an escrow account established for the Texas Racing Commission and capped at $25 million annually.
When the Lone Star Park season runs from April 16 through July 19, overnight purses are due to average $200,000 per day, a $60,000 per day jump from last year. 
And so Dallas, 62, and Donna, 50, essentially find themselves starting over with 8 to 10 horses, as Dallas shows one win from four starters in 2020 at Sam Houston Race Park. In what can be a nomadic business, they anticipate this move being their last.
"I'm looking forward to staying put," Donna said.