Jockeys have been given more leeway than first announced by Churchill Downs with a new Aug. 31 deadline to be in Kentucky for the Derby week meet, according to revised pandemic guidelines that were sent to horsemen Thursday night.
Adjustments to the original rules have given jockeys an extra week before they must be in Kentucky in exchange for submitting themselves to three coronavirus tests instead of two.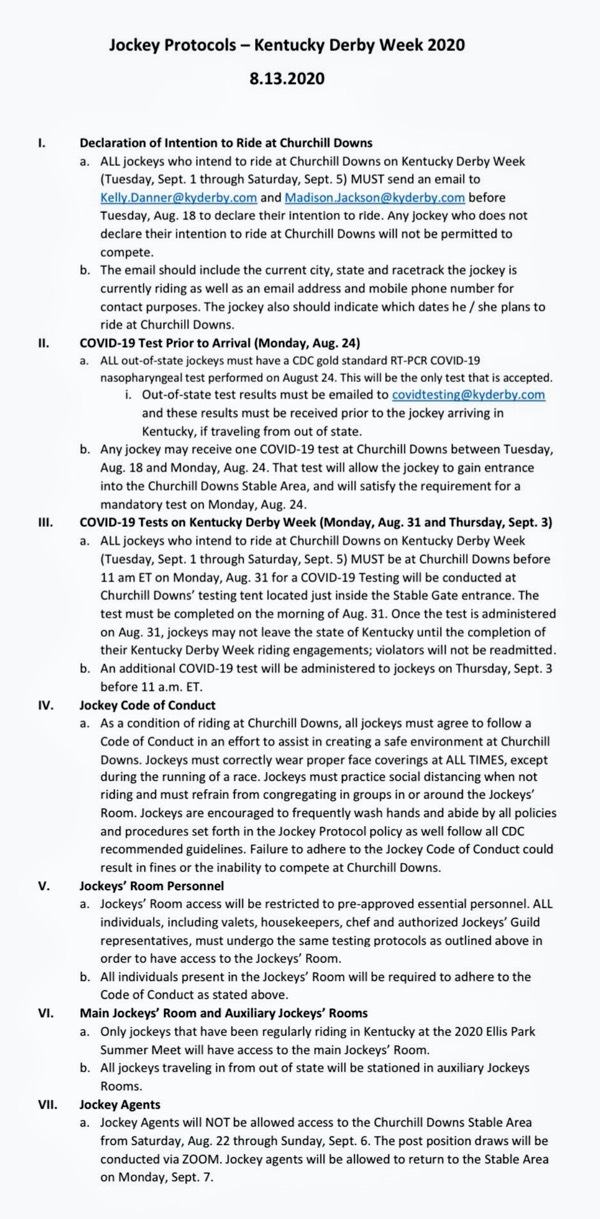 The revisions came 10 days after a teleconference at which Churchill Downs Racetrack president Kevin Flanery told horsemen there could be some changes based on "last bits of information so we can cross the T's and dot the I's and come to some final conclusions."
The new rules issued by track management say that jockeys who plan to take part in the Sept. 5 Kentucky Derby (G1), the Sept. 4 Kentucky Oaks (G1) or any other race during the Sept. 1-5 meet will be subjected to three coronavirus tests beforehand. They also must email the Churchill Downs racing office "before Tuesday, Aug. 18, to declare their intention to ride."
The original arrival deadline of Aug. 24 is still important. That is when out-of-state jockeys must be tested a first time for the coronavirus wherever they are. Their results must then be emailed to Churchill Downs. Riders who are already in Kentucky will be subjected to their first test at the track anytime between Aug. 18 and 24.
Jockeys are also required to report to the track for second and third tests the mornings of Monday, Aug. 31, and Thursday, Sept. 3. They have also been told they may not leave the state between Aug. 31 and their last race during Derby week.
The new guidelines also limit the existing jockeys room to riders who have been competing during the current meet at Ellis Park, a 127-mile drive west of Louisville. Out-of-state jockeys will be assigned space in other rooms that will be designated for their exclusive use.
"It is absolutely imperative that we keep these folks safe," Flanery said Aug. 3. "It's just a different environment."