March 2020 handle numbers for U.S. racetracks plunged 22.9% from a year earlier amid the COVID-19 pandemic, as many tracks canceled live racing or conducted their meets in front of empty grandstands.
Though most tracks that operated in March suffered large handle losses, a few were able to weather the storm. Two tracks realized a great benefit from conducting races while other tracks were shut down.
American racetracks conducted 33.1% fewer races in March 2020 than they did in 2019 -- 1,787 compared with 2,670 -- which led to the decline.
The tracks running with no spectators became completely dependent on off-track betting and advance deposit wagering (ADW) dollars.
Overall handle numbers for U.S. tracks in March 2020 was $721,693,989. That dollar figure was nearly 23% less than the $935,917,879 figure for the same month last year.
One of the hardest hit of the major tracks in March 2020 was Aqueduct, which saw a 51.6% decrease in handle from March 2019 on 71 fewer races. Aqueduct handled $46,624,078 in March 2020, down from $96,295,852 in March 2019.
Aqueduct was able to card only 64 races this March, down 52.6% from 135 last March.
Other tracks to experience more than a 50% drop-off in handle year-to-year for March were: Sunland Park (-67%), Laurel Park (-58.5%), Parx (-53.9%), Turf Paradise (-52.2%) and Mountaineer (-52.2%).
March Track Handle - 2020 vs. 2019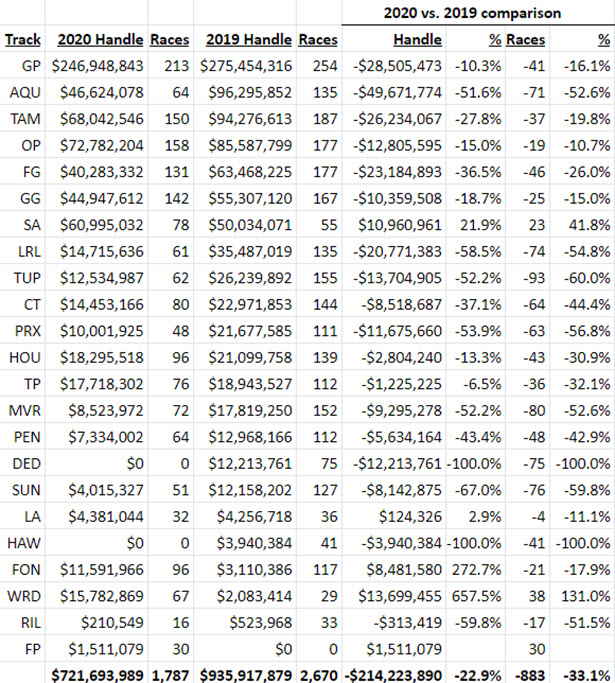 A few tracks that weathered the storm relatively well were Turfway Park (-6.5%), Gulfstream Park (-10.3%) and Oaklawn Park (-15%).  Gulfstream and Oaklawn were able to continue live racing through the end of the month, but Turfway Park lost three race dates, as it shut down on March 25.
Turfway Park conducted 36 fewer races in March 2020 than it did in the same month last year. Gulfstream Park lost 41 races year-to-year for the month. Oaklawn Park conducted 19 fewer races in March 2020 than it did in the same month in 2019.
Fonner Park and Will Rogers Downs, which regularly run races in the early part of the week, were sometimes the only tracks in America operating, and they found a great benefit in doing so.
Will Rogers Downs saw a 657.5% increase in March 2020 handle over March 2019. The Claremore, Okla., track handled $15,782,869, up nearly $13.7 million from the same period last year, when it handled $2,083,414. Will Rogers Downs was able to card 67 races in March 2020, up from 29 in March 2019.
Fonner Park, in Grand Island Neb., saw a 272.7% increase in March handle, up more than $8.4 million (to $11,591,966 from $3,110,386). Fonner Park conducted 21 fewer races in March 2020 than in March 2019. 
The current landscape does not look good for April, as Aqueduct, Santa Anita, Keeneland, Laurel Park and other tracks remain closed because of the coronavirus pandemic.