Tools & Tips to Win Big on Kentucky Derby 2021!
Another day, another shakeup in the likely Kentucky Derby field.
Caddo River was taken out of consideration by trainer Brad Cox and owner John Ed Anthony of Shortleaf Stable because of an elevated temperature.
That moved Brooklyn Strong to No. 20 on the leaderboard.
Trained by Daniel Velazquez, the Remsen (G2) winner is scheduled to work Monday morning at 6:00 EDT at Parx. If all goes well, Brooklyn Strong would leave at 6 p.m. with an early Tuesday morning arrival at Churchill Downs anticipated.
Churchill Downs does not list any other likely starters for the Saturday race, should there be any additional defections from this group of 20.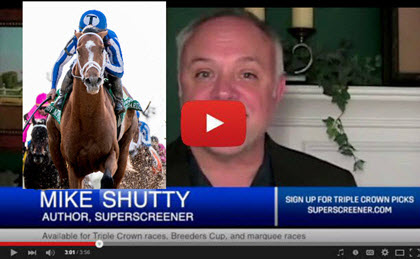 Here are the 20 likely starters provided by the track, with trainers and points:
1. Essential Quality (Brad Cox, 140 points)
2. Hot Rod Charlie (Doug O'Neill, 110)
3. Super Stock (Steve Asmussen, 109)
4. Like the King (Wesley Ward, 104)
5. Known Agenda (Todd Pletcher, 102)
6. Rock Your World (John Sadler, 100)
7. Bourbonic (Pletcher, 100)
8. Medina Spirit (Bob Baffert, 74)
9. Midnight Bourbon (Asmussen, 66)
10. Mandaloun (Cox, 52)
11. Highly Motivated (Chad Brown, 50)
12. Helium (Mark Casse, 50)
13. Soup and Sandwich (Casse, 40)
14. Dynamic One (Pletcher, 40)
15. Sainthood (Pletcher, 40)
16. Hidden Stash (Victoria Oliver, 32)
17. O Besos (Greg Foley, 25)
18. King Fury (Kenny McPeek, 20)
19. Keepmeinmind (Robertino Diodoro, 18)
20. Brooklyn Strong (Daniel Velazquez, 10)
Out of the race are: Rebel's Romance (June 5 Belmont Stakes); Greatest Honour (rest); Life Is Good (ankle chip); Weyburn (May 8 Peter Pan); Panadol; Crowded Trade (May 8 Peter Pan or May 15 Preakness); Proxy; Rombauer (May 15 Preakness); Drain the Clock (shorter distances); New Treasure; Hozier; Hockey Dad; Spielberg (rest); and Jackie's Warrior (May 1 Pat Day Mile); Dream Shake (Pat Day Mile); Get Her Number; Caddo River; Starrininmydreams and Hozier.