With final Kentucky Derby preps completed over the weekend, a clear picture of who will run in the May 5 race at Churchill Downs formed. As for who will win it, however, there's no consensus.
Seven contenders received No. 1 votes in Monday's edition of the 2018 Kentucky Derby Media Poll assembled by HorseRacingNation.com, with the rankings led by unbeaten Santa Anita Derby winner Justify for a second straight week.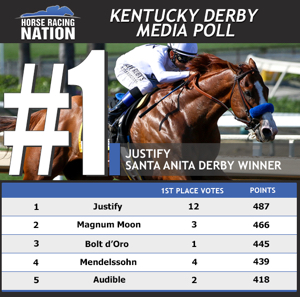 "The Kentucky Derby is front-loaded with horses oozing with star potential," said Churchill Downs racing analyst Joe Kristufek. "It could be epic."
But are we overthinking it?
"While this may be the deepest Kentucky Derby we've seen in a long time," added Churchill Downs' Darren Rogers, "it's Justify's race to lose."
The Bob Baffert-trained son of Scat Daddy earned 12 of those No. 1 votes — triple any other horse in the rankings — with the Top 5 rounded out by Magnum Moon, Bolt d'Oro, Mendelssohn and Audible.
Magnum Moon, who bears similarities to Justify, jumped three spots after his front-running victory in Saturday's Grade 1 Arkansas Derby. Both horses were un-raced at age 2 and are unbeaten at 3.

"A streak and a drought appear to be in serious jeopardy this year," said Santa Anita Park's odds maker, Jon White. "Justify and Magnum Moon are a combined 7-for-7 and could have what it takes to end the streak of 135 straight Kentucky Derby winners since Apollo in 1882 who did race as a 2-year-old."
The Southern California News Group's Art Wilson was among voters listing Justify and Magnum Moon 1-2, "and I wouldn't be surprised if they finished that way in the Derby," he said.
Recent Blue Grass Stakes winner Good Magic, sixth in the rankings, and seventh-place Vino Rosso, who won the Wood Memorial, were others receiving No. 1 votes this week. From that group of seven horses, all won their final prep race aside from Bolt d'Oro, the multiple Grade 1 winner who was second by three lengths to Justify last out.
"That's a wrap! Well, on the Derby preps at least," said TVG's Britney Eurton. "If we've learned anything, it's that this is one of the most contentious Run for the Roses we've seen in some time.
"Find me a horse with the right mind, manner, pool of talent and pedigree, and I'm all in. There's no perfect fit for the profile, but the closest I can find to checking all boxes is Bolt d'Oro."
Louisiana Derby winner Noble Indy is eighth this week followed by My Boy Jack, who delivered Saturday to take Keeneland's Grade 3 Lexington Stakes, earning points necessary to run in the Kentucky Derby.
"He may not get the speed figures that others are getting, but he certainly passed the eye test in a race that he had to win," said Gene McLean, author of the Louisville Thoroughbred Society's 'Pressbox' website. "Expert riding job to get him home in a very short stretch. May be the longshot in the Derby that many are looking for this year."
Flameaway completes the Top 10 of a 20-horse list that encompasses the runners currently in line to start at Churchill Downs. Combatant, the first horse out, is 21st by votes and next in the Kentucky Derby.


"It's the highest quality, deepest Kentucky Derby field in over 15 years," said Horse Racing Nation's Mike Shutty, author of the Super Screener handicapping system. "Think about this: If Good Magic were to have run in any of the previous nine renewals of the Derby he would have been among the top three betting choices. Here, he could conceivably go off at double-digit odds."

"No more prep races," added Courier Journal reporter Jason Frakes. "Just three weeks of overanalyzing every little detail. Can't wait!"
Kentucky Derby Media Poll (Week 8)

 Horse (1st-place votes)
 Points
Previous 
 1. Justify (12)
 487
1
 2. Magnum Moon (3)
 466
5
 3. Bolt d'Oro (1)
 445
2
 4. Mendelssohn (4)
 439
4
 5. Audible (2)
 418
3
 6. Good Magic (3)
 417
 6 
 7. Vino Rosso (1)
 357
7
 8. Noble Indy
 310
8
 9. My Boy Jack
 268
14
 10. Flameaway
 258
10
 11. Enticed
 256
11
 12. Quip
 253
12
 13. Solomini
 244
 9 
 14. Hofburg
 228
 13 
 15. Free Drop Billy
 147
 15 
 16. Lone Sailor
 125
17
 17. Gronkowski
 81
18
 18. Bravazo
 76
19
 19. Promises Fulfilled
 65
20
 20. Firenze Fire
 40
 N/R