Juan Hernandez has held a customary spot near the top of the Southern California jockey standings since his arrival in July 2020, but thanks largely to the exploits of circuit kingpin Flavien Prat, a meet riding title had proven elusive. That changed at the recently concluded Del Mar fall meet.

Under the guidance of veteran second-generation agent Craig O'Bryan, Hernandez broke the glass ceiling by booting home 17 winners from 79 starts (22 percent) during the stand to edge Prat (14 wins) and Umberto Rispoli (13). The victory also came on the square. While Prat often ventures away from Southern California seeking big-money prizes, during the Del Mar stand, Hernandez had four fewer mounts than his rival.

"As a rider, you always want to be at the top, winning titles and good races," Hernandez said. "So this means a lot."


A 29-year-old native of Veracruz, Mexico, Hernandez had ridden 170 winners from 884 starters on the year while banking $10,211,622 through Friday to rank 13th nationally in that category. He had tallied 29 stakes wins, including 14 graded.
On Saturday at Los Alamitos, Hernandez added a second Grade 1 win for the year when guiding Eda to victory in the $300,000 Starlet (G1) for trainer Bob Baffert.
"Those are huge numbers for a new guy," said O'Bryan, who was lured out of retirement to represent Hernandez. "He's won stakes for Baffert, Mandella, Simon Callaghan, some big guys. So it just shows he's done very well and has been very well received. I don't see any reason to go backwards from here."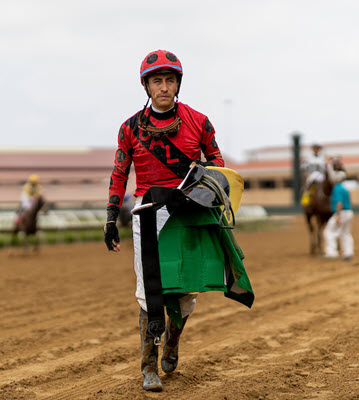 Hernandez was introduced to horses as a child, as his father spent time as a ranch hand and quarter-horse jockey. He said from early on he knew he wanted to be a jockey.
"I remember when I was little when he went to match races I always wanted to go with him," Hernandez said. "Since I was a little kid, I always wanted to be a rider like my dad. I always loved horses."
Hernandez began riding in 2008 at age 16 in Mexico City. He said his career began to take off the following year when he rode in the prestigious Clasico del Caribe in Puerto Rico. From there, it was straight to the Northern California circuit where he would eventually dominate, sometimes winning meets with a 30-plus percent strike rate.
Hernandez made two unsuccessful attempts riding the Southern California circuit before deciding to give it another crack two summers ago. This time, he had at his services O'Bryan, who in nearly four decades had represented the likes of Eddie Delahoussaye, Gary Stevens, Alex Solis, Corey Nakatani and others.
O'Bryan said the pair were put together through the help of fellow agent Tom Knust, who at the time did not have room to add another rider.
"Tom called me and said, 'You want to come out of retirement?' " O'Bryan reflected. I said, 'I don't know, there are about two or three names where I would do it.' He said, 'Juan Hernandez?' 'I said, yep, that's definitely one of them.' "
Hernandez and O'Bryan hit the ground running. They won at a 22 percent clip at Los Alamitos in their first meet together then followed with a fourth-place finish at the Del Mar summer stand behind Flavien Prat, Umberto Rispoli and Northern California's previous star, Abel Cedillo. Ever since, Hernandez has maintained that perch at or near the top of the Southern California jockey standings.
"He's just a very good rider," O'Bryan said. "Very talented, very strong and very cool. And on top of that, he's a really nice person, which is never a bad thing."
Hernandez has never had a mount in the Kentucky Derby, but all indications are that will change sooner rather than later. Riding top stock for the likes of Baffert and fellow Kentucky Derby-winning trainers Doug O'Neill and John Shirreffs will go a long way toward that effort. 
"Winning the biggest races, that's what's next," Hernandez said.
O'Bryan expects similar fortunes for his client, noting the combination of talent and professionalism.
"He's just always so well-prepared and doesn't get the least bit nervous," said O'Bryan, the son of legendary agent George O'Bryan. "If you watch, he wins stakes and feature races and just steps up to the plate. There is absolutely no shrinking with him. The bigger the race, the more he steps up."