Horse Racing Nation is excited to be launching its first-ever handicapping products, just in time for Saratoga and Del Mar. 
Packaged together as HRN Pro Reports, the daily reports tackle five of the most difficult handicapping challenges that face players every day:
"Computer players are making it harder and harder for the average horseplayer to compete," said Mark Midland, CEO of Horse Racing Nation. "We wanted to provide these analytical tools to help handicappers better compete, winning more often and cashing more tickets."
All five reports are available daily, both individually and as part of the HRN Pro Membership package.
Here are just some of the insights that can be applied from the reports to the opening day card at Saratoga.
.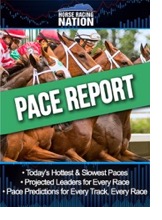 Pace report
Using advanced analytics, the pace report looks at every race across the country every day, with the goal of isolating the races with the most potential to be fast and cold paces. 
Why is this helpful? Because often these are outlier types of races which can produce challenging results.  A race with a significant amount of early speed can sometimes create a pace collapse, and races with very little early pace can also generate strange results.  By identifying the pace potential beforehand, there is less chance for handicappers to be caught off guard by the pace scenario.
The pace report identifies the amount of the pace in the race as "mph," where 65 or over is speeding or going fast, and under 25 is potentially going too slow. Races with fast pace potential are highlighted in orange, and slow pace potential are highlighted in blue.
The pace report also identifies the most likely leader for the race and assigns a probability that the horse identified as the leader will indeed get the lead.  There is also an overall confidence number, which is based on each horse having two running lines to analyze.  The more first-time starters or overseas shippers without running lines, the less confidence in the numbers.
Looking at the early pick 5 at Saratoga, we can see there is some potential for a fast pace in races 1 and 4. 

.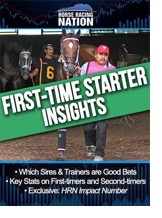 First-time starter insights report

One of the biggest frustrations for handicappers can be first-time starters and maiden races, and there are a lot of them at Saratoga and Del Mar.
The first-time starter insights report dives into the trainer and sire's records with first and second time starters. 
What is unique about this report is the HRN Impact score which is based on all of the starters in that category.  For example, we see looking at No. 4 Microbiome in Saratoga race 2 on opening day, that her sire Twirling Candy is 18 percent with first-time starters.  But what the HRN impact score of +30 percent says is that Twirling Candy first-time starters are frequently under-bet and are 30 percent overlays.  While Twirling Candy firsters are winning at 18 percent, they aren't bet like an 18% first-time sire, so there is potential for an overlay.
In the same way, No. 5 Everyoneloveslinda is sired by young sire Secret Circle, who is off to a good start winning with 20 percent of his firsters, even though it is a smaller sample size of 44 starters.  But even more importantly for bettors, based on their odds, the Secret Circle offspring are winning 86% more than they should for their odds.
Saratoga Race 2 - Thursday, July 15


Another tough challenge for horseplayers is evaluating shippers that move back and forth between tracks every day. Tracks like Saratoga can be especially tough, attracting shippers from several different tracks. 
Looking at the Shipper Stats report for Thursday, the HRN Impact number tells us that Monmouth shippers are outperforming their odds.  Based on their odds they should be winning 13 percent of races, but have overperformed winning 16 percent of the time. By contrast, Keeneland shippers are bet more and should win 15 percent of the time according to their odds, but have actually won slightly less at 14 percent.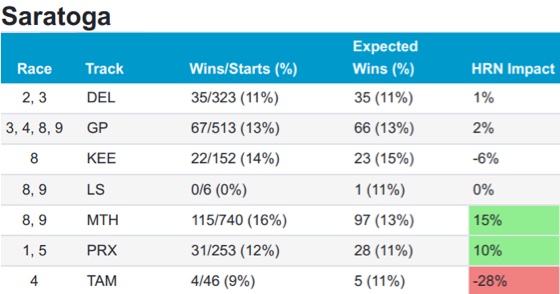 .
Another headache for horseplayers is keeping up with the different biases that are inherent with the configuration of the main track and turf course at every track around the country. 
Looking at Saratoga's opening day card, the 1 1/8-mile dirt races have fields of 9 and 12 before scratches.  In race 1, the favorite is #9 Hammerin Aamer in post 9.  From the chart below, we can see that the 1 1/8 mile configuration has a distinct advantage for the two inside posts.  After that, posts 3-7 are fairly evenly represented, but note how much the win percentage drops for posts 8 and 9.  Additionally, the HRN Impact score for posts 8 and 9 are strongly negative, suggesting that bettors aren't adjusting for how big of a disadvantage these posts are.
.
Jockey report

Finally, the jockey report analyzes not only how some riders are stronger on different surfaces, but how well do they perform relative to their odds?
For example, looking at Jose Lezcano on the turf last year, based on the odds of his starters he would be expected to win about eight races, but instead he booted home 13 winners (19 percent), good for an HRN Impact score of +57 percent.  This is like betting his horses and expecting to win eight races but getting five more winners.  In contrast, Irad Ortiz, Jr.'s horses are extremely well bet, and based on those odds he could have been expected to win 22 percent of his turf races, but instead won only 18 percent.  So Lezcano's turf performance was ahead 19 percent to 18 percent, while riding much longer prices.  He was the much better bet in 2020.
Players can get access to all five daily pro handicapping reports, which also come in one low-cost subscription as part of the HRN Pro Membership.