Horse Racing Nation caught up with Bill Downes, regular announcer at Indiana Grand (formerly Indiana Downs) as he took on a unique opportunity - filling in for Churchill Downs announcer Larry Collmus during Preakness weekend.
The Churchill Downs announcer's booth on the 7th floor is longer than it is wide, with a panoramic, ceiling-to-floor window on the track-facing side that juts out from the grandstand, just over the finish line. Perfect view for the greatest two minutes in sports. Along the left side wall is a corkboard where the photo-finish camera shot of California Chrome is tacked just below a poster featuring the 11 Triple Crown winners. On the right side wall is a backdrop of red "Yum!" logos, left over from the previous weekend's NBC coverage. It is in this space where Bill Downes sits, practicing the names of the horses in Sunday's first race.
"It's good when you've seen a horse before," he says, in between pronouncing "Kiawah's Warrior - Duke of Viseu". "It's easy with the silks of big names, but it's a whole new cast of regulars when you move to a new circuit - 'Kiawah's Warrior. Duke of Viseu'..."
Downes, originally from Wilmette, Ill., caught the racing bug early during trips to stately Arlington Park with his father. A broadcasting degree from Marquette University set the foundation for his career behind the mic, but it would take a move to Las Vegas before his path to the announcer's booth was truly set. While still in Illinois, Downes interned at  the legendary Chicago sports radio station, The Score, and then produced a horse racing show for Chicagoland radio station 92.7. 
"It was a really great time, got to talk racing every day and had a great fan base," he said of his time on the radio.
In the mid 1990's, Downes relocated to Las Vegas, where he began producing the radio results of Southern California races at Santa Anita, Del Mar and Hollywood Park.
"That was before you could just look them up on the internet or on social media, " he said. "You had to call in, and I played the stretch run and read the results for the recordings. That got me really interested in announcing."
While in the west, Downes met the late Churchill Downs racecaller, Luke Kruytbosch, who became a mentor and friend.
"When I was starting out, Luke took interest and would listen to my tapes. He offered pointers and laughed at me," said Downes. "Luke was a great guy, he really took an interest and took me under his wing."
In the narrow Churchill Downs booth, a box of Kruytbosch's Crayola crayons still remain in tribute.
Downes has a box of crayons at the announcer's stand, just like Luke. He shows his copy of the first race, a 5-horse allowance, and each name is scribbled over in the blues, purples and greens of the silk colors. It is a unique code he has developed in his years of naming fast-running horses through the narrow field of the binoculars.
Downes also carries a sheet of racing terminology that he calls "the source" - "I utilize 'the source' to help shake things up and make it interesting. When you listen to 8 to 10 calls a day, you want them to sound distinct."
Downes got his big break calling races at Arapahoe Park in Denver, Colorado. "It was a great experience, and to this day Denver remains my favorite US city!"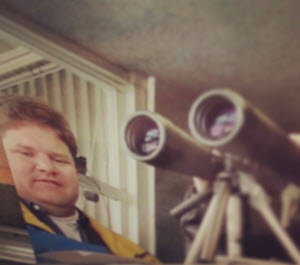 He would announce at Turf Paradise and Rillito Park in Arizona on occasion as well during that time. In 1999, Downes moved back to the midwest, taking on the announcer duties at Beulah Park in Ohio. This was at the height of the reign of the infamous "Beulah Twins" - "People would always ask me how the Twins were doing," he laughed. "But what people don't realize is that then, they were sort of trailblazers for women on track broadcasts!"
Downes could also be heard over the speakers at River Downs, Presque Isle Downs, and occasionally as a fill-in for Kruytbosch at Ellis Park in Kentucky. When Kruytbosch died in 2008, Downes was offered the Ellis job full-time. 
"I loved Ellis," he said. "The community really gets around racing there, and Ron Geary, the track owner, is very active in promoting racing."
In 2013, Downes shifted his mic to Indiana, where he became the full-time announcer at Indiana Downs, now called Indiana Grand.
"The Centaur Management group has really supported the racing in Indiana," he said. "They made a great decision combining the Thoroughbreds and Quarter Horses at Indiana Grand. Racing is a sleeping giant in Indiana. The horses are getting better and better - very competitive and fast horses - and many ship up from Kentucky as well to race there. I'm grateful that the Indiana team allowed me to take on this opportunity to call at Churchill."
In the last year, Downes experienced two career highlights - one at Indiana, and the other just a few weeks ago.
"My favorite race (to announce) was the
2013 Indiana Derby
, where I got to call Power Broker for Bob Baffert. That was exciting, for someone who started out at Beulah and River and Presque Isle, to be calling a race with those caliber of horses."
Also in the Churchill Downs booth is legendary announcer Chick Anderson's chair. The man who proclaimed, "Secretariat is moving like a tremendous machine!" in the 1973 Belmont Stakes was the regular announcer at Churchill Downs from 1960 to 1977. Downes added his own name to the cast of Derby Day characters in 2014, when he called eight races over Kentucky Derby week, including the final two races on Derby Day.
"I was ecstatic to be filling in for Larry on that day," he said. "This was the biggest crowd (I have worked for) - it was good for the confidence. I've been doing this professionally for fifteen years, but I think in the last 5-6, the light went on, and I'm better than ever. In my top career highlights so far, the Indiana Derby and Kentucky Derby day would be 1 and 1A!"
Of course, no trip to the announcer's booth can be complete these days without a mention of Tom Durkin, the legendary voice of New York Racing who is retiring in August after 24 years. Downes does his best impression of his favorite Durkin call, the
1987 Breeders' Cup Classic
, featuring a dramatic stretch duel between 1986 Derby winner Ferdinand and 1987 winner Alysheba.
"The two Derby winners hit the wiiire together!" he says, adding, "Judge Angelucci was third in that race, I liked him, too - he ran his eyeballs out that day!"
He was able to spend some time with Durkin at Saratoga - "Durkin could not have been nicer, taking time out of his day - at Saratoga no less! - to talk with me. He is a class act. (From Durkin) I learned that you don't have to try and go a mile a minute when you're calling a race. In a route race, you can take your time and let the horses tell you when to call them, but in a turf sprint, you've got to spit it out to get all the names in!"
How does Bill Downes like
California Chrome
's Triple Crown chances?
"From a racing perspective and from a fan perspective, you have to appreciate (California Chrome) because if he wins it, the moment's going to pass, and you don't want to be a 'Doubting George'. It is truly the 'Test of the Champion' and if he does it, he's passed the test. As for the the betting, he's a great underlay! "
Though the number of tracks where new announcers can gain experience is gradually shrinking, Downes offered some advice for anyone thinking about getting into the business.
"Practice! You've got to go to the track and be able to talk and look through binoculars. Then call hundreds of races into a cassette before even thinking about getting in front of a mic. Practice, practice, practice!"
Hear Bill Downes every Tuesday through Saturday at Indiana Grand Racing and Casino through November 1, and at Churchill Downs for all of Belmont Stakes week, June 4-7.
-- Story & Photos by Candice C. Curtis