Arlington Heights, Ill. 
From vendors to ushers. From trainers to grooms. From executives to clerks. At its height, Arlington International Racecourse provided jobs by the thousands.
Now in what are apparently its final hours, the 94-year-old track is down to 270 employees, a dwindling number of horsemen and one more gathering of fans who will pass through its gates for the last time Saturday afternoon.
With a sellout crowd expected for the final closing day of the final season, it will be a busy and melancholy time for the people who have made Arlington an important part of their lives.
Across 326 acres that include the stable, the track, the paddock and the grandstand, six of these regulars spoke Friday with Horse Racing Nation to reflect on their years at the track.
These were their thoughts – in their own words.
Harry Giovannoni, 76, mutuel clerk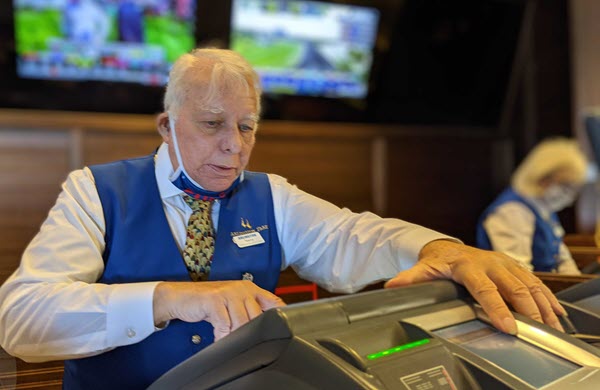 "I've been working here 59 years. I started as a parking attendant, because I wasn't old enough to work in the mutuels. After two years on the job they told me I was going to be a ticket checker. In the old-time system the cashiers would take the tickets, and we'd have to make sure that they were good. If that ticket wasn't any good, the cashier had to pay for it. Some guys would make mistakes, and they would have to come up with some serious money a few times.
"I started selling tickets in '68. We couldn't get Mondays off, because we were getting 14-, 15-, 16,000 people on Mondays and 23-, 24,000 on Saturday.
"The day Dr. Fager broke the world record in '68, I was a little bit concerned, because his quarter went in like 23-and-1. I'm saying to myself it's going to be a regular mile. But then he put it into gear at the quarter pole, and then we saw the 1:32-and-1, which still stands today.
"If they do tear this place down, it'll be a sad day for me. When I was younger my mom and dad used to take me out here. I was hanging around here since I was 5, 6, 7 years old. Going way back I saw some of the better horses in the country run here. Round Table, Buckpasser and then, of course, Secretariat. Those were the good, old days."
José López, 29, stable kitchen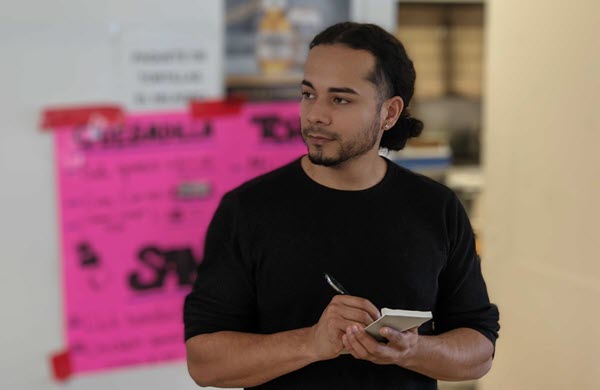 "I've been here a couple years. This is a good place. It beats other tracks that I've seen. They were talking about moving some of us to Hawthorne and moving us to their kitchen, but I haven't heard anything since.
"I got laid off my job before COVID. I was doing first-class food shipping from the airport. My oldest brother had a restaurant, and he was going through a divorce. So he came to work here. He was running this kitchen for five years and also had a catering business. Then he helped me out and got me the job here in the kitchen two years ago. Now he's gone back to Michocán in Mexico, and he has a restaurant there.
"I love horses, but I'm not really good when it comes to picks. To me the horses are therapy. I was telling my sister I wanted get more into the horses here. Our cook got into horses by working with Mark Casse. He worked with him at his barn, and he said he liked it a lot. He comes here and cooks for us, then he goes over there to be a hot walker.
"I came to watch the races here three weeks ago. It was a really fun experience. I had never been up to the track before. I came with my wife and other friends. A guy who comes in here to the kitchen helped us out and showed us around. I didn't know what to expect, but it's like a nice stadium here.
"We probably aren't going to leave the kitchen until the training is done and everyone is out sometime between the 1st and the 4th. They took out the ATM the other day. Little by little we're starting to take stuff down. We have to start packing, because some of these things are my brother's that we have to get shipped out.
"I'm definitely going to miss it here. You meet a lot of nice people. All the trainers and horse owners, they treat us the right way."
Mike Grieco, 57, horse owner, railbird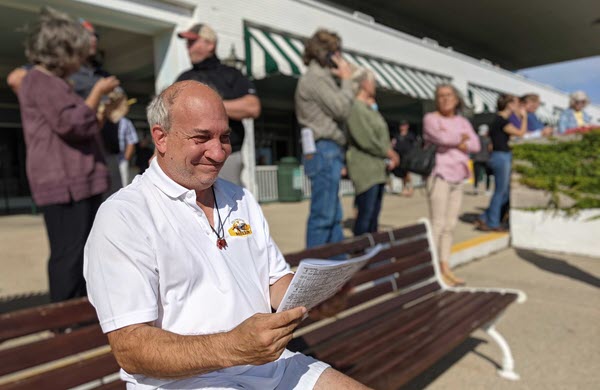 "I'm here every day I can be. Before COVID I got out of work at 2 o'clock every day. So Friday, the post time was 3:15, and I could be here in 10 minutes. I'd stop and get a sandwich and still get here by first post. On Fridays they used to have live bands playing down there at the top of the stretch. A lot of the jockeys, the owners and trainers would come down and congregate and the converse. The coolest conversations were about their experiences.
"I got into racing because of my uncle Dominic. He had a horse when I was young. I was probably 2, and he raced at old Washington Park and Sportsman's Park and Hawthorne and here. The memory I have with him is we'd be sitting at home, and my dad would answer the phone, and the conversation with Dominic would be, 'Oh, he's running today?' And then we'd be in the car going to whatever racetrack.
"The best memory was Secretariat in '73. It was like sardines in here for him, but it was Secretariat. They had to open up the infield. Back then we didn't know it was being televised live. Watching the replay over and over again, I can enjoy the moment a lot more than when I was 9 years old.
"I remember the very first Arlington Million in 1981, when they had that photo finish that they still argue about. I was here with my two uncles. One uncle bet The Bart, and the other one bet John Henry. They fought about that until the day they died every time it came up. 'Oh, that winning photo, the camera is off.' 'They wanted the other horse to win.' 'It was fixed.' It was this. It was that. Any angle or conspiracy they could think of, they argued over it for a half-hour, screaming at each other like the whole world was going to stop, because the picture was wrong.
"One year they had a silks contest. They would pass out a page for the kids to color, they would choose three of them and have silks made to look like what the kids drew, and they would race in them. They would also have a small version of the silks for the kid who designed them. It was very cool.
"This is like Wrigley Field in the western suburbs. It used to be that people would just come out for a day at the races. They'd bring their picnic lunch with their kids, and they would put blankets out and have sandwiches. Those are the memories."
Dr. Christine Tuma, winner's circle veterinarian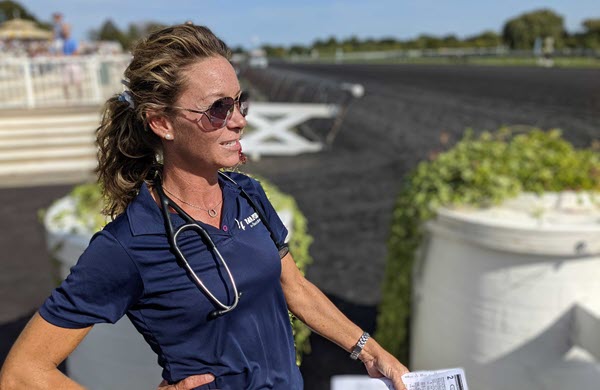 "This is my second season here. I came here to get back to racing. I had just left private practice after starting on my own, and I missed racing. I used to be a private practitioner at a school for several seasons in western upstate New York. After leaving there, I started my own practice for several years until we had children and moved here to get closer to home. I just didn't want to be on the back side anymore. I wanted to be on the right side of the fence. Coincidentally, the position opened here at Arlington, so it seemed like a no-brainer.
"I had my birthday party up in one of those suites, and that was pretty sick. Arlington gave me a cake. It was special order, and it was beautiful.
"I'm going to miss the history of this place. It's one of those iconic American racetracks. It's going to be tragic to see it close, but I don't think the story's over. I think that maybe they'll take a year or maybe two to regroup and get their plan put together, and I think that we will be back. I don't think it's over."
John G. Dooley, 55, track announcer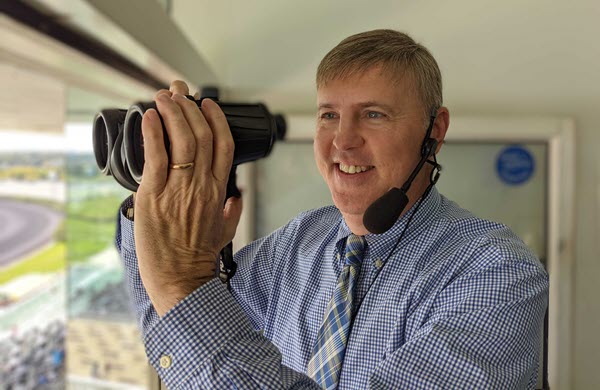 "It's obviously a sad time for all those people that have loved racing at Arlington. The fans, the horsemen, the longtime employees. This is my 22nd season at Arlington. Closing day will be a day to celebrate the racecourse and all the history that's been made over the years, but it's also a sad day for a lot of us that have really grown to love it here.
"There were definitely a lot of celebrities that have made their way through here. Having a chance to meet Ernie Banks and coach Joel Quenneville, Joe Torre, Don Zimmer. They're big racing guys, and having a chance to meet them not only here at the races but even down at Joe's on Weed Street when the baseball teams would come to town.
"Arlington has just played home to some of the most talented riders in history with our top three all-time stakes jockeys still being Earlie Fires, Pat Day and Bill Shoemaker. Frankie Dettori came through here and won with Crimson Palace for Godolphin in the Beverly D. in 2004. From top to bottom the competition in the International Festival of Racing that was here in August was always great.
"I'm going to miss the crowd. When The Pizza Man won the Million in 2015, the energy level was so high. He was the first Illinois-bred to win the Million. There were  Father's Day crowds over 30,000 and Mother's Day crowds over 30,000 and the Fourth of July fireworks nights after the races, just massive crowds. The energy level they always brought with an open-air, announcer's booth. The crowds were always amazing to me for 22 seasons from start to finish.
"It's so difficult to have anything prepared to call the last race. First of all, I've got a turf sprint, so it'll happen in about a minute. It'll be a little bit more difficult, but maybe something at the end to say good-bye to Arlington. I guess the moment dictates what happens. I don't know what people are going to do. (Thursday) night after the last race, people were chanting, 'Hell, no, we won't go.' I don't know what's going to happen Saturday. When The Pizza Man won the Million, I had nothing planned. The moment just lent itself to a lasting memory as Chicago was about to erupt. I think maybe it will be more erupted tears on Saturday."
Jere R. Smith, 59, paddock judge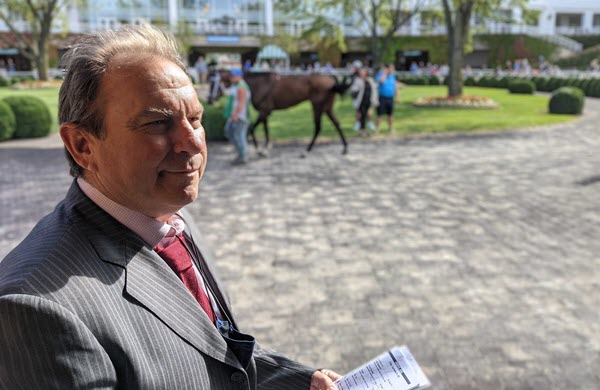 "I've been here since I was 12, when I started walking horses. My dad trained horses here, and then after that I trained horses here for years. I retired from training in about 2018. Then I worked maintenance at Ellis Park, and I worked down at Fair Grounds. I've worked here for two years now as paddock judge.
"We watched the fire in '85. It was just unbelievable. You never think you'd see a fire that big. After the place was rebuilt I won my first race here with a horse called Uno Optimo. My uncle, Barney Hawkins, gave me the horse after he died, because it was in his will. He won like six in a row. It was a great time for me.
"We won with Boundlessly in the '93 Sheridan. The year before that, he broke his maiden on Million day. That was so much fun. Winning the stakes race wasn't all that. It was breaking the maiden.
"I can't believe this is going to close, you know? This is a girl. It's a lady. It's a woman. Somebody needs to come take care of her. They can't let a place like this go down in the racing business. It's the Taj Mahal of racetracks."