Texas-bred horses are in the limelight Sunday evening at Lone Star Park. An all-stakes Pick 5 begins in Race 7 and Horse Racing Nation's Pro Reports offers insight on how to approach the sequence. 
It's no surprise that No. 2 Algebra (1-1 ML) is the top Power Pick in the opening leg. Over the past 14 days, Power Picks have been firing at 35.8 percent for Lone Star Park. In his five starts so far this year, Algebra has finished first or second in each race. A likely single for many horseplayers, he is very logical in this spot.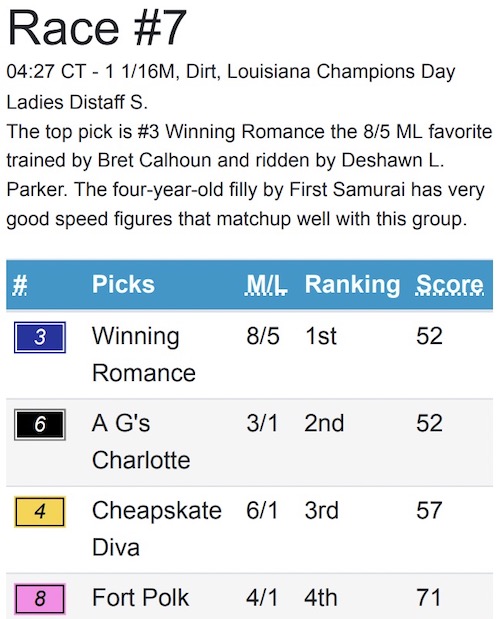 Three horses show up on the Sire Moves Report in Race 8 which will be contested at 1 1/16th miles on the turf. Favored No. 8 Kenai Bob (9-5 ML) is not predicted to improve turf routing based on his pedigree. He switches from a dirt route last time out, where sire Shackleford is successful with his progeny 15 percent of the time. His success rate with producing winners going a route of ground on the grass drops to 11 percent. 

The Horses to Single Report suggests that No. 6 I'm a Cowboy (7-5 ML) is the winner of Race 9. This two-year-old gelding broke his maiden at first asking on June 5 here at Lone Star Park. He broke from post 10 in that effort and had to travel wide on his way to victory. 

In Race 10, two-year-olds are on display again. The
First-Timer Insights Report
 also offers data on second-time starters, so every starter in here is included except for No. 5 Let Freedom Bling (12-1 ML) who is making her third career start.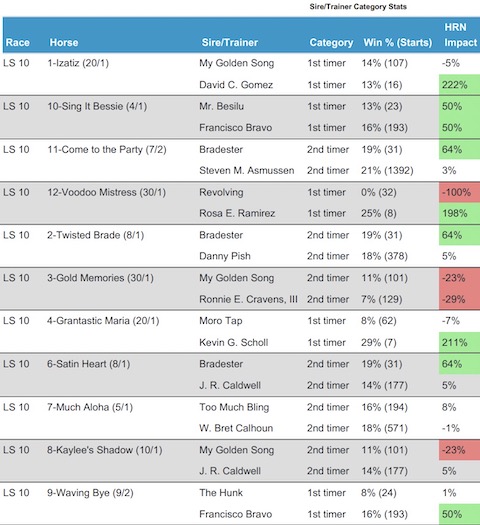 No. 10 Sing It Bessie (4-1 ML) has the best balance of sire and trainer stats for her debut in stakes company. Sire Mr. Besilu is 13 percent with first-time starters. Trainer Francisco Bravo is 16 percent with debut runners. Both sire and trainer sport an HRN Impact Score of +50 percent, indicating she could be a good bet. 
In the finale, a hot pace is predicted by the Pace Report. Favored No. 9 Boerne (5-2 ML) is likely to be the one in front early on, but could be facing some pace pressure. Boerne could be much the best in this field and withstand some fast fractions in this 7 1/2 furlong contest on the grass, but she might be vulnerable as a favorite. If bettors are including Boerne on their tickets, they may want to have some backup.