No Triskaidekaphobia at Charles Town where a $168,852 carryover in the Pick 6 must be paid out tonight, Friday the 13th!
The sequence is the last 6 races on the 8-race card, starting with race 3 at 8:02 p.m. EDT. Three of the six races (that's half!) are 4 1/2 furlongs, so the first thing I did to get a survey of this sextet was look at the Horse Racing Nation Track Trends Tool (TTT) to see how the bullring plays at this short trip.
And the results were telling!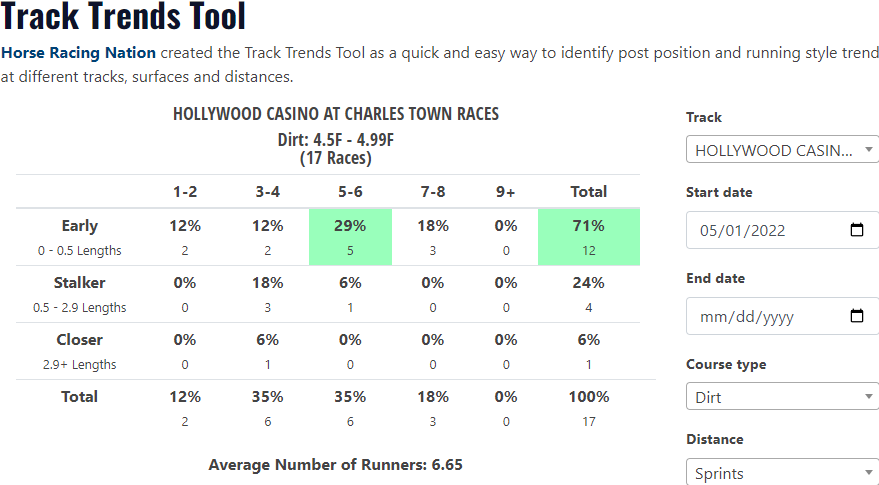 This is in May at Charles Town. 71 percent on (or very close to) the lead! If I had looked at just this week, it'd be a perfect 6-for-6 gate-to-wire winners. For sure, speed is a weapon going 4 1/2 furlongs at Charles Town!
And it appears the Horse Racing Nation Power Picks are hip to it with a 41 percent strike rate this month and 50% this week! 
Looking at the Horse Racing Nation Pace Report, it appears we might be in for a spirited front-end tussel in races 3 & 5, but race 6 a more tepid flow is expected, which could benefit #3 Froggy the Gremlin, who we expect to make the lead, and that's an even bigger advantage when you consider not only the lone speed aspect but also how the track is playing (see TTT above).